Posted 9:25 p.m. Friday, Oct. 11, 2013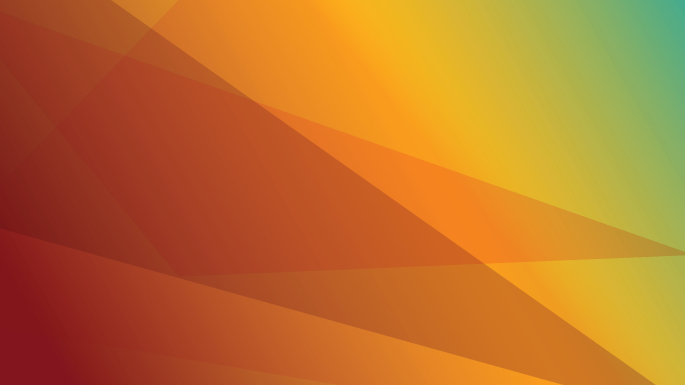 This week's news and events.

Professor from UC Berkeley to speak at Distinguished Lecture Series in Computer Science

Katherine Yelick, associate laboratory director for Computing Sciences at Lawrence Berkeley National Laboratory and professor at University of California Berkeley, will be the speaker for UW-La Crosse's Distinguished Lecture Series in

Computer Science

Monday, Oct. 21. Read more »

In this issue:

Announcements & Notices

Athletics

Campus Kudos

UWLDining

Human Resources

In The News

Murphy Library Notes

Organization for Campus Women

Classifieds
UW-L Theatre presents the play 'Detroit;' talk on 'Trash on Stage: Green Practices in the Arts' set

Guest scenic designer Steen Mitchell, an expert on "green" practices in scenic design, will use green techniques in her design for the Department of Theatre Arts' production of "Detroit." Set in a series of backyard barbeque dinners, "Detroit" is a comedy about people in a failing suburb who awkwardly attempt to achieve picture-perfect lives. Show times for "Detroit" are 7:30 p.m. Friday, Oct. 18; Saturday, Oct. 19; and Thursday, Oct. 24, through Saturday, Oct. 26. Matinee performances are at 2 o'clock Sunday, Oct. 20 and 27, in Toland Theatre, Center for the Arts. Read more »

UW-L leading mercury pollution research getting attention in state

Mercury pollution is a serious problem for Wisconsin, the Upper Midwest and the nation. That's why UW-La Crosse scientists have been studying it in lakes and rivers of the Upper Midwest for decades.

Read more »

New digital signs at UW-L

UW-L has a new way of displaying information about upcoming events and services with campus-wide interest. More than 20 new, digital signs were installed in buildings throughout campus early fall semester. Officially recognized UW-L departments and organizations are eligible to submit their information to be considered for display on the signs. Read more »

Biophysics professionals to meet at UW-La Crosse

Those in biophysics will meet at UW-L to network. The Biophyscial Society Regional Networking Event runs from 9 a.m.-5:30 p.m. Saturday, Oct. 19, in Cartwright Center. The event is designed to bring regional professionals who conduct biophysics research together to hear about, initiate or strengthen collaborations, along with increasing awareness of biophysics in the area.

Read more »

Physics student travels to Russia to work in a nuclear physics laboratory

Travelling to a far off place to pursue a passion is something some can only dream of, but in the case of Brett Rosiejka, his dream came true. Rosiejka, a physics student at UW-La Crosse, got the opportunity of a lifetime last summer when he traveled to La Crosse's sister city of Dubna, Russia, to work for a prestigious nuclear physics laboratory. Read more »

Campus medallion hunt set; Eagle Eye Medallion Hunt begins Oct. 21

The Eagle Eye Medallion Hunt gets underway on campus

Monday, Oct. 21.

It's an opportunity for students, employees and alumni to have fun and learn some university history as they search for the elusive medallion — and a chance to collect prizes valued at $500.

Read more »

Slam poet and activist to perform at UW-La Crosse

Lauren Zuniga, three time national poetry slam finalist, will bare her soul at UW-L. She will take the stage at 7:30 p.m. Tuesday, Oct. 22, in Port O' Call, Cartwright Center-Gunning Addition. Read more »

LIVEMAROON's Get-Together: Thursday, Oct. 17

Campus employees can LIVEMAROON

Thursday, Oct. 17.

A LIVEMAROON Get-Together is planned from 10 a.m.-noon in the Cameron Hall of Nations, Centennial Hall.

Read more »

2012 Nobel Laureate in Physics David Wineland shares award-winning research at UW-L
[caption id="attachment_27310" align="alignnone" width="770"]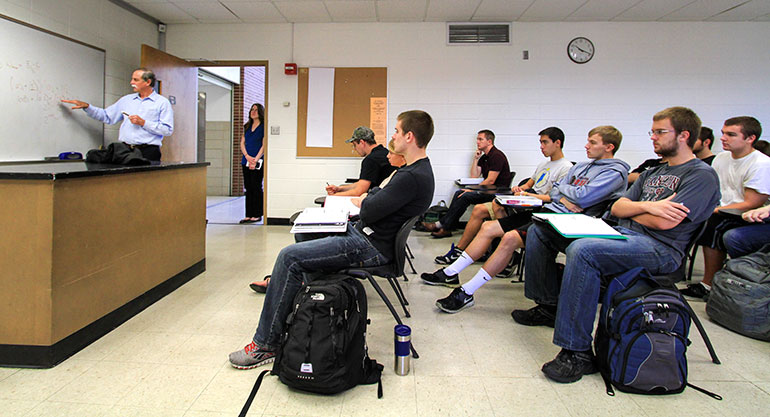 2012 Nobel Laureate in Physics David Wineland spent Oct. 10 and 11 on campus. Along with giving a public lecture and a physics seminar, he talked with students in classes. Wineland says the interaction with students is what makes the visit especially meaningful for him. Wineland is the 14th Nobel Laureate in Physics to visit campus through the UW-L Distinguished Lectures Series in Physics. The series is co-sponsored by the UW-L Foundation Inc. the Department of Physics, and the College of Science and Allied Health. See more photos at
http://goo.gl/nLvNQf
and
http://goo.gl/b7B7Ki
.[/caption]
CBA networking event eases freshman transition into business college
[caption id="attachment_27233" align="alignnone" width="555"]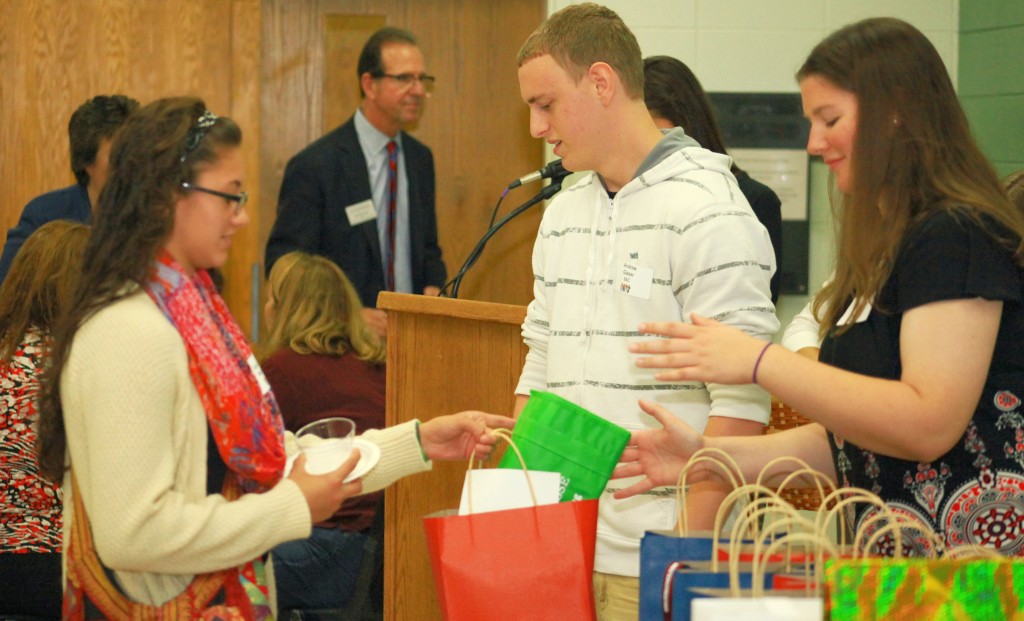 College of Business Administration Student Advisory Council members Andrew Glaser and Hannah Vidmar, photo right, handed out door prizes at the annual College of Business freshman social event to "meet and greet." The event was held Oct. 4 in Cartwright Center.[/caption] Staff in UW-L's College of Business Administration are networking — again. Staff and CBA students met new students Oct. 4 at the CBA annual "meet and greet" event for freshmen. CBA staff have hosted the Freshman "Meet and Greet" event since 1996. The event gives student the opportunity to meet faculty advisers, hear from CBA students representing various organizations and majors, win prizes and have refreshments. CBA freshman Hannah Schambow won the top door prize. She gets to register for her spring classes early — before the seniors — and will probably be able to get the classes and schedule she wants. For more photos of the event see
http://goo.gl/mT1uJP
. Find out more about CBA at
www.uwlax.edu/ba/
.
'Two Spirits' to be shown Oct. 14
Fred Martinez was nádleehí, a male-bodied person with a feminine essence, a special gift according to his ancient Navajo culture. He was one of the youngest hate-crime victims in modern history when he was brutally murdered at 16 by a young man who bragged to friends that he had bug-smashed a fag. The documentary "Two Spirits," which explores his life and death, will be shown at
5 p.m. Monday, Oct. 14,
in 243 Graff Main Hall. Coordinator for the Native American Student Services at UW-Oshkosh Thomas Lee Eades (Ho Chunk) will lead a discussion following the showing. Refreshments will be served. The Pride Center, Rainbow Unity and the Native American Students Services are sponsoring the event.
'State of the State on LGBTQ Issues' set for Oct. 15
Advocate for lesbian, gay, bisexual and transgender people Katie Belanger will present "State of the State on LGBTQ Issues" at
4:30 p.m. Tuesday, Oct. 15,
in Port O' Call, Cartwright Center-Gunning Addition. Refreshments will be served. Belanger is president and CEO of Fair Wisconsin Inc. The organization works to build a fair, safe and inclusive Wisconsin for LGBT people by advancing, achieving and protecting LGBT civil rights through lobbying, legislative advocacy, grassroots organizing, coalition building and electoral involvement.
Pianist, violinist to be featured at Oct. 16 guest recital
La Crosse native Katelyn Bouska will be on campus
Thursday, Oct. 16,
for a guest faculty recital at 7:30 p.m. in the Annett Recital Hall, Center of the Arts. The program is free and open to the public.
Bouska, a graduate of Viterbo University, is currently living in Philadelphia where she is completing a doctorate degree in piano performance. She holds master's degrees in piano pedagogy and harpsichord performance and a professional studies certificate focused on chamber music. Highlights of her recent musical career include travels to France and Canada, as well as studies with Ilton Wuijinski and Vladimir Feltsman.
Violinist Jambol Leuenberger, also currently living in Philadelphia, will perform with Bouska. Leuenberger received a bachelor of music and master of music performance degrees from Temple University in Philadelphia and is a member of the New American String Quartet. The program will include solo piano compositions by Chopin and Janacek, violin and piano sonatas by Franck and Ysaÿe, and arrangements of three art songs for violin and piano.
The Beatles is featured band at Oct. 18 Album Encounters; public program continues
The Album Encounters multimedia light and laser show will feature the Beatles' "Abbey Road"at
8 p.m. Friday, Oct. 18,
in 20 Cowley Hall. Admission is $5. The Planetarium's Public Program for October is "Two Small Pieces of Glass." The talk, followed by a multimedia audiovisual presentation, will be at 1 p.m. Saturdays in October. Admission is $3 for students, seniors and children, and $5 for others. To find out more, contact Bob Allen at
allen.robe@uwlax.edu
or 608.785.8669. See more about the Planetarium at
www.uwlax.edu/planetarium
.
Ally Trainings to be held Oct. 21, Nov. 14
Learn how to be a better ally to the LGBTIQQAA community. The Pride Center is offering two more
Ally Trainings
this semester. One is set for
4-5:30 p.m. Monday, Oct. 21,
in 331 Cartwright Center. The final training this semester runs from
4-5:30 p.m. Thursday, Nov. 14,
in 330 Cartwright Center.
Victim of hate crime on campus Oct. 16
Erin Davies and her Fagbug return to UW-L
Wednesday, Oct. 16
. The victim of a hate crime will be available for pictures with her car, "the Fagbug," and to answer questions from
11 a.m.-2 p.m.
at the Hoeschler Tower. Davies' car, which had a rainbow sticker on it, was vandalized, and left with the words "fag" and "u r gay" placed on the driver's side window and hood of her car. She took her car, now known worldwide as the "fagbug," on a 58-day trip around the U.S. and Canada. Along the way, Erin discovered other hate crimes, had people attempt to remove the graffiti, and experimented with having a male drive her car. A documentary about her experience will be shown at
5:30 p.m.
Wednesday
in the Cameron Hall of Nations, Centennial Hall.
Three from UW-L to present artwork in 'Mark My Words Again' display; artist reception is Oct. 18
Artistic work of three UW-L employees will be shown in the "Mark My Words Again: Artists Respond to Short Poems" display at the Pump House Regional Arts Center, 119 King St. UW-L employees Martina Skobic, Marcia Thompson and Stella Vognar are joining other area artists and poets to display their work in the exhibition. An opening reception will be held from
6-9 p.m. Friday, Oct. 18,
at the Pump House Regional Arts Center. Jurors selected 25 short poems and 25 artists through a blind submission process. Each artist was given a poem and had three months to create a piece in response. A variety of styles and genres are featured. At the reception poets will read their work in front of projected images of the art it inspired. The Odin Arts Cooperative will award five prizes for "Best Connection." The La Crosse Public Library will award three prizes each for "Best Poem" and "Best Art." Following the Pump House exhibit, the work will be exhibited at the La Crosse Public Library, 800 Main St., from Monday, Oct. 21, to Nov. 24. The library helped coordinate the program.
'Can We be Good Without God?' debate set for Oct. 20
"Can We be Good Without God?" is the subject for a debate on campus at
7 p.m. Sunday, Oct. 20.
Former President of the Minnesota Atheists August Berkshire will debate Faith United Methodist Church Pastor Scott McMurray in Valhalla, Cartwright Center-Gunning Addition. Both speakers will address general questions after the debate. The event is free and open to the public. For more information visit the
Facebook
event page or email
pence.katy@uwlax.edu
.
Practice-based research is topic of Oct. 21 Bioresearch Forum
Doctor Paul V. Targonski, associate professor and director, Mayo Clinic Health System Practice-based Research Network Mayo Clinic College of Medicine, Rochester, Minn., is the keynote speaker at the
Monday, Oct. 21,
La Crosse BioResearch Forum. Targonski will speak on "Practice-based Research: How Patients and Providers Drive Discoveries to Health Impact" from
12:15-1 p.m.
in the Overholt Auditorium at Gundersen Lutheran. He will answer questions following the presentation. The free forums are open to the public and hosted by the Center for Cancer and Blood Disorders and the Gundersen Lutheran Medical Foundation. Those attending should park in the Green ramp (
see map
) or use valet parking. Use the entrances at the north end and northeast side of the medical center.
Provost open forum to be held Oct. 22
Provost Heidi Macpherson is holding an open forum from
3-4 p.m. Tuesday, Oct. 22,
in Port O' Call, Cartwright Center-Gunning Addition. There is no set agenda. Macpherson welcomes the opportunity to hear updates on what the campus community is doing well and about opportunities for improvement. Share your views and ideas.
Documentary film about parents of gay children to be shown on campus Oct. 30
Connected by having a son or daughter who is gay, parents across the country discuss their experiences in the documentary "Anyone and Everyone." In it, filmmaker Susan Polis Schutz depicts families from diverse backgrounds and from various religious denominations. The parents share intimate accounts of how their children revealed their sexual orientation and discuss their responses. The film will be show at
7 p.m. Wednesday, Oct. 30,
in 337 Cartwright Center.
Conference on human trafficking in the Coulee Region to be held Nov. 7 on campus; register by Oct. 24 for discounted price
Human trafficking is the illegal trade in human beings for the purposes of commercial sexual exploitation or forced labor. It generates $32 billion annually. Find out how this affects the Coulee Region at a June Kjome Social Justice Conference 2013. A "Human Trafficking in the Coulee Region" conference will be held from
8:30 a.m.-5 p.m. Thursday, Nov. 7,
in the Cleary Alumni & Friends Center. Keynote speaker Vednita Carter is the founder and executive director of Breaking Free, a non-profit agency that assists women and girls to escape systems of prostitution and abuse. The agency provides advocacy, direct services, housing, education and hope to 400-500 women, girls and their children each year. Carter has spoken at awareness gatherings and conventions thoughout the U.S. and sits on several national committees. Carter is revered as one of the main voices speaking for the women oppressed by sex trafficking in the U.S. and has worked directly with women in sex trafficking for more than 20 years. Registration for the conference is required. Cost is $25 for those who register by
Thursday, Oct. 24
. Cost is $30 after Oct. 24. Students pay $10. For registration information, visit
www.ywcalax.org
. A free evening presentation will be held from
7-8:30 p.m
.
Deadline to submit presentation proposals for Diversity Dialogues 2014 is Dec. 2
Presentation proposals are now being accepted for the 2014 Diversity Dialogues event Wednesday, Feb. 5, 2014. Diversity Dialogues is aimed at celebrating different aspects of diversity. The guidelines to submit a presentation proposal are available at the Diversity & Inclusion website under the "Keep Learning" tab. The deadline for submissions is
4:30 p.m. Monday, Dec. 2.
For more information contact Barbara Stewart at
bstewart@uwlax.edu
or 608.785.5097.
Green Fund applications due Nov. 9
Students, faculty and staff are encouraged to submit Environmental Sustainability Reserve (Green Fund) proposals for campus sustainability-related projects. The deadline to submit proposals during the fall semester is Saturday, Nov. 9. To download applications for Green Fund proposals visit
www.uwlax.edu/sustainability
. The application document includes information about eligibility requirements and proposal evaluation criteria. Applications for projects funded by the Green Fund are collected and reviewed by the Joint Committee on Environmental Sustainability (JCES), then forwarded to the Segregated University Fee Allocation Committee (SUFAC). SUFAC then moves applications on to Student Senate with its recommendations. Student Senate decides upon final Green Fund application approvals. For more information, contact Green Fund Coordinator Ian Wright at
greenfund@uwlax.edu
.
Deadline to apply for scholarships is Feb. 15, 2014
The online scholarship system at
https://uwlax.academicworks.com/
is open for the 2014-15 award cycle. Students who will be enrolled for the 2014-15 academic year are eligible to apply for UW-L Foundation scholarships. If you previously signed up for the online system with a non-UW-L email, make sure to *sign-in* using your current UW-L email. The scholarship application deadline is Feb. 15, 2014. Contact Sara Olson at
solson@uwlax.edu
if you have questions.
Scholarships totalling more than $600,000 were awarded for 2013-14.

Upcoming events
Men's Cross Country
Jim Drews Invitational
Saturday, Oct. 19, 10:30 a.m.
West Salem
Women's Cross Country Tori Neubauer Invitational Saturday, Oct. 19, 11 a.m. West Salem
Women's Swimming

Alumni Meet
Saturday, Oct. 19, noon
Mitchell Hall
Men's Swimming
Alumni Meet
Saturday, Oct. 19, noon
Mitchell Hall
Soccer

vs. Oshkosh
Saturday, Oct. 19, 4 p.m. Veterans Memorial Field Sports Complex
Click here for ticket information
Free schedule poster giveaway
Twitter
UWLEAGLEFAN (UWL EAGLE FAN)
Follow the Athletic Director on Twitter: @UWLAXAD
Eaglez Kidz Klub
|
Group Outings
|
Get Involved
|
Maroon Platoon
|
Mascot
|
Tickets
|
Events & Promotions
|
L-Club
|
Donate

Matthew Evenson
, Campus Climate Office, had the article "Intentionally Building Inclusive Communities" published in the fall 2013 UMR-ACUHO Perspectives magazine.
Will Harmon
and
Maryke K. Taute
, Residence Life, had the article "Extended Family: The Tail Wagging Kind" published in the magazine. UW-L alumna
Alissa Ganser
published a scientific article based on her master's research "The Effects of Elevated Water Temperature on Native Juvenile Mussels: Implications for Climate Change" in the journal Freshwater Science 32:1168-1177. Co-authors of the article include
Roger Haro
, River Studies Center/Biology, and Teresa Newton, United States Geologic Survey.
Christine Hippert
, Sociology and Archaeology, had her article "Food Insecurity, Andean Indigeneity, and Development Aid: Constructing Local and Global Development Identities in Huancarani, Bolivia," published in the August edition of
Bolivian Research Review
.
Mahruq Khan;
Women's, Gender, and Sexuality Studies; was featured on the cover of and in an article in the October/November 2013 issue of
Coulee Region Women
.
Jörg Vianden
, Student Affairs, presented the opening keynote"Mind the Gap: Understanding and Engaging Cultural Differences in the Student Affairs-Academic Affairs Partnership" at the national ACUHO-I Living-Learning Programs Conference in Providence, RI, Oct 4-6.
Gary L. Willhite
, Educational Studies, has his review of "Raising Global IQ: Preparing Our Students for a Shrinking Planet" published in the October 2013 edition of CHOICE: Current Reviews for Academic Libraries. UW-La Crosse was featured on on The SafeWise Report's list of four colleges committed to keep their students safe year round. See
www.safewise.com/blog/4-colleges-committed-to-keeping-students-safe-year-round/
.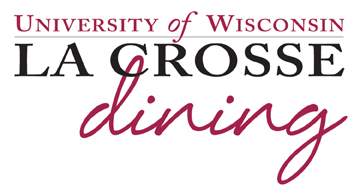 What's Happening in Dining Services
Stop in to try the week's featured limited time offers!
Cartwright Galley:
Chef's Table (Tuesdays and Thursdays): Orange Scented Salmon with Jasmine Rice
Cyclone Salads: Italian Wedge Salad
Slice of Life: Vegetarian Chipotle Chicken Flatbread
Erbert and Gerbert's: Frango Sub
Original Burger Company: Chicken Veggie & Mozzarella Sandwich
Whitney Resident Dining:
Premium night!
Stop in Whitney Center for a Premium Meal starting at 4:30 p.m. Wednesday, Oct. 16. On the menu ... steak, salmon, Smoke Gouda Mashed Potatoes, roasted asparagus and roasted yellow squash.
Did you know …
Share That You Care! Share-A-Meal Drive happening Monday, Oct. 14, in:
Whitney from 11:30 a.m.-1:30 p.m. and 4:30-6:30 p.m.
Cartwright in the Galley from 11:30 a.m.-1:30 p.m.
The Cellar 4:30-6:30 p.m.
Donate one 14, 19 or Block Meals or $5 Campus Cash to the UW-L Food Pantry. Like us on Facebook at uwlaxdining for a chance to win an iPod Shuffle! One winner will be randomly selected from all Facebook users who like the uwlaxdining Facebook Page. The winner will be chosen on Tuesday, Nov. 5.
Stay in the loop …
Check out the Dining Services website at
www.uwlaxdining.com
for dining hours, menus, promotions and more. Like Dining Services on Facebook at
facebook.com/uwlaxdining
to be a part of what's happening in Dining Services.

Welcome, new employees:
Patricia Campbell, Clinical Assistant Professor, Health Professions
Kevin Freese, Custodian, Resident Life
Terrence Grossbach, Custodian, Custodial Services
Scott Marshall, Custodian, University Centers
Anthony Meidl, Groundskeeper, Landscape Services
Mary Miller, Custodian, Residence Life
Jeff Nestingen, Custodian, Custodial Services
Miranda Panzer, Student Services Coordinator, International Education
Alexander Plaetzer, Assistant Swim Coach, Intercollegiate Athletics
Carol Rhodes, Lecturer, Music
Christopher Roethe, Physical Therapy Assistant, Student Health Center
Blake Sauey, Research Intern, River Studies Center
Sandra Vinney, Academic Department Associate, Health Education and Health Promotion
Gary Wagner, Custodian, Custodial Services
Jack Wolf, Custodian, Custodial Services
Annual flu shots on campus Oct. 16 for UW-L employees and family
UW-L employees and family members who are at least 18 years old can receive an annual flu shot from
10 a.m.-12:30 p.m. Wednesday, Oct. 16,
in Port O' Call, Cartwright Center-Gunning Addition. Staff from the Gundersen Health Plan and Health Tradition Health Plan will give the flu vaccine free of charge to covered employees and their family members who present their Health Insurance Card. Those employees who are not covered by either health plan may pay for the immunization through Gundersen Health Plan for $39. A check or cash for the exact amount will be accepted.
Health and Financial Fair set for Oct. 16
A Health and Financial Fair will be held from
10 a.m.-2 p.m. Wednesday, Oct. 16,
in Valhalla, Cartwright Center-Gunning Addition for employees to meet staff and have annual benefit enrollment questions answered. Lots of information and giveaways will be available. Attendees include: Health Tradition Health Plan, Gundersen Health Plan, Wisconsin Physician Services, Ameritas Group, Dental Wisconsin (EPIC), EPIC Benefits + (Dental, Hospital/Surgery/AD&D/Vision option) VSP Vision Plan, Minnesota Life Insurance (State Group Life plan, Individual & Family plan), Health Choice (Long Term Care Insurance), Gundersen Diabetes Education, Gundersen Women's Health, Gundersen Express Care, Gundersen Nutrition Therapy, Gundersen Laser Vision, Gundersen Advanced Directives. Mayo Research, Mayo Breast Cancer Prevention, Mayo Health Promotions. Revive Chiropractic Wellness, Chiropractic First of La Crescent, Winona Counseling Clinic (Employee Assistance Program-EAP) and UW-L Wellness Center/Student Life. Retirement/financial vendors attending include: ETF (Wisconsin Retirement System); Tax-sheltered annuities Ameriprise/RiverSource Life Insurance, Lincoln National Life Insurance, TIAA-CREF, Dreyfus, Fidelity and T Rowe Price; Wisconsin Deferred Compensation; and the Social Security Administration. Bring a non-perishable food item or cash for UW-L's food pantry and receive a second chance to win a door prize. Door prizes include: a voucher for two people to a Milwaukee Bucks game ($250 value), two Green Bay Packers gift sets, Vikings Quarterback Ponder autographed photograph, two chiropractic spinal evaluations ($200 value), VSP designer sunglasses and more.
New this year:
Chiropractic First will share the 30-minute presentation "How to Stay Young the First 100 Years!" at 9 a.m. in the Ward Room, Cartwright Center. A continental breakfast will be provided.
Ensure emergency contact information is up to date
To make sure your emergency contact information up to date, stop by the Human Resources table at the Health and Financial Fair and to see who you have listed as your emergency contact and to update information as needed. This information is imperative to ensure HR staff know whom to contact in case of a crisis. When medical or other emergencies happen, every minute counts. Help HR staff help you should the need ever arise. If you can't stop by the HR table, update your information on your "My UW System" portal on the UW-L Quicklinks.

UW-L in the news
A summary of some of the stories about UW-La Crosse spotted in the news.
"

UW-L celebrates centennial of Dept. of Exercise and Sport Science

,"
WXOW.com, Oct 5. The University of Wisconsin-La Crosse Department of Exercise and Sport Science is celebrating 100 years on campus.
"Army will close ROTC at UW-La Crosse,"
Wisconsin Public Radio, Oct. 4. The Army has announced that the Army Reserve Officers' Training Corps (ROTC) program at UW-La Crosse will be phased out over the next couple years ... (audio clip)
"UW-La Crosse to lose ROTC program,"
Badger Herald, Oct. 7. After 41 years, University of Wisconsin-La Crosse will close its Reserve Officers' Training Corps program as a result of the Army closing 13 programs across the country ...
"Carla Graham: UW-L deserves to be shown respect,"
Letter, La Crosse Tribune, Oct. 8. In two recent events, extreme disrespect has been displayed for the University of Wisconsin-La Crosse. First, car-tipping and over-the-top drunkenness; second, the presence of street preachers on campus. I'm uncertain which upsets me more ...
"UW-L professors explain government shutdown, debt ceiling,"
WXOW.com Oct. 9. UW-La Crosse Political Scientist Assistant Professor Jacob Holt predicts a deal ending the government shutdown will come on ...
UW-L alum to complete in world's top ironman event Oct. 9

Oct. 21 webcast to focus on scholarly communication, open access
How is the impact of scholarly communication measured in the world of open access publishing? Murphy Library kicks off International Open Access Week with internationally-recognized experts discussing that topic. The discussion is from
2-3 p.m. Monday, Oct. 21,
in 121 Murphy Library and will be webcast concurrently with events taking place at the World Bank in Washington, D.C. A question-and-answer session runs from
3-3:30 p.m.
The webcast is sponsored by The Scholarly Publishing and Academic Resources Coalition and the World Bank. Speakers include:
Executive Director of the American Society for Cell Biology Stefano Bertuzzi
Chief Information Officer for the National Endowment for the Humanities Brett Bobley
Director of Scholarly Communication of the Modern Language Association Kathleen Fitzpatrick
Advocacy Director for Public Library of Science Cameron Neylon
Assistant Director for Biotechnology in the Science Division of the White House Office of Science & Technology Policy Michael Stebbins
This program is recommended for faculty and staff, graduate students, and others involved with scholarly research and publishing. Open access refers specifically to scholarly output in digital format being freely accessible to the public via the Internet. This free access is a direct result of authors or copyright-holders consenting to offer their scholarly output free of most copyright and licensing restrictions. Authors, however, continue to have control over the integrity of their work and the right to be properly acknowledged and cited.
Through such consent, barriers to the dissemination of and access to information are reduced, resulting in more open and clear scholarly communication. For more information, contact Digital Collections/University Repository Librarian David Mindel at
dmindel@uwlax.edu
or 608.785.8945.
Murphy Library surveying students about creation of Digital Media Suite/Maker Space in library
Murphy Library is proposing the creation of a Digital Media Suite/Maker Space in the library where students, faculty and staff could make simple video productions and perform edits; print 3-D materials; edit photos and graphics; and produce and edit digital music and arts and crafts, such as knitting and origami; assemble robotics kits and simple electronics; and more. Students who take the short, five-question survey are entered into a drawing for Sodexo Dining Services gift cards. To take the survey, go to
https://uwlacrosse.qualtrics.com/SE/?SID=SV_8krhUQa0GmgOEKN
.

OCW Book Club to discuss 'One Thousand White Women' Nov. 14
UW-L's Organization for Campus Women Book Club will discuss the book "One Thousand White Women — The Journals of May Dodd" by Jim Fergus from 4-5 p.m. Thursday, Nov. 14, in Murphy's Mug. The book club is open to all members of the campus community.

For sale
Four-bedroom house
with 2-1/2 baths with four off-street parking spaces. 1418 State Street. Call
920.648.8904
.
Free
Ping-pong table.
You haul. Contact Jodie at
jrindt@uwlax.edu
.