Posted 3:04 p.m. Friday, Sept. 26, 2014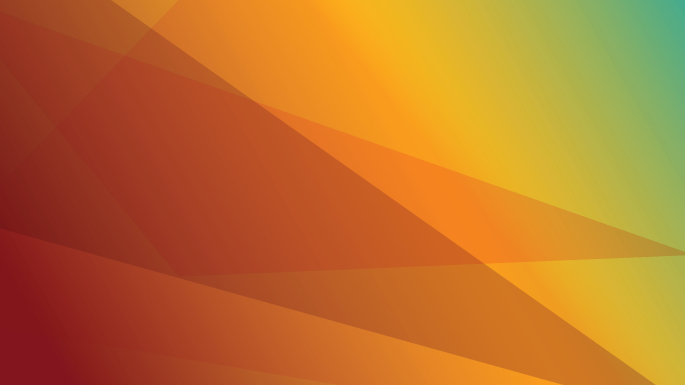 This week's news and events.

7 to be inducted into Wall of Fame

Six student athlete alumni and a former athletic administrator will be inducted into the UW-L Wall of Fame Sunday, Oct. 12. 

Read more »

In this issue:

Announcements & Notices

Athletics

Campus Kudos

UWLDining

In The News

Classifieds
UW-L celebrates Hispanic Heritage Month

UW-L will mark the national celebration of Hispanic culture and history with a series of lectures, films, tango and musical performances, and more. All events are free and open to the public. 

Read more »

Nobel Prize Winner in Physics shares discovery at UW-L

In 1929 Edwin Hubble discovered that the universe is expanding. Eighty years later, the space telescope that bears his name is being used to study an even more surprising phenomenon: that expansion is speeding up.

 Read more »

UW-L's Murphy Library to honor two long-time supporters

Two long-time UW-L administrators will be honored for their long-time commitment to the university's Murphy Library. 

Read more »

Library catalog becomes Search@UW

Search@UW will replace the existing library catalog Monday, Oct. 1. Users will see a new tab on the library home page, "Articles, Books, & More." The tab "Library Catalog" will be removed. 

Read more »

Building up the community: La Crosse among '16 greatest places to live'

La Crosse stands out as one of the top places to live in the country in part because of its abundance of trails for outdoor recreation. 

Read more »

Grand Mile Run raises $4,000 for UW-L scholarships
[caption id="attachment_36405" align="alignnone" width="770"]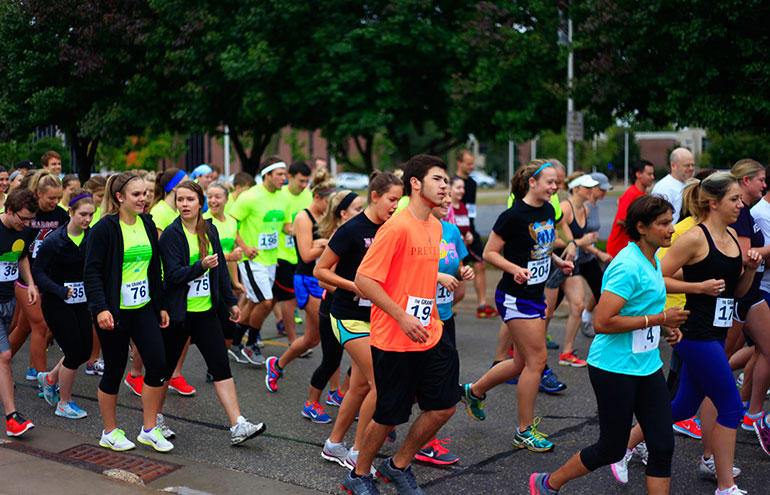 UW-L's first-ever, mile-long fun run Saturday, Sept. 20, attracted about 250 registered runners and raised a total of $4,000. Proceeds will go toward scholarships for new freshmen. "The battle is always to break even for a first-year event and we did more than that, so it was fantastic," says Tyler Heinz, owner of Grand Bluff Running, one of the event co-sponsors. Heinz adds that they expect to hold the event again next year near the beginning of the school year. To see more photos of the event, go to http://goo.gl/egr7EO. Photos by UW-L student Hanqing Wu.[/caption]
Fresh vegetables and more at Monday Farmers Market on campus
[caption id="attachment_36452" align="alignnone" width="770"] A Farmers Market is held from 11 a.m.-5 p.m. Mondays on Wittch Field, across from Centennial Hall. Be sure to check it out! For more information email wellness@uwlax.edu.[/caption]
Deadline to sign up for Enterprise CarShare at discounted rate is Sept. 30
Become a member of the Enterprise CarShare program for $10 if you register by Tuesday, Sept. 30. Sign up by Sept. 30 and receive $10 back in driving credits. Reserve a car, pay by the hour, day, or even overnight. With this fall promotion members pay 5$ an hour to rent the car with gas included. For more information visit EnterpriseCarShare.com/join.
Learn to dress on a budget
Learn fashion techniques to make the most of your career wardrobe from
6:30-7:30 p.m. Wednesday, Oct. 1,
on the first floor Reuter Hall. Find the best deals and what the do's and don'ts are for work and interview dress codes.
LIVEMAROON Get-Together: Thursday, Oct. 2

Join in the fun from 10-11:30 a.m. in Hall of Nations, Centennial
Campus employees can LIVEMAROON Thursday, Oct. 2. A LIVE
MAROON
 Get-Together is planned from
10-11:30 a.m.
in the Cameron Hall of Nations, Centennial Hall. Don't forget to wear your LIVE
MAROON
 T-shirt or other maroon clothing. Also, please wear your office name badge if you have one. The Get-Together, open to all campus employees, is an opportunity to meet colleagues, enjoy some free beverages and treats, and win LIVE
MAROON
 merchandise and other door prizes. The Get-Together is free and open to all. Employees should work with supervisors to ensure office coverage. LIVE
MAROON
 is a campus-wide effort to highlight the passion, friendship, community and pride found at UW-L. The initiative is coordinated and sponsored by Campus Climate, University Communications and University Police. No taxpayer dollars are used to fund the event.
Farewell reception for Jason Bertrand to be held Oct. 2
UW-L's Wellness Coordinator Jason Bertrand will be leaving the campus in mid-October after five years in the Student Life Office and the Office of Residence Life.  
A farewell reception for Bertrand will be held from
 2:30-4 p.m. Thursday, Oct. 2, 
in Port O' Call, Cartwright Center-Gunning. 
Career Fair 101 set for Oct. 3
Students can get expert advice on how to present themselves well at Career Fair 101. The free event runs from 
11 a.m.-1 p.m. Friday, Oct. 3,
in the Cameron Hall of Nations, 1300 Centennial Hall. No registration is required. Students may stop in as their schedules allow. Students can meet individually with employers and career advisers for resume critiques and tips for interviewing, introductions, researching prospective employers and professional dress. They can also get their LinkedIn photos taken. Career Fair 101 is offered in advance of the Fall Career Fair set for Wednesday, Oct. 8, in Valhalla, Cartwright Center-Gunning Addition. The event is sponsored by UW-L Career Services with assistance from It Make$ Cents!.
Food for Thought: Social Justice Brown Bag Lunch to be held Oct. 3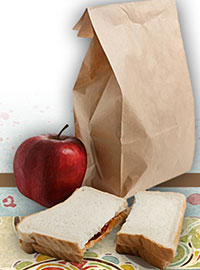 Join the conversation on select Friday afternoons throughout the year to learn about contemporary research topics and featured issues related to social justice. Bring a lunch; cookies provided.
Ashleigh Williams, Residence Life, will lead the discussion "Traffic, Sunburns and Baseball; Analogies to Help People Understand Systematic Oppression" from 1-2:30 p.m. Friday, Oct. 3, in Port O' Call, Cartwright Center-Gunning Addition.
The Food for Thought: Social Justice Brown Bag Lunch series is free and open to everyone and is sponsored by Campus Climate, Institute for Latin American Studies, Social Justice Network and the Wellness Resource Center. For questions or to request disability accommodations, contact Campus Climate at 608.785.5094.
For more information, contact Shane Zoltak at zoltak.shan@uwlax.edu.
Art classes offered at YMCA Oct. 6-12
YMCA Arts Week, a week-long celebration from
Monday, Oct. 6-Sunday, Oct. 12
, of the Y's commitment to arts programming. That week the Y is offering $5 art classes that are open to the community. Classes include crocheting, jewelry making, paper cutting and fall crafts. For more information contact Tammy Addleman at 
taddleman@laxymca.org
 or go to 
www.laxymca.org/contact/news/arts-week/
.
'Is Your Halloween Costume Racist?' discussion to be held Oct. 7
Educate yourself and your friends about the do's and don'ts of Halloween costume selection. Join the Department of Ethnic and Racial Studies as it presents "Is Your Halloween Costume Racist: A Discussion" at
6:30 p.m. Tuesday, Oct. 7,
in the Ward Room, Cartwright Center. ERS faculty and minors will lead the discussion about making wise choices regarding Halloween costumes or general costume party selections. The event is presented by the Department of Ethnic & Racial Studies.
CSAH Global Experiences 2014-15 Lecture Series begins Oct. 7
UW-L's College of Science and Health Global Experiences 2014-15 Lecture Series  begins with a talk by Professors Gregory Sandland and Mark Sandheinrich about their experiences in Belize and Costa Rica. The presentation will be from
3:45-4:45 p.m. Tuesday, Oct. 7,
in 1400 Centennial Hall.
Upcoming talks are set for Tuesday, Oct. 28, and Monday, Nov. 10. For more information contact Professor of Geography Georges Cravins at
gcravins@uwlax.edu
.
Bagpipers Beginner Chanter Class begins Oct. 9
Anyone interested in participating in a Bagpipers Beginner Chanter Class beginning
7:30 p.m. Thursday, Oct. 9,
should contact Faculty Emeritus Lloyd Bogart at 608.788.5243 or 608.790.7739 or 
bogart.lloy@uwlax.edu
. The class meets on campus and is inexpensive. No bagpipes needed.
'Wheels for All' basketball/team handball tournament is Oct. 25; sign up by  5 p.m. Oct. 17 to get on the court
PRICE: $5 per player (both basketball and handball)
The UW-L Sports Management Association works hard to raise awareness for those with disabilities.
For seven years, it has hosted "Wheels for All," a fundraiser for disability charities. Handball was added last year.
The 4-on-4 wheelchair basketball tournament and 7-on-7 wheelchair team handball tournament will bring students, faculty and staff —  with and without disabilities —  to the court to raise money for the Center on Disability Health and Adapted Physical Activity.
Events run from 8 a.m.-5 p.m. Saturday, Oct. 25, in the Mitchell Hall Gymnasium.
Registration forms to sign up for either tournament are in 108 Mitchell Hall. Wheelchair basketball requires a team of five or more players in the men's, women's and co-ed divisions. Wheelchair handball requires a team of seven or more players. Registration is $5 per participant.
A United Way story
UW-L campaign continues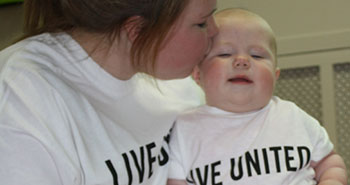 At just 16 years old, Beth found herself pregnant and scared. She knew graduating high school was the first of many necessary steps in giving her baby, a daughter whom she would name Sofia, the future she deserves. Becoming pregnant forced Beth to grow up quickly. Friends turned their backs and began bullying her, and as the pregnancy progressed, the bullying turned physical. Beth's goal of graduating felt even more out of reach. Then, Beth learned about Hope Academy, a school for teen moms and their babies. A Family & Children's Center program supported by United Way, Hope Academy allows teens to become self-sufficient, capable parents, and ensures the healthy growth and development of the babies born to them.
Read her whole story.
Join more than 40 colleagues who have contributed nearly $4,700 so far and help Coulee Region people, like Beth, who are in need. Simply complete the form received through campus mail, with the online 
United Way Pledge Form
, or at 
http://www.greatriversunitedway.org/give/
. Return completed forms to University Communications, 115 Graff Main Hall. Those contributing at any amount will receive a 20 percent discount coupon to the University Bookstore. Also, every $52 pledge equals an entry for gift cards and more from the United Way, with drawings set for Oct. 29, Nov. 20 and Dec. 11. So, donate to help those who need help in the Coulee Region and LIVE UNITED!
Parking Services introduces pay-by-phone option, new pay stations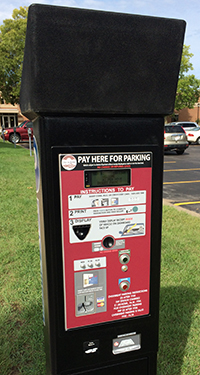 Those worried about running late to a parking meter won't have to worry much longer. A pay-by-phone feature will be added to pay stations in UW-L parking lots. The new service, scheduled to go live in mid-October, will enable campus visitors to add time using a smartphone or computer using instructions provided on the pay stations. "It's a feature that takes advantage of technology and provides our customers with more options," said Parking and Transportation Services Manager Victor Hill. A number of campus parking meters were replaced with pay stations. The pay stations are located in lots C-2 (near the Roger Harring Stadium at Veterans Memorial Field Sports Complex Stadium), C-7 (by the Recreational Eagle Center), C-10 (by the Center for the Arts), C-12 (by the Cleary Alumni & Friends Center), and on the first level of the parking ramp. Pay stations accept cash, coin or credit card as payment options. All pay stations also offer temporary, overnight parking for visitors. The stations default to a $5 rate after 7 p.m., a feature that can be used by visitors who arrive on campus after Parking Services is closed. For more information, contact Parking and Transportation Services, at 608.785.8061 or 
parking@uwlax.edu
.
New technology showcased at Technology Tomorrow, Today Sept. 19 event
[caption id="attachment_36483" align="alignnone" width="770"]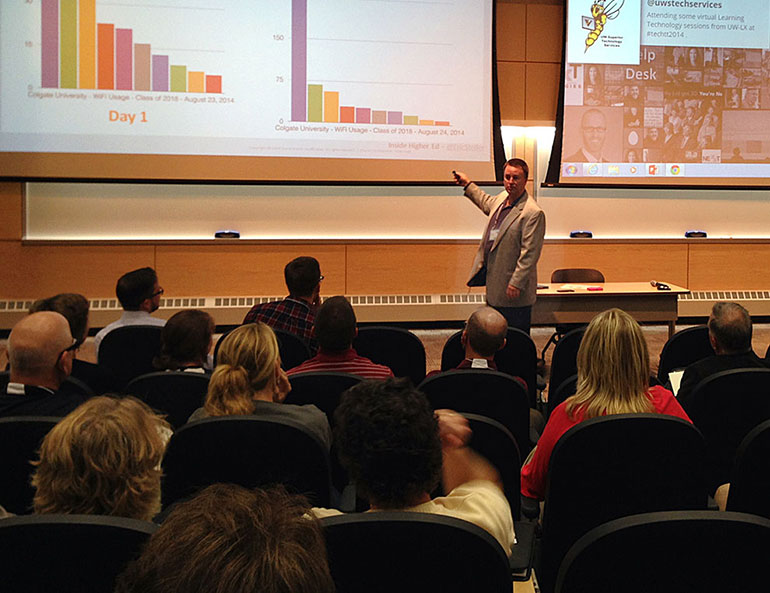 Andy Mitchel,  director of Oracle Student Experience for CX Strategy, presented "Social Media, Are You Reaching your Audience Through Their Channel?" at the Technology Tomorrow, Today Sept. 19 on campus.[/caption]
— By Jim Jorstad, Information Technology
Nearly 300 registered participants, faculty, students and technology corporations form around the United States and Canada descended on UW-L's Centennial Hall as part of Technology Tomorrow, Today Sept. 19. The event highlighted technologies that might be perceived as futuristic, but are actually used today. Vendors from companies such as Apple, Cisco, Intel, Dell, Sonic Foundry and many others showcased their newest technology innovations. Tweetbeam, a leading company that creates live Twitter streams at conference events supported the event from Amsterdam. The Twitter stream can be seen at: 
http://www.tweetbeam.com/show?id=AQzSZ
. Alan Frost, UW-L alumnus and now Marketing and Communications director from Intel was one of the corporate speakers at the event. Frost spoke on SSDs- Solid State Drives. CIO's from around the UW System also attended the event. Local car dealerships demonstrated state-of-the-art automotive technologies in their high technology vehicles. Faculty learned about the appropriate technology to create flexible classroom learning environments and game-based learning. Attendees learned about technology-related questions from social media management to the future of reliable storage. The event was primarily geared toward students, faculty and staff. Regional academic institutions, area health care centers and technology-related companies also attended. Technologies highlighted included: computer hardware/software, productivity software, video conferencing and telepresence, video streaming, mobile computing, 3D printing, learning space furniture and design, gaming, automotive technology and related technologies. Demonstration areas and product showcase tables  were set up in the main entrance lobby of Centennial Hall. Throughout the day, selected vendors gave 30-minute presentations about their products. Segway of Wisconsin brought six units for attendees to try and discuss. A national sales representative from General Motors came to highlight the company's new HotSpot line of cars. The Technology Showcase was hosted by UW-L's ITS department and is the first of its kind in the UW System. Currently, discussions are underway to determine if the event should be brought back to campus in one or two years. To see how the local media covered the event, click on the following links:
WKBT www.news8000.com/news/28158916
WXOW www.wxow.com/story/26579940/2014/09/19/uw-l-brings-top-tech-companies-to-campus-for-technology-today-tomorrow

News and upcoming events
Women's Volleyball

 will host Luther College at 5 p.m. Friday, Oct. 3, in the Mitchell Hall Gymnasium. Faculty and staff will be able to get in free with their UW-L ID for this Faculty/Staff Appreciation Day

Women's Volleyball

 plays UW-Oshkosh at 2:30 p.m. Saturday, Oct. 4, in the Mitchell Hall Gymnasium. Parents are invited to come and watch athletes compete for this special Parent's Day game
Football tickets and All-Sport passes are now on sale for the 2014-15 season
Eaglez Kidz Klub registration now available for youth in sixth grade and under 
Lil' Eagles Girl Basketball Camp is now accepting registrations. First day of camp starts Oct. 5
Junior Eagles Boys Basketball Camp is open for registration 
High school students graduating in 2015 will have the opportunity to join the UW-L Baseball Program in a one-day clinic Oct. 11 designed to enhance their skills in preparation for a future in college baseball 
Twitter 
UWLEAGLEFAN (UWL EAGLE FAN)
Follow the Athletic Director on Twitter: @UWLAXAD
Eaglez Kidz Klub
 | 
Group Outings
 | 
Get Involved
 | 
Maroon Platoon
 | 
Mascot
 | 
Tickets
 | 
Events & Promotions
 | 
L-Club
 | 
Donate
Alan Bigel
, Political Science, was featured in the WalletHub recent study "
2014's Most and Least Happy States in America
" which has garnered nationwide news coverage.
Sara Docan-Morgan,
Communication Studies, has published "They were strangers who loved me: Discussions, narratives and rituals during Korean adoptees' initial reunions with birth families," in the Journal of Family Communication, 14(4), 352-373.
Brad Quarberg
, University Communications, received commendation from the Coulee Region Junior Achievement Board Sept. 15 for serving as a board member from 2005-14.
Gary L. Willhite
, Educational Studies, has been awarded a $22,494 grant from the Academy of Applied Sciences to support the Wisconsin Junior Science and Humanities Symposium. The JSHS is an avenue for high school students to participate in STEM research, compete in a regional symposium for scholarship monies, and compete at the national symposium.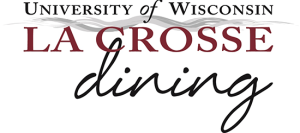 What's Happening In Dining Services
The importance of breakfast
— By 
Registered Dietitian Katie Callahan
You have heard it probably time and time again that breakfast is the most important meal of the day. But do you eat breakfast daily? A recent poll conducted through Parade magazine noted that nearly 11 percent of Americans do not have anything in the morning — not even a cup of coffee. Breakfast provides energy to the body and boosts your metabolism. There are many reasons why many people choose to ditch breakfast altogether. Here are some common reasons why people skip breakfast:
1. Lack of time
Suggestion:
Eat on the go. Make sure you have your refrigerator and cupboards stocked with portable meals you can bring with you. Some suggestions include an individual serving of yogurt or cottage cheese, a banana and some nut butter.
2. Breakfast takes too long to make
Suggestion:
Go to bed half an hour earlier and wake up half an hour earlier so that you have extra time to make a substantial breakfast.
3. You are on a diet
Many people on a diet make the erroneous assumption that skipping breakfast helps to cut calories. In actuality, it is just the opposite. Studies have shown time and time again that fasting makes people hungrier and increases the appeal of high calorie foods. Also, when breakfast is skipped, there is more of a likelihood that someone will overeat.
Suggestion:
Make sure you eat a wholesome breakfast that will get you through lunch. Having a breakfast that consists of a source of carbohydrate (banana, orange, whole wheat toast), fat (peanut butter, avocado), and protein (eggs, ham) is a great way to not only build a great breakfast, but all of your meals.
4. Your stomach cannot handle food in the morning
Most people generally use this excuse based on psychological and emotional reasons. Physiologically, your body requires nutrition to get you going —especially after a long night's sleep.
Suggestion:
Know and understand the importance of literally "breaking the fast" with breakfast. You need to take the time to refuel first thing in the morning to give your body and brain the energy that it needs. Waking up an even an extra 15 minutes earlier can truly be of benefit. Apart from breakfast helping with weight maintenance, breakfast also aids in the reduction of heart disease and diabetes in relation to cholesterol and blood insulin levels. Make breakfast a part of your everyday life — your body and brain will thank you.

UW-L in the news
A summary of some of the stories about UW-La Crosse spotted in the news. "
UW-La Crosse enrollment increases again
," WKBT La Crosse, Sept. 18. We are the smallest campus geographically in the UW System," said UW-La Crosse Chancellor Joe Gow. The chancellor says the university planned ... "
Area high school students to attend UW-L's Band Day
," The Courier Life News, Sept. 18. High school band students from throughout the region are expected to take the field at UW-La Crosse on Saturday, Sept. 20, joining the UW-L ... "
UW-L issuing voter IDs to students looking to vote
," WKBT La Crosse, Sept. 18. UW-La Crosse is making sure all students are able to vote in this ... You cannot pass that cost onto students," said UW-La Crosse University Center's ... "
Downtown hunt to promote history, library
," The Courier Life News. A UW-La Crosse history student's class project proposal will take people on a scavenger hunt-like game through downtown La Crosse. Last spring ... "
UW-L Brings Top Tech Companies to Campus for Technology Today To-WXOW News 19 La ...
," WXOW.com, Sept. 20. The University of Wisconsin La Crosse brought some of the top tech companies in the country to campus on Friday for ... "
UW-L posts record enrollment, Viterbo, Western also increase
," The Courier Life News, Sept. 20. For the second year in a row, UW-La Crosse posted its biggest enrollment in history, with a record-breaking 10,558 undergraduate and graduate ... "
UW-La Crosse hosts annual High School Band Day
," WXOW.com, Sept. 20. Local high school band members from the La Crosse area had the opportunity on Saturday to be a part of the UW-La Crosse Screaming Eagles ... "
UW-La Crosse Fun Run raises money for scholarships
," WKBT La Crosse, Sept. 20. It was a race to the finish line at UW-La Crosse on Saturday as many participated in the first ever Fun Run on campus. "
Grand Mile raises money for UW- L scholarships
," WXOW.com "
UW-La Crosse student evacuated from Ebola outbreak zone
," The Courier Life News, Sept. 23. Alexandria Berg, a master's of public health student at UW-La Crosse, had been living in Freetown since early July, completing a preceptorship, ... "
Protecting yourself against date-rape drugs
," WKBT La Crosse, Sept. 22. "... at the source of the problem, which is people thinking this behavior is okay," said UW-La Crosse Violence Prevention Specialist Ingrid Peterson. "
UW-L student shares Ebola evacuation story
," Channel 3000, Sept. 23. A University of Wisconsin-La Crosse graduate student who was studying abroad in Sierra Leone is sharing her story after she had to leave the country amid the deadly Ebola outbreak ... "
UW-L Chancellor meets with students, staff in open forum
,"  WKBT La Crosse, Sept. 23. ... we think that's pretty important because a lot of the extreme behavior seem to be from who are not from La Crosse but come here almost looking to ... "
Banned Books Week celebrated at UW-La Crosse
,"  WKBT La Crosse, Sept. 24. You're usually encouraged to keep it down in the library, but at UW-La Crosse Wednesday students and staff alike were reading parts of banned ...

 Wanted
Female roommate
to sublease one bedroom in a four-bedroom, two bath apartment at 419 North 12th St. Laundry and onsite parking. $330 plus utilities. Email
lee.hann@uwlax.edu
.
Bone marrow match.
 A bone marrow screening drive will be held from
11 a.m.-4 p.m. Wednesday, Oct. 1,
in the Student Health Center. A local man has leukemia and has not been able to find a bone marrow match. The BeTheMatch organization is coming to town to help. To find out more call UW-L Student Health Center Nurse Practitioner Colleen Paramesh at 
608.785.8558
. The Student Health Center is sponsoring the drive.