Posted 3:12 p.m. Thursday, April 27, 2023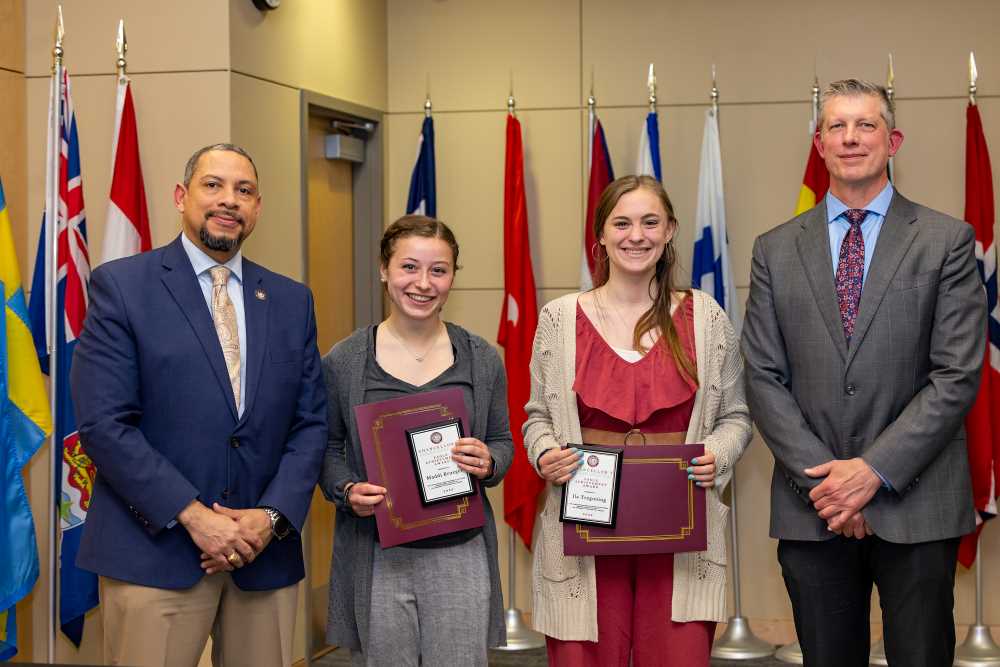 Nearly 70 UWL students honored with Chancellor's Service Award for volunteering from 25-100 + hours per student 
Many UWL students have volunteered anywhere from 25-400+ hours during their time at UWL. Those who complete so much service time deserve some recognition. That's why UWL offers the Chancellor's Volunteer Service Award and the Eagle Achievement Award every year, honoring students for their cumulative volunteer service hours throughout their time at UWL.
This academic year, 69 students completed at least 25 hours of volunteer work and received the Chancellor's Volunteer Service Award. Collectively, these students provided 4,353 hours to the La Crosse and Greater Communities.
Two students, UWL senior Maddie Krueger and Ila Tregoning, both received the Eagle Achievement Award for each volunteering 400 or more hours during their time at UWL. That's in addition to their full class schedules. Krueger is a psychology major on a pre-physical therapy track and Spanish minor. Tregoning is an education major and cultural anthropology minor.
All students were honored during a ceremony Wednesday, April 26, where La Crosse Mayor Mitch Reynold's helped the UWL Vice Chancellor of Student Affairs Vitaliano Figueroa congratulate the students.
"When you consider these students are also balancing a full time-class schedule and potentially student organizations, athletics, part-time jobs and other personal commitments, this is a significant amount of time they are dedicating to serving others," says Amanda Krafft, the Program Coordinator for Civic Engagement and Leadership. "We know this is not only a big community benefit, but also important to a students' sense of belonging and overall wellbeing. That is why we encourage volunteering so much."
Levels of volunteer service and reporting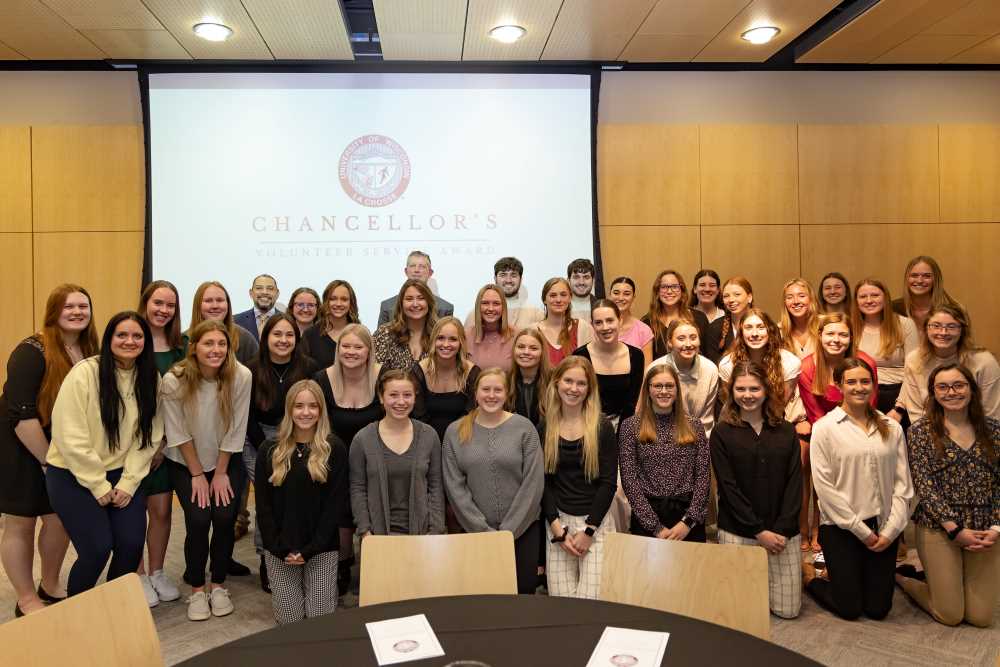 Students record volunteer hours in a platform called UGetConnected. Service may be on campus, in the La Crosse community, in a student's hometown or elsewhere. Regardless, all this time, energy, and talents benefit organizations in La Crosse and beyond. Awards are given in four levels.
Chancellor's Volunteer Service Award Bronze: 25-50 hours

Chancellor's Volunteer Service Award Silver: 51-75 hours

Chancellor's Volunteer Service Award Gold: 76-100 hours

Chancellor's Volunteer Service Award Platinum: 101+ hours
Eagle Achievement Award: 400 + hours during their time at UWL
"We all have a reason for volunteering, and rarely is it to receive recognition," shared Krafft. "It is the why that we hold in our hearts and minds, it is the why that allows us to be brace, and it is the why that empowers us to show up. Thank you to all the students, faculty, and staff who've taken the time to volunteer this year!"
The award is a partnership between the Chancellor's Office, The Division of Student Affairs, University Centers, and UGetConnected.
Want to volunteer?
UWL students interested in learning about La Crosse area volunteer opportunities can visit the UGetConnected website, or reach out to local agencies directly to inquire about opportunities. Volunteer hours must be recorded in UGetConnected. UWL employees can also explore volunteer opportunities through the UWL Employee UGetconnected User Group.