Posted 1:44 p.m. Monday, Aug. 17, 2020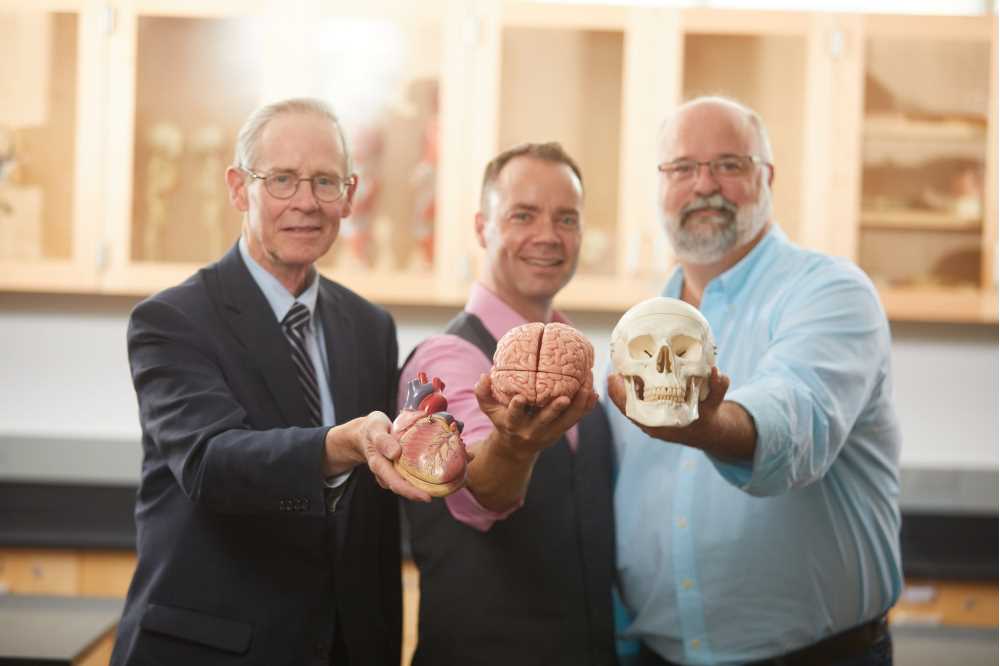 Trio conducts assessment of the psychosocial occupational health status of archaeologists
Utilizing a unique, collaborative, cross-discipline approach, three UWL faculty conducted first-of-its-kind research to look at the health status of practicing archaeologists.
It started in 2016. Dr. Gary Gilmore, health education and health promotion professor at UWL, wanted to know more about the health and well-being of archaeologists. He approached his colleague David Anderson, an archaeology professor and former professional, for answers. Their conclusion: very little information was available.
Gilmore and Anderson, having collaborated on previous projects, felt the need to investigate. Soon after, the two recruited UWL psychology professor Ryan McKelley to offer a psychosocial perspective to the budding study that already featured angles both from the profession and occupational health.
"It was beneficial that we were from different disciplines," explains McKelley. "When I work with other psychologists, sometimes we end up spending quite a bit of time debating from our own theoretical orientation and sometimes we get bogged down."
The trio moved forward and developed a nationally-validated survey directed at practicing archaeologists. Each investigator provided discipline-specific content for the survey to gain new perspectives, and ultimately, first-of-its-kind data on the self-reported health of archaeologists. After reviews by various national experts from each discipline, the survey was distributed through three major archaeology organizations, reaching an estimated 51% of practicing archaeologists in the U.S.
Nearly 1,000 surveys were completed and returned. With data in-hand, Gilmore, McKelley, and Anderson would schedule data analysis and report development meetings months in advance, tucking themselves away in a room on Graff Main Hall's third floor. Staying organized, on-task, and on-schedule was the team's top priority.
"There wasn't an 11th or 12th hour deadline for us. We didn't have a 'crash' deadline on any aspect of the work," says Gilmore. "If you want a quality outcome from a collaborative group, the key is organization. If we were to meet for an hour, our portion of work was completed within the hour."
Included in their findings, field archaeologists self-reported higher levels of coping behaviors and lower levels of substance abuse when compared to archaeologists working in an office setting. High levels of loneliness were also found when comparing field archaeologists to other practicing archaeologists. Gilmore says another key finding was about one-third of the sample reported at least one instance of gender harassment in the previous five years. "We didn't expect harassment to emerge like it did. That needs to be followed up on."
"Archaeologists are doing well as far as managing stress and their working environments," continued Anderson on the findings. "As someone who ran a division of 40 people for close to 10 years, archaeologists are coping pretty well. It's better than some other professions."
Gilmore, McKelley, and Anderson's study was published in the international publication: "Journal of Health, Safety and Environment" in 2019. The trio have also made their survey available if others are looking for examples on collaborative research.
"Archaeologists have done similar surveys on little aspects of wellness and there's lots of shortcomings of those studies," says Anderson. "Without input from (Gilmore and McKelley), the research would have not been remotely successful."
"Everything benefits from a fresh perspective," McKelley concludes. "Every discipline could benefit from people outside that discipline having eyes on what they do."
Gilmore, McKelley, and Anderson hope to revisit their research every few years to track how the responses trend over time.
This story was in the winter issue of UWL's fall 2019 College of Arts, Social Sciences and Humanities newsletter. Read more stories from the issue.