Posted 12:55 p.m. Monday, Aug. 17, 2020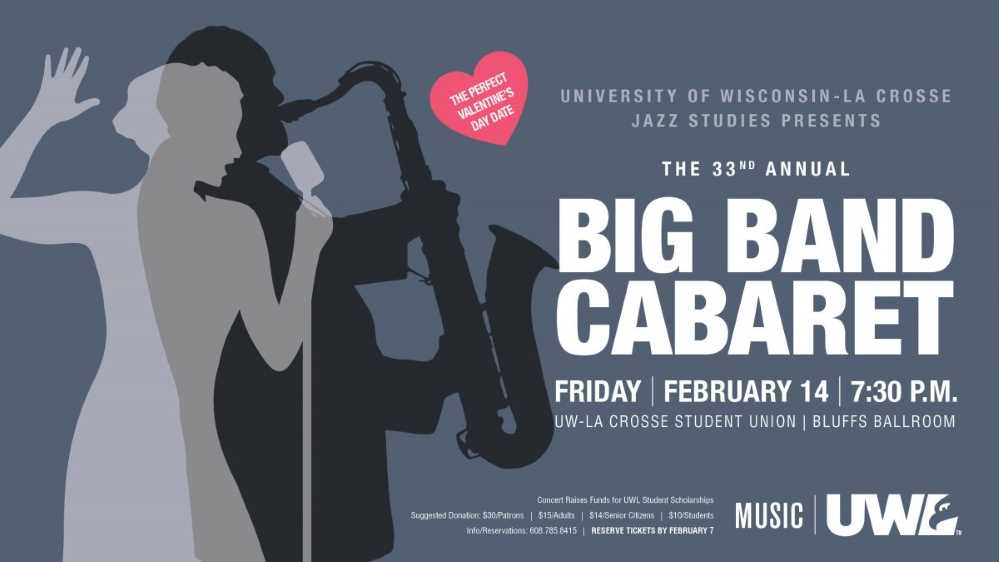 33rd Annual Big Band Cabaret is Feb. 14
Big Band music, singing and dancing are the perfect combinations for Valentine's Day. Two 18-piece big bands from the UW-La Crosse Jazz Program are featured in a scholarship fundraiser at the 33rd annual Big Band Cabaret at 7:30 p.m. Friday, Feb. 14, in The Bluffs of the UWL Student Union, 521 East Ave. N.
The "Tuxedo Dance Orchestra" (aka the UWL Jazz Orchestra) will perform classic big band dance hits such as Glenn Miller's "In the Mood" and "American Patrol," as well as Woody Herman's "Woodchopper's Ball" and Les Elgart's "Bandstand Boogie."
A number of talented soloists from the jazz program will be featured on note-for-note recreations of original solos on Benny Goodman's "Sing, Sing, Sing, Part II" by music majors Josh Beron (trumpet), Jacob Erickson (clarinet), Josh Dohm (saxophone) and Sam Hantzsch (drums).
Three other vocalists from the UWL music department —Selah-Marie Castellano, Mike Meyers and Leah Williams — will also perform. Castellano and Meyers will be featured on a number of original big band vocal arrangements from the Frank Sinatra and Ella Fitzgerald libraries, such as "The Lady is a Tramp," "That Old Black Magic" and "When You're Smiling." Williams will be singing with the "Black Coat Jazz Band" (aka the UWL Jazz Ensemble) on "Night and Day" and the Judy Garland hit "Over the Rainbow."
In addition to big band favorites, both groups will perform a variety of dance styles including polkas, waltzes, cha chas and tangos. A large dance floor will be set-up for jitterbuggers and ballroom dancers. The concert is cabaret-style seating at tables. Beverage service and snacks will be available.
The ensembles are led by Jeff Erickson, the UWL Director of Jazz Studies.
The suggested donation for this scholarship fundraiser is $30 for patrons, $15 for adults, $14 for seniors and $10 for students. For ticket reservations call 608.785.8415 during regular business hours. Tickets will also be available at the door, but reservations are recommended.
If you go—
Who: Two 18-piece big bands from the UW-La Crosse Jazz Program What: 33rd annual Big Band Cabaret
When: 7:30 p.m. Friday, Feb. 14
Where: The Bluffs of the UWL Student Union, 521 East Ave. N.
Admission: $30 for patrons, $15 for adults, $14 for seniors and $10 for students. For ticket reservations call 608.785.8415