Posted 10:05 a.m. Monday, Aug. 17, 2020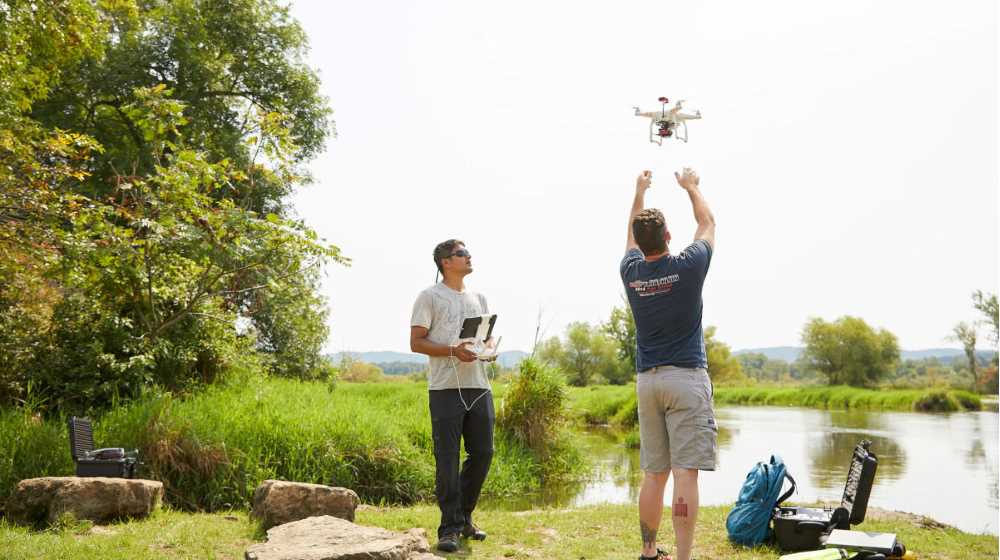 La Crosse County Conservation Alliance to recognize UWL work with BPCA to monitor invasive species using drones
UW-La Crosse faculty member Niti Mishra and several UWL students will be recognized for their work with the Brice Prairie Conservation Association to survey an invasive flowering plant that is degrading regional wetlands and wildlife habitat.
The partnership between Mishra and the BPCA that used drones to survey Purple Loosestrife will receive The Conservation Project of the Year Award from the La Crosse County Conservation Alliance.
The group will be formally recognized during the La Crosse County Conservation Alliance annual awards and recognition banquet at 6 p.m. Wednesday, April 10, at Drugan's Castle Mound, Holmen.
UW-La Crosse student researcher Zach Woodcock received a summer research grant from the BPCA to use drones to conduct aerial surveys of Purple Loosestrife in summer 2017. Woodcock worked alongside faculty mentor Mishra, an expert in using drones for remote sensing. Monitoring of Purple Loosestrife continued in summer 2018 when Mishra mentored UWL student Jackson Radenz on the same project. In summer 2019 the BPCA will again fund a UWL student to continue monitoring this invasive species. The student will use machine learning methods to address challenges related to semi-automatically detecting loosestrife in drone imagery.
For more than a decade, members of the BPCA have been releasing beetles to control the spread of Purple Loosestrife across selected areas of Brice Prairie and the Lake Onalaska area, in cooperation with the U.S. Fish and Wildlife Service and the Wisconsin Department of Natural Resources.
Using drones, Mishra and students have helped track whether BPCA efforts are making a measurable impact on the invasive species. This avoids the need to monitor on foot — wading across marshland and lakes to physically locate the plant and measure density.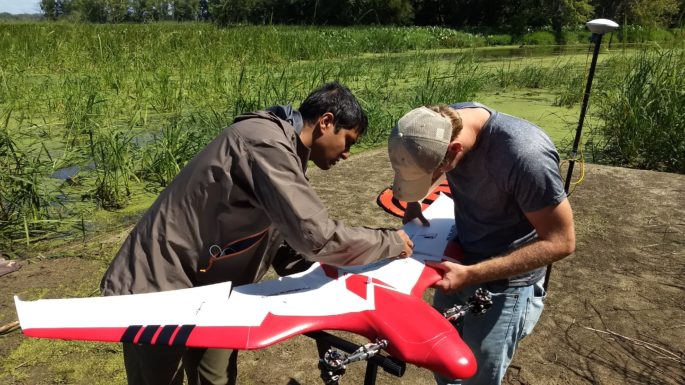 In addition to helping stop the spread of invasive species, Mishra and students have also used drone technology in various other community outreach projects from helping answer questions from measuring climate change in the Himalayas to determining the amount of material in a local rock quarry.
After graduation, Radenz, a geography and earth science major, will start as a hydrographer for J.F. Brennan Company, a marine construction/environmental restoration company that specializes in environmental dredging. He will use drones for wetland remediation. Practice using drones at the local quarry, on mountain tops and more has given him confidence in his abilities, he says.
He is excited about the prospect of using drones to find quicker answers to big questions in his future.
"Throughout human history we've been trying to solve problems by putting people on the ground," says Radenz. "Now we are able to see the issue from above. And, as the technology becomes more powerful, we are able to solve larger and larger problems."