Posted 3:45 p.m. Wednesday, Feb. 10, 2016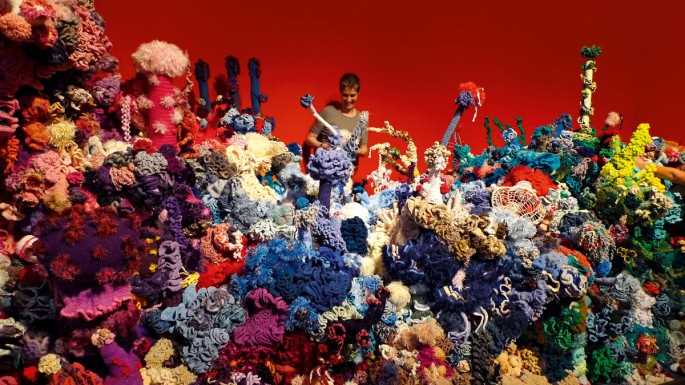 Crocheting a coral reef is part of UWL Creative Imperatives festival.
Crocheting a coral reef is part of UWL Creative Imperatives festival
Science and art will combine to create something biological, beautiful and mathematical at UW-La Crosse this year. Throughout 2016, members of the UWL community are invited to help crochet a coral reef — while learning about mathematics, marine biology, handicraft and climate change. The
Crochet Coral Reef
project started in 2005 with Margaret and Christine Wertheim of the Institute For Figuring, a Los-Angeles based non-profit, who took crochet skills taught by their mother and combined them with geometry — to re-create coral reefs. Since then, the project has grown to include satellite reefs in over 30 cities and countries worldwide. As part of UWL's
Creative Imperatives
festival, Margaret Wertheim will offer a public lecture at 
7:30 p.m. Monday, Feb. 29
, in Annett Recital Hall, Center for Fine Arts, and a Crochet Coral Reef workshop will run from
9 a.m.- noon Tuesday, March 1
, in 203 Center for Fine Arts. Workshop space is limited; to sign up, email Kate Hawkes, Art, at 
khawkes@uwlax.edu
. During
Creative Imperatives
, UWL will launch its own satellite reef. The "UW-La Crosse School Reef" will be developed by the campus community over the next year and be displayed in spring 2017 at Creative Imperatives.  Everyone from the UWL community — students, staff and faculty — is encouraged to be involved whether they have experience with crocheting or not. For more information about the project, contact Hawkes. The
Crochet Coral Reef
project is one of many events happening at this year's Creative Imperatives Festival, "Curiosity and Wonder: The Intersection of Art and Science." The festival runs from 
Sunday, Feb. 28 – Tuesday, March 1
, at UWL and partner locations in downtown La Crosse. Coordinated by the UWL School of Arts and Communication, the three-day series of workshops, performances, exhibits and presentations will showcase six invited guests, along with the work of UWL students, faculty and staff.