Posted 9:15 a.m. Tuesday, March 23, 2021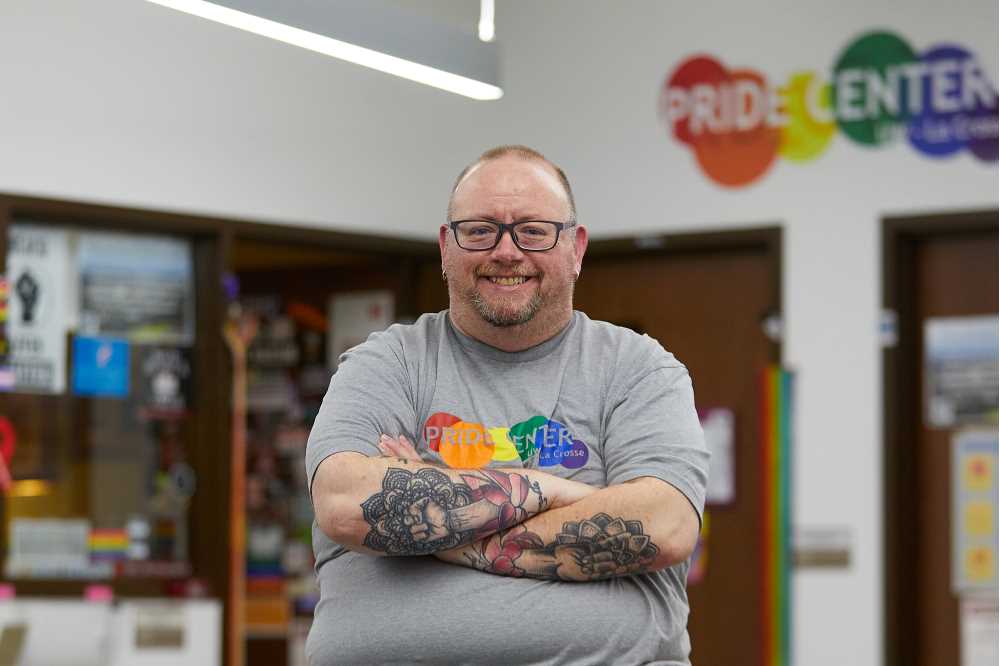 UWL programs find online fundraiser success
Since taking the helm of UWL's Pride Center in 2001, Will Van Roosenbeek has often wanted to start a fundraiser to support LGBTQ+ students.
There was one problem: He didn't know where to start.
But a new service offered by the UWL Foundation allows offices and programs on campus to launch online crowdfunding campaigns tailored to their unique needs. The Pride Center was among the first offices to take advantage of the tool, raising more than $9,400 for scholarships last fall.
"Our crowdfunding event was a huge success — we got alums to give, and we also got a lot of donations from faculty and staff and people in the community," says Van Roosenbeek, noting that they easily eclipsed the original $6,000 goal. The funds will support current scholarships and help create a scholarship for LGBTQ+ students of color.
"Last year, the Pride Center also celebrated 25 years, so we thought it was a perfect time to ask for donations," Van Roosenbeek explains. "The software was very easy to use, and we were able to make it our own. Overall, it came together wonderfully, and it was definitely not something I could have done by myself."
The campaigns are run through Blackbaud's JustGiving software, which allows users to add photos and text that illustrate the importance of their cause.
The Foundation purchased the software last year, and has already used it for a number of campaigns, including the inaugural Giving Day that raised $228,000 for programs and projects across campus.
Jenna Ives, major gifts specialist, says crowdfunding is a highly effective way for an office or program to raise money for a special purpose.
"We were looking for a way to help campus partners with specific projects or initiatives that may get overlooked during larger campaigns," she notes. "It could be new sweatsuits for the athletic teams, or maybe there's an event or conference you have to pay to attend. We'll work with offices to get things started, and then we're there on the backend in case they have any questions."
This spring, the Office of Multicultural Student Services has raised more than $6,000 through its own crowdfunding campaign, which will also support student scholarships.
The Student Association is also raising money — nearly $2,000 so far — for its Women of Color Scholarship.
Ives says she is happy to work with offices or programs looking to start a campaign. To maximize success, she says, it's important to set an ambitious but realistic fundraising goal and lean on storytelling when making your pitch.
The Pride Center, for example, provided a brief history of its scholarship efforts, as well as photos of students and events through the years.
"Some of our alums reached out to say how cool it was to see pictures from when they were younger," Van Roosenbeek says. "It was wonderful to connect with them again, and it was great to see everyone who donated."
Those on campus interested in starting a crowdfunding campaign should contact Jenna Ives at jives@uwlax.edu.
The Foundation is currently accepting crowdfunding proposals for fall 2021. To find more information and apply, visit www.uwlax.edu/foundation/about-giving/crowdfunding/.