Posted 7 a.m. Sunday, Oct. 10, 2021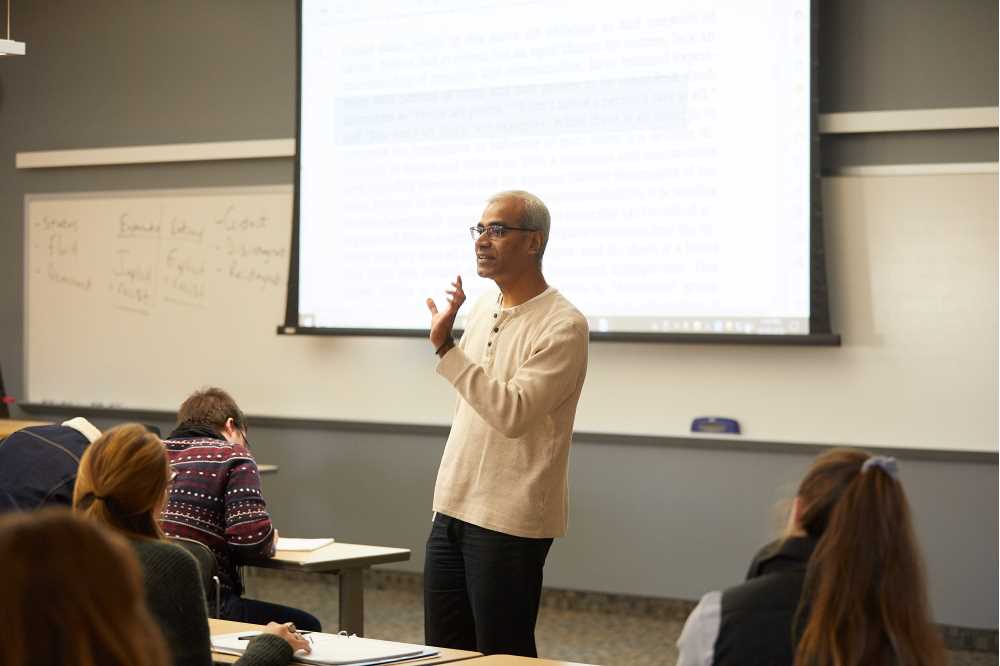 Presentation explores how white people can empathize with people of color 
Suthakaran Veerasamy believes it's not enough to sympathize with someone who has experienced racism.
You must empathize with them, too.
"I have had white people say to me that they could not possibly understand how I must feel as a person of color in confronting racism. My question to them is: 'Why not?'" says Veerasamy, an assistant professor in UWL's Psychology Department. "It's this lack of willingness to understand racial topics at the experiential level, especially among those who identify themselves as liberal progressives, that often results in a form of covert racism known as aversive racism."
Veerasamy will discuss this type of racism, as well as ways to cultivate cultural empathy and overcome white supremacy thinking, during a presentation at 2 p.m. Saturday, Oct. 23 — part of the La Crosse Waking up White Collaborative's Regional Read programming.
For more information about Veerasamy's presentation, or to register for the virtual event, click here.
Veerasamy says aversive racism is defined by three characteristics:
An egalitarian mentality and a belief that one is not prejudiced

Unconscious negative beliefs about people of color

Subtle racial discrimination in ways that can be easily rationalized.
"It's not enough to read about the pain that I have to endure as a person of color," he explains. "One has to also be willing to feel with me, my pain, and that is what will eventually lead to the full understanding of what people of color have to endure on a daily basis, especially in a predominantly white setting like UWL."
According to Veerasamy, the premise that people from different racial or ethnic backgrounds cannot empathize with one another is deeply flawed.
During his presentation, he will discuss how white people in particular can push past this way of thinking and begin cultivating cultural empathy.
"White people have to understand these topics from an emotional perspective to truly understand what it means to be a person of color in a system or culture that was not really meant for them," he says.
Past and upcoming Waking up White events with UWL ties include:
Amanda Goodenough, former director of the UWL Center for Transformative Justice (previously known as Campus Climate), presented "Racial Healing Across Segregated Places and 'Midwest Nice' Faces" on Sunday, Sept. 12
Bee Lo (former faculty member) and Lynette Prier Lo (former TRIO advisor) presented "Waking up White — Through the Eyes of an Interracial Couple" on Saturday, Oct. 9.
Roger Kuhn, a sex therapist and lecturer of American Indian Studies at San Francisco State University, will present "Returning to Ourselves" in honor of Indigenous People's Day and National Coming Out Day at 7 p.m. Monday, Oct. 11. This event is co-sponsored by the UWL Pride Center. More information here.
Shaundel Spivey (former director of UWL Upward Bound) and Jazzma Holland (current director of UWL Upward Bound) will present "Grass-rooting in a Predominantly White Community" at 10:30 a.m. Saturday, Oct. 30. Register here.
To learn more about the La Crosse Waking Up White Collaborative, click here.