Posted 8:11 a.m. Thursday, Dec. 17, 2020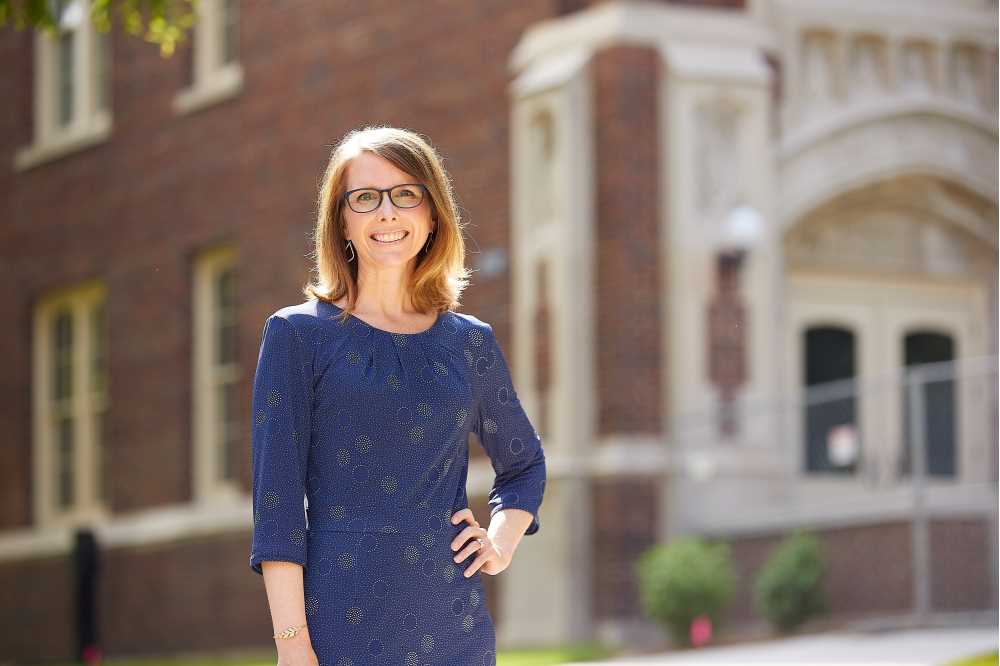 Online workshops to promote data literacy among businesses, entrepreneurs
A UW-La Crosse faculty fellow aims to help area businesses and entrepreneurs harness the power of data by expanding data literacy.
Economics professor Mary Hamman has partnered with UWL Extended Learning to offer a series of free online workshops during the spring and summer of 2021. The DataGeek workshop series will grow participants' data literacy and expose them to software like R and Tableau to highlight creative ways of using data to generate business insights.
"Organizations have transformed from a model where data expertise was concentrated within a small group of roles to expecting data literacy across all roles," says Hamman, who is coordinating the workshops as part of her Swenson Baier Engaged Faculty Fellowship — UWL's first philanthropically funded faculty fellowship. "However, based on a study by Qlik and Accenture, only 21% of the global workforce feels confident in their data literacy."
According to Hamman, each of the five workshops will include customized, one-on-one learning opportunities. They will be beneficial to all, she says, regardless of experience with data or technology.
The sessions are online and free to attend, and will explore a number of topics and competencies:
Transitioning from Excel to R: Focus on Learning High Value-Added Skills
Clean Up Crew: Skills for Fixing Messy Data
Reproducible Reports: How to use R to Automate Reporting
Veracious Visualization: Creating Dashboards and Graphs to Convey Clear and Truthful Insights
Data Access Through APIs: Using Census API to Gather Data for Your Business
Hamman says the data skills taught in the workshops can help streamline workflows and limit errors, make complex statistics easier to visualize, and establish a shared vocabulary and philosophy across a company.
"If your organization wants to infuse data literacy across all roles, you need to have a language that everyone speaks," she notes. "Tossing around terms like 'AI' and 'unsupervised learning' without any real idea of what that actually means just alienates people outside the silo of experts. These workshops will focus on the basic data literacy skills relevant for everyone. Novices will learn new terms and experts will improve their ability to translate complex topics to colleagues in non-expert roles."
Each workshop culminates in a live project day that will further ensure that the skills participants learn in the workshops can be effectively applied in the workplace.
"For business owners and entrepreneurs, I think the biggest advantages of this workshop series are the customization through one-on-one discussions of your needs and goals, and the use of free open-source software, so you don't have to make an investment to use what you've learned when the workshop ends," Hamman says. "Once your instructor understands your goals and the structure of the data you have to work with, she can help you see the applications of workshop skills to your task."
About the workshops
The DataGeek workshops will run from March 1 to Aug. 21. Each of the workshops will be offered in a four-week format and a one-week format. For the dates of a particular workshop, check the schedule at the link below.
Registration is free and open to all, although there is a capacity of 30 participants per workshop.
To register or find more information, please visit www.uwlax.edu/ex/datageek/register/.
About the fellowship
Funding for the Swenson Baier Engaged Faculty Fellowship is provided by 1985 College of Business Administration graduate Scott Swenson and his spouse, Cynthia Baier.
It is UWL's first philanthropically funded faculty fellowship, supporting the work of business faculty who are engaged in industry.
Hamman is the first recipient of the fellowship.
About Extended Learning
UWL Extended Learning provides a variety of programming related professional development, personal enrichment, and organizational and business solutions.
For more information, visit www.uwlax.edu/ex/.