Posted 8:50 a.m. Thursday, Sept. 19, 2019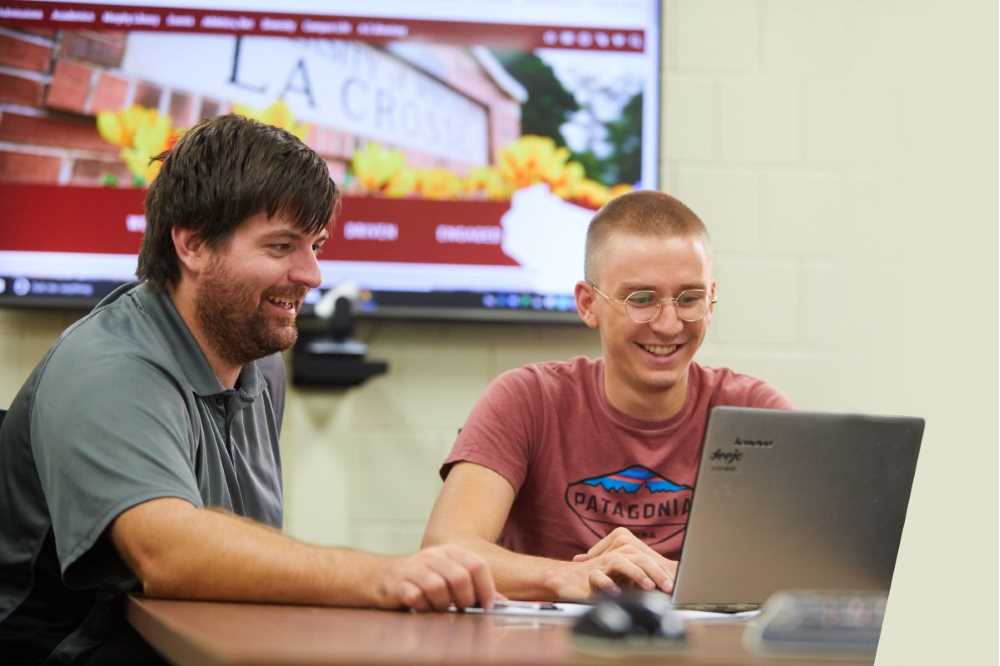 Largest gift will give students hands-on experiences in economics.
Largest gift will give students hands-on experiences in economics
The largest single gift ever to UW-La Crosse — $2.1 million — is a "game-changer" for the university's College of Business Administration and the region.
The grant supports the establishment of the Menard Family Midwest Initiative for Economic Engagement and Research, which will provide UW-La Crosse students more opportunity to learn economics through hands-on experiences and community engagement.

The gift was announced during UWL Chancellor Joe Gow's Community Council meeting with area business leaders Thursday, Sept. 19, morning.
"The Menard family gift is a powerful affirmation of the great work our faculty and staff do each day with UWL students," says Gow. "It will strengthen our students' collaborative research projects and hands-on learning for many years to come."
Gow says the gift aligns perfectly with the "Advancing Transformational Education" pillar of the university's "Sustaining Excellence" strategic plan.
"As a result of the Menard family's extraordinary generosity, our students will have even greater opportunities to have the kinds of dynamic learning experiences that will prepare them well for highly successful careers," explains Gow. "The Menard family is making this exceptional gift, the largest in UWL's 110-year history, because they greatly admire the quality of our students and the teaching and research being done by Dr. Adam Hoffer. We are so very fortunate to have him on our faculty at UWL, and to see our students benefit from his impressive talent and dedication."
The gift will have an immediate impact. "This gift is a game-changer for the university and western Wisconsin," says UW-La Crosse Associate Professor of Economics Adam Hoffer. "This is going to provide opportunities unlike any other to our students, faculty and community members."
Hoffer, who launched an experimental economics lab from a Charles Koch Industries grant in 2016, shared his idea for growing the lab and providing more student-learning opportunities to Eau Claire Businessman John Menard earlier this year. Hoffer says Menard remembers his time in college as opening a new world of possibilities through the exchange of ideas.
From humble beginnings, John Menard was a hometown farm kid who used his vision to lead by example, listening to his customers, studying the economy, changing with the times and working closely with his employees.
Following continued success, the Menard family has quietly supported education for years, providing opportunities for hundreds of students to enhance their college experiences and helping them prepare for future success.
"We are pleased to support UW-La Crosse students and scholars as they expand their explorations of the issues impacting the state and the nation," said the Menard Family in a written statement. "The programs and research undertaken by the university's center will further the school's position as a critical resource of knowledge on economic issues."
Past contributions from the Menard family include donations to a variety of university programs and initiatives, as well as university-sponsored community youth programs. This is the family's first Initiative for Economic Engagement and Research.
"We both want to enhance the educational experiences available to our students and engage our community through enriching, interactive experiences," says Hoffer.
The Menard gift will allow UWL to grow its experimental economics lab where UWL students work on answering real-world economics questions in the lab setting.
The gift will also expand the Sports Economics Symposium speaker series launched three years ago into the new Menard Family Public Lecture Series. The series will feature a mix of leading academic researchers who can discuss the findings of academic research in areas like political economy, economics experiments, real estate, and sports. "We will be able to hear from practitioners in these areas who can inform our audience of how business is conducted in these industries," explains Hoffer.
Scholarships and other unique learning opportunities for students to engage with economic ideas outside of the classroom will also be key. "We will have a weekly discussion group and we have the ability to fund students to attend economics conferences and workshops off-campus," Hoffer notes. "It's critical that students are the major benefactors of the generous gift."
Hoffer says his request not only fits well with the university's strategic plan of advancing transformational education, but also efforts to increase community engagement. He says he's enthusiastic to better engage the greater La Crosse area with the great work being done on campus. He's excited to design programs and market them beyond campus.
The timing of the gift sets an exciting precursor to the College of Business Administration's 50 Years Forward fundraising campaign, set to kick off next year, to provide long-term support for faculty and students.
"The CBA is filled with amazing faculty who have the privilege of working with incredible students," Hoffer says. "The Menard Family gift is a clear statement that the UWL CBA is exactly the kind of place that our generous community can invest to build our future."