Posted 8 a.m. Tuesday, Oct. 18, 2022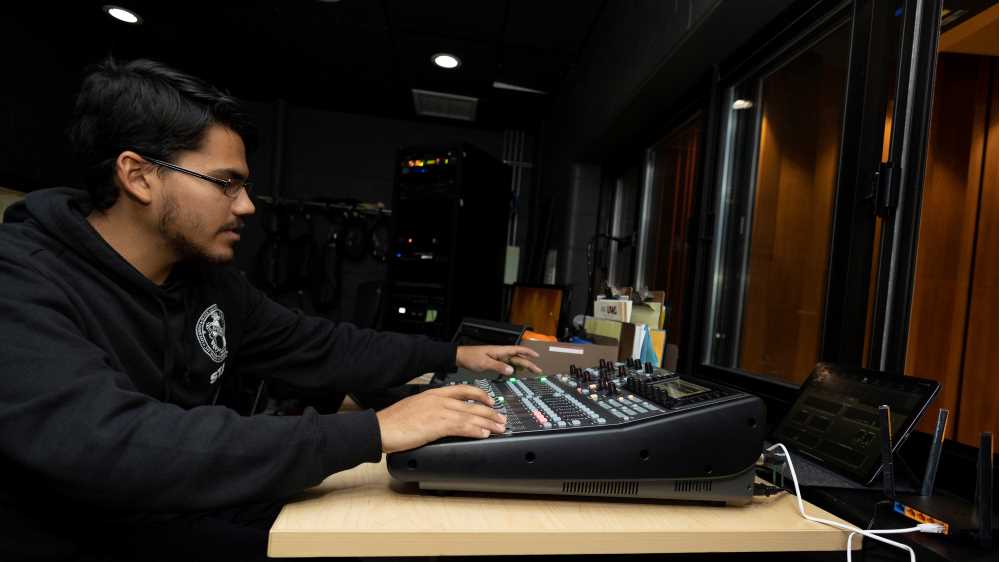 Leo Chavolla shares how UWL fuels his passion for music 
To mark National Transfer Student Week Oct. 17-21, UWL is highlighting the stories of transfer students who have found their home at UWL. This is the first installment in the series.

Learn more about National Transfer Student Week.
UWL senior Leo Chavolla
Major: Music performance
Home: Morelia, Michoacán, Mexico, originally; Mississippi River Valley since 2014
Previous college: Instituto Tecnológico del Valle de Morelia (Technological Institute of Morelia Valley)
Q: What has been your experience in higher education?
A: My first interaction with higher education was in my junior year of high school when I started taking engineering classes at Minnesota State College Southeast in Winona, Minn., as part of a PSEO program to earn a certificate in Prototype Engineering by the time I graduated high school. When I graduated high school in the spring of 2019, I was on track to become an agronomist or an agricultural researcher. After taking a gap semester to work in an apple orchard, I returned to Mexico and enrolled in the Instituto Tecnológico del Valle de Morelia (Technological Institute of Morelia Valley) as an agronomy engineering major. When the COVID pandemic started in the spring of 2020, I came back to the United States and reconsidered studying music.
Q: Why did you choose UWL?
A: While in high school, I attended UWL Music Department events such as the High School Marching Band Day and the brass masterclasses. During my gap semester, I participated with the Screaming Eagles Marching Band as a community member. When I came back from Mexico in the middle of the pandemic, I figured I would have my best chance at becoming a music major at the school where professors already knew me.
Q: What advice do you have for transfer students? What advice would you give a first-year transfer student?
A: Explore as many options as you can before you make a decision. Ask as many questions as you can and always follow up meetings. It's better to be silly for a second than to remain ignorant forever.
Q: What has surprised you here at UWL?
A: I was surprised at how easy it is to explore different fields of knowledge and change your focus to best fit your goals.
Q: Who has helped you in your transition to UWL?
A: The music faculty, especially Drs. Jeff Erickson, Tammy Fisher, Justin Davis, Mary Tollefson, Michael Forbes and Jonathan Borja. Music Department assistants Nicole Novak and Sharon Shugrue also helped me immensely in my first few weeks and even now through my last year. As I have explored different career paths, I also must thank my metalworking professor, Brad Nichols, and my sound and lighting professor, Ben Golden. On the administrative side, I received much help from Benjamin Chenault, Scott Johns and Sandy Keller. Last but certainly not least, my friends from marching band welcomed me to the Music Department community in the first few days of my first semester. A special thanks to my beloved friend Nic Petersen, who cheered me on to become the best musician I could since our first meeting in 2016, introduced me to everyone in fall of 2020, and to this day continues to inspire me to create and facilitate the creation of impactful, genuine live performance.
Q: What would you like to do with your degree after you graduate from UWL?
A: I plan to work for Commercial AV Systems and Interstate Sound, a local audio, visual and live event production company, upon graduation. I will also continue to be active in the local and broader music scene as a bass and tenor trombonist, and as a conductor. Eventually, I would like to tour as an audio, lighting or video technician. Another possibility in my future is attending grad school to earn advanced degrees in music, music technology or acoustic engineering.