Posted 2:43 p.m. Tuesday, Oct. 23, 2018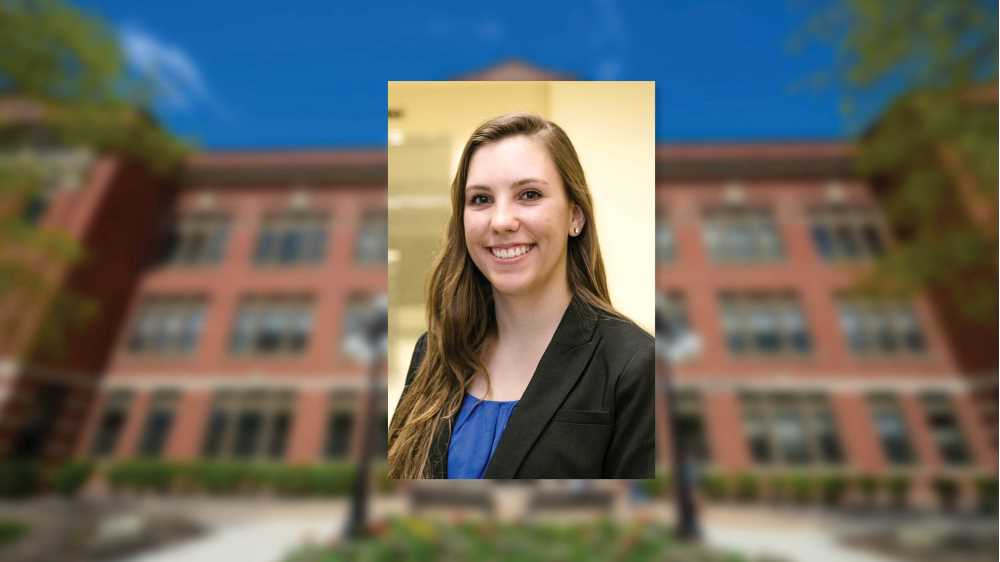 Ball's successful undergrad years add up to receiving of one of the largest scholarships available at UWL.
Ball's successful undergrad years add up to receiving of one of the largest scholarships available at UWL
Dayna Ball wasn't very much a fan of Mondays — until Monday, April 9. She was studying for a microeconomics exam early in the morning when she received an email with subject line, "scholarship." The note congratulated her on receiving Alumnus Joe Laux's Top CBA Junior Scholarship for 2018-19 — to cover full in-state tuition for the year. Her day finished with a job offer for an internship and acing that microeconomics exam. "It was a good day," Ball says. "I look at Mondays a little differently now." But success doesn't just come on Mondays for Ball. It has been a consistent theme as a UWL undergraduate. She's been named to the Dean's List every semester and finished her junior year with a 4.0. — at the top of her class. "From day one I've viewed attending college as a privilege and four years of my life that I really have access to opportunities and resources," says Ball. "That pushed me to get as much as I can out of it and truly understand what I'm supposed to be learning, so I can apply that to my career." Society likes to complain about each subsequent generation — including the Millennials — defining them by set characteristics from lazy to self-involved. [caption id="attachment_51925" align="alignright" width="300"]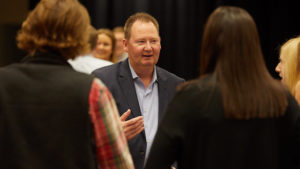 Joe Laux is funding a year's worth of in-state tuition for a marketing student and a year of tuition for the top overall junior in the CBA. They are the two single largest scholarships available in the College of Business Administration.[/caption] Laux, '89, doesn't see younger generations that way. "After you meet and interview these students, you are not concerned about the future at all," he says. "They are incredibly intelligent, so worldly, well-spoken and balanced." Laux started the scholarship because he believes in giving back to the community and university where he received a strong foundation for his successful career as CEO of River States Truck & Trailer. He likes to know that through scholarships, his dollars will go to a specific, hard-working individual. And the funds also raise the overall profile of UWL's
College of Business Administration
. "I think UWL is one of the finest business schools in Wisconsin, yet it doesn't get as much recognition as a UW-Madison," notes Laux. "I want to show how some of the best and brightest are from UWL. Dayna is one of those." Ball works toward a future in economic research, communication Ball, who has a major in economics and minors in communication studies and sustainable business, envisions herself in a future career conducting economic research related to environmental issues, crunching and analyzing the numbers and then effectively communicating these issues to the general public.
"I think UWL is one of the finest business schools in Wisconsin, yet it doesn't get as much recognition as a UW-Madison"
"I'll do the heavy work, but I want everyone to be able to understand the information and use it," she says. With support from her UWL professors, Ball is now investigating graduate school options. Her drive comes from an internship experience last summer at the Mississippi Watershed Management Organization in Minneapolis. She was responsible for blog writing and promoting community awareness of the importance of protecting and improving water quality, habitat and natural resources in an urban watershed that drains directly into the Mississippi River. "Working there for a summer made me realize I'm passionate about getting other people to be passionate about the environment," she says. This past summer Ball landed another internship, which grew her data analytics skills working for the Minnesota Department of Commerce. That's the internship she landed Monday, April 9, after receiving the news about her scholarship. Ball is grateful for Laux's generous gift, which gave her an incredible boost that day and will continue giving as she pursues opportunities that fit with her future goals. "The scholarship allows for more flexibility, so I can focus on what I want to do, what I enjoy and what I'm good at rather than what pays the bills," she explains. She plans to pay the gift forward, helping another student out in a similar position down the road. "I think that could be one way to remember my roots and also have a real impact on a student too," she says.