Posted 2:17 p.m. Thursday, Jan. 26, 2023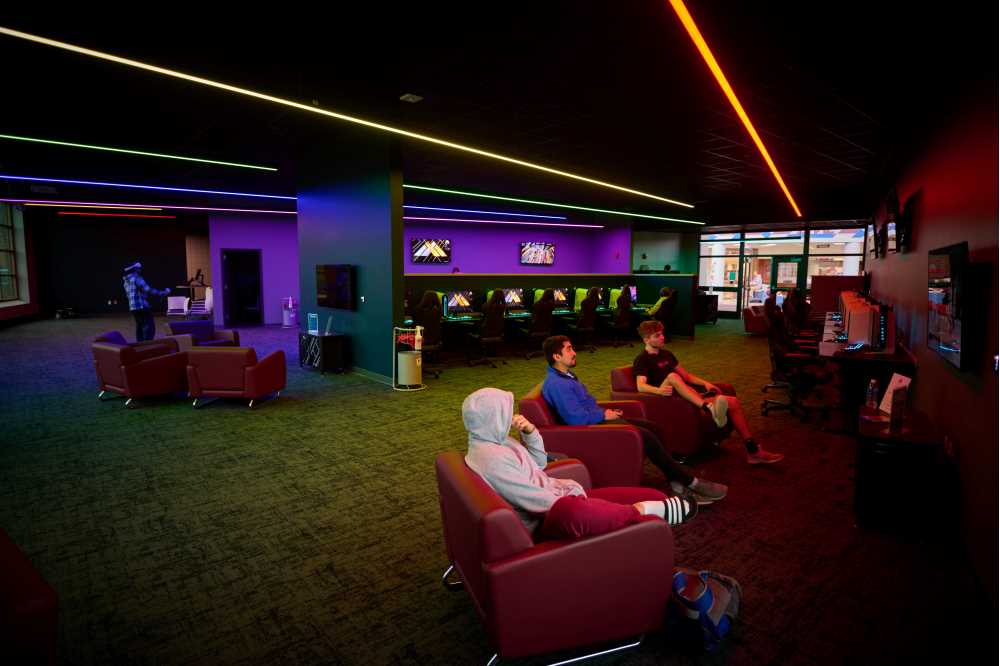 UWL opening esports area to the community
Gamers at UW-La Crosse are inviting others to get in the game.
The nearly year-old EZONE in the university's Recreational Eagle Center will hold an open house from noon-5 p.m. Saturday, Feb. 4. During the event, community members can check out the extensive gaming area, with an opportunity to play for free.

Jeff Keenan, Recreational Sports director, says the EZONE opened to students Feb. 22, 2021. Since, more than 7,600 gamers have come to the room to play. Now, the space is being opened to the public for day passes, memberships and reservations.
"This space is representative of the evolving recreation needs on campus and how we're responsive to those needs," notes Keenan.
He says it's time to share the popular space with the community.
"The La Crosse area has nothing like the EZONE," explains Keenan. "EZONE Esports and Gaming creates a space for like-minded gamers to interact with each other and form a community."
While colleges across the U.S. are launching esports programs at an increasing rate with an eye on varsity competition, UWL is taking a different approach, says Keenan.
"We decided to focus on open recreation, recreational leagues and sport club competition," he says. "The space was designed for both competitive and recreational play."
The EZONE has 31 computer games, 13 Nintendo Switch games, 24 Oculus virtual reality games, along with countless PlayStation and Xbox games.
Keenan says gaming is expensive, and many can't afford a high-end computer or gaming console. The EZONE makes it less expensive to play, with much appeal to younger people. But, he expects that appeal to stretch to some older gamers too, sometimes for family reasons.
"We had a person in their upper 20s come in because they wanted to play games with their family member who was stationed overseas in the military," he says.
Members of the public may purchase an EZONE membership or day pass. Day passes are $8 and provide three hours of access. Memberships are: $25 a month, $65 a semester or summer, $120 for an academic year, or $145 for a calendar year.
Memberships and day passes can be purchased at the REC Info Counter. The EZONE can also be reserved for birthday parties, family or corporate events, field trips and more. Participants under 18 must have the EZONE Use Agreement signed by a parent or legal guardian unless the participants are full-time UWL students. The agreement must be signed once per membership period or once per calendar year if a day pass is sold.
Users under the age of 16 must be accompanied by an adult 18 or older. One adult may supervise up to five youth.
Get more details about EZONE at: https://www.uwlax.edu/recsports/ezone/