Posted 3:06 p.m. Tuesday, Jan. 3, 2023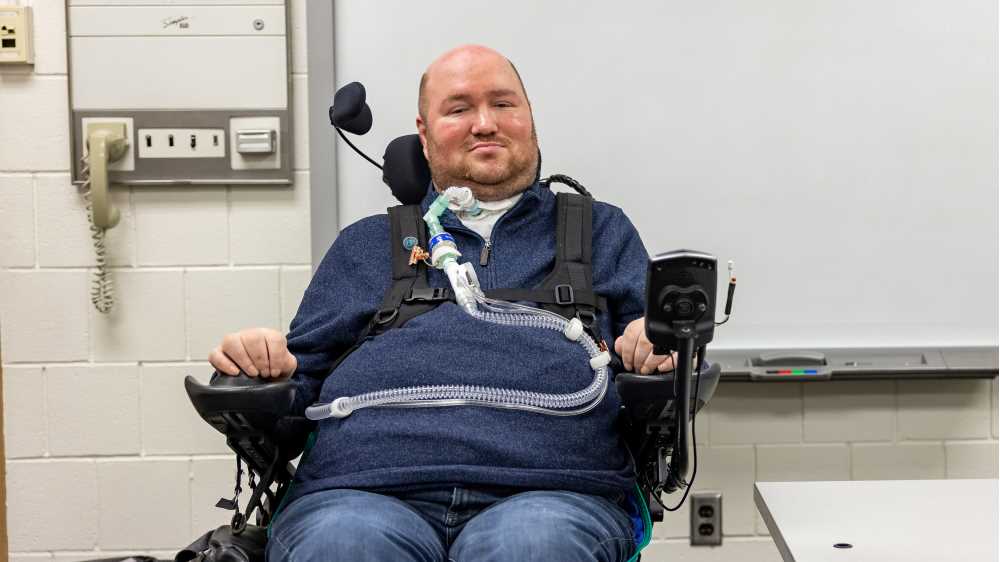 Alum Nick Dobbs is teaching students accounting — and a whole lot more
When Nick Dobbs earned his bachelor's degree in accountancy in 2017, it could have been the final chapter of a remarkable story.
Dobbs, who was paralyzed in a motorcycle accident in 2011, had overcome tremendous challenges to graduate from UW-La Crosse.
As it turned out, his story was only beginning.
Dobbs recently completed his second semester as an adjunct instructor in UWL's Accountancy Department, where he teaches courses on individual income tax and accounting principles.
For Dobbs, teaching is no small feat. Seemingly mundane tasks, such as returning emails or preparing notes for class, require more time and more energy for him to accomplish.
But it's worth it, he says, if he can make a positive difference for students.
"My primary motivation for getting myself back out in society was my own mental health," he says. "I didn't know what I wanted to do or how I would do it, but I knew I needed to be doing something, or I wasn't going to be happy. I have received a lot of support from others, and I couldn't let it go to waste. That's what brought me to UWL. I wanted to get a degree where I could help others."
While taking classes at UWL, Dobbs felt drawn to accounting. Here was a subject that interested him, and that offered plenty of opportunities to give back.
His professors encouraged those dreams.
In Dobbs' third year on campus, now retired Professor Joseph Kastantin suggested he try tutoring. When Dobbs found he enjoyed it, Kastantin suggested teaching.
Finding a job proved difficult. To make himself more desirable to employers, Dobbs joined and completed an online Master of Accountancy program through Auburn University.
Soon, he was working as a tax preparer for H&R Block. He passed the Enrolled Agent Exam, allowing him to start his own tax prep business.
The idea of teaching remained in the back of his mind.
In December 2021, Professor William Maas, whom Dobbs knew from his time as a student, reached out to offer him an adjunct position for the 2022 spring semester.
"Needless to say, I was incredibly nervous," Dobbs notes. "But friends, family and my former professors provided support, encouragement and tips to tackle this new endeavor."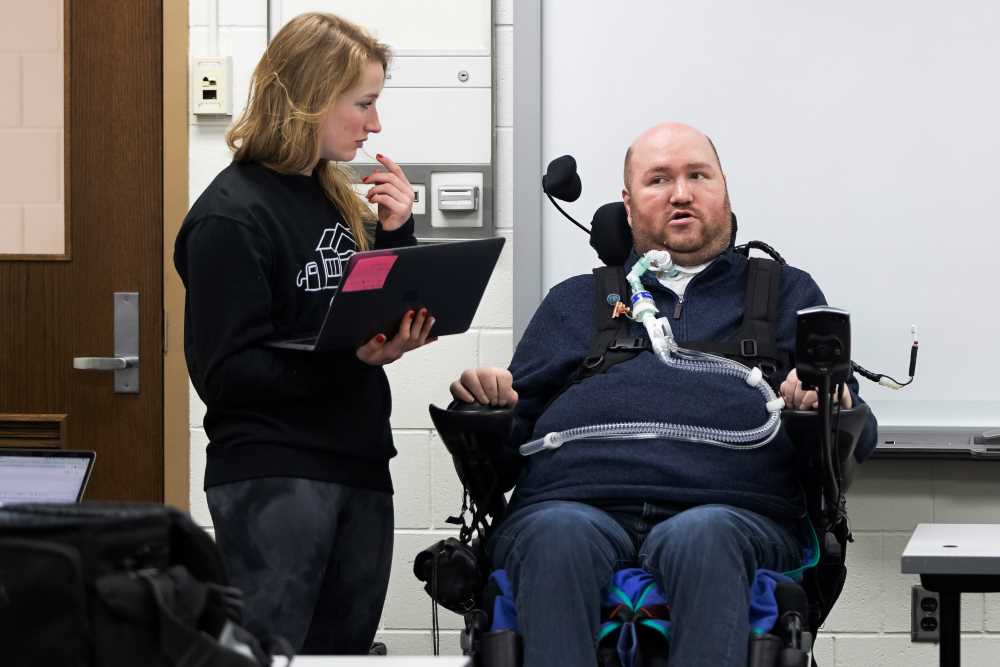 For Dobbs, the challenges of teaching begin long before he enters the classroom.
Getting ready in the morning can take two or three hours, he says. Then his mother, Julie, drives him the 45-plus minutes from their home in Melrose. Together, they make sure Dobbs has everything he needs for a successful day, including double-checking the classroom technology.
"It was a new experience becoming an instructor," Dobbs explains. "No longer would I be sitting quietly in the back taking notes. Now, I'm up front talking to 30 students for an hour and a half, and everything I say could help or hinder them in their future. It adds a lot of stress, but when I see the students succeeding, understanding and even smiling sometimes, it gives me a great sense of pride and accomplishment. There's really no better feeling."
Maas says Dobbs made a strong first impression as a student and continues to impress. The pair stayed in touch after Dobbs finished his bachelor's degree, and Maas knew he would be a good fit in the department.
"He was a good communicator, and he was smart, and he had a sunny disposition," Maas says. "Oftentimes, he was in a better mood than others who didn't have the challenges that he has. Having him back on campus has been a win-win for our students, our department, and I hope for Nick, too. I'm really proud of him."
Dobbs says he is fortunate to have such a strong support system — family, friends and colleagues — to help his life run smoothly. But none of that would make much difference if Dobbs weren't so motivated, so resilient.
He may teach students accounting. But he also hopes to teach them something about life, simply by showing up.
"Most of all, teaching allows me to show others that even the most difficult obstacles can be overcome," Dobbs says. "It allows me to inspire others to chase their goals. This has made all my effort worth it to me, and it continues to drive me forward."