Posted 8 a.m. Tuesday, May 11, 2021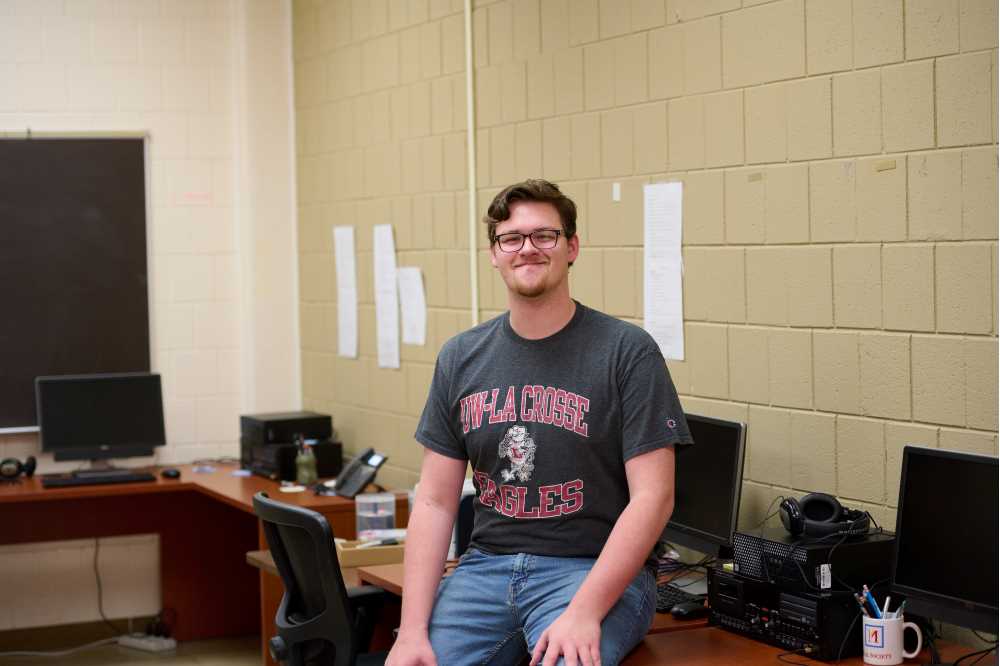 Graduating senior takes top award among UWL student workers
UW-La Crosse senior Johnathon Jaeger has discovered more about La Crosse businesses in the 1900s, the local impact of World War II and Driftless area rural towns. And thanks to his work as a student employee in the university's Oral History Program, others will, too.
Jaeger, a double major in philosophy and history: public and policy, is this year's UWL Student Employee of the Year. As a digital preservation technician, he has been listening to and creating indexes for oral histories from UWL's vast collection of interviews. The indexes are later used by researchers when they listen to the interviews.
"This job is really about preservation and creating ease of access for Midwestern stories and heritage," Jaeger explains. He also helped create a style guide and a master list of interviews for the program.
Jaeger says the best part of the job are the stories he listened to.
"I have always felt most comfortable listening to people and their stories," he notes. "While working for the Oral History Program, I have heard stories about 1900s La Crosse Businesses, World War II, the Vietnam War, rural towns in the Driftless Region, stories from People of Color, among many, many others. Ultimately, this job has given me a unique perspective of the world that I would not trade for anything."
Jaeger expects his two-year stint with the program to help his career.
"This job has been instrumental as a professional development opportunity," he explains. "It has taught me about leadership, time management, public outreach and understanding other people."
Associate Professor of History Tiffany Trimmer serves as Jaeger's supervisor. Trimmer says his work has involved much more than simply converting cassette tapes to digital files.
Trimmer says Jaeger translates interviewees' words — complete with regional and generational slang, personality quirks and more — into search terms, along with filling in relevant historical information. She says he draws on the history content knowledge, contextualized and critical thinking skills, and problem-solving abilities he gained from history and philosophy coursework.
"By taking this extra research step, our preservation techs make the indexes much more helpful to a potential listener and greatly increase the likelihood someone will take the time to listen to our oral histories," Trimmer explains.
Jaeger goes above and beyond to capture what the oral histories need.
"He has a deep respect for the interviewees and their life experiences that he's helping to preserve," she notes. "It shows in the thoughtful and detailed way he indexes their interviews. He's also grown into a superb student ambassador for the Oral History Program and its vital mission. Whether he's contacting archivists with research questions or joining me in visits to history classes, I know that he'll represent the program in a thoughtful and professional way."
Trimmer says Jaeger took the initiative to reinvent the program's style guide, which had often caused confusion in identifying events in indexes. And, he re-designed training materials for other students joining the preservation team.
"As a result, our workplace and work processes not only became better, they also became more collaborative," Trimmer notes. "He is the kind of employee who embraces new challenges and figures out how to effectively accomplish goals.
Bottom line: Jaeger was an invaluable asset, says Trimmer.
"When I have an unusual task for him, such as figuring out how to put content on our website, he gives it his all and grows into the challenge — whatever it is," she says. "His good humor and creative problem solving have made him an excellent employee and an essential member of the program's team."
During college, Jaeger also worked as a visitor services associate at the La Crosse Area Heritage Center, and was involved in Philosophy Club, History Club and Phi Alpha Theta.
After graduating this month, the Claremont, Minnesota, native will work as a human resources representative and researcher for VZ Hogs in his hometown. The company employs 22 people and specializes in hog raising.
Jaeger credits faculty members Tiffany Trimmer, James Longhurst and Samuel Cocks for their support and guidance through college. He says his parents, Mike and Heidi Jaeger, and fiancé, Carlie Brennan, were also key.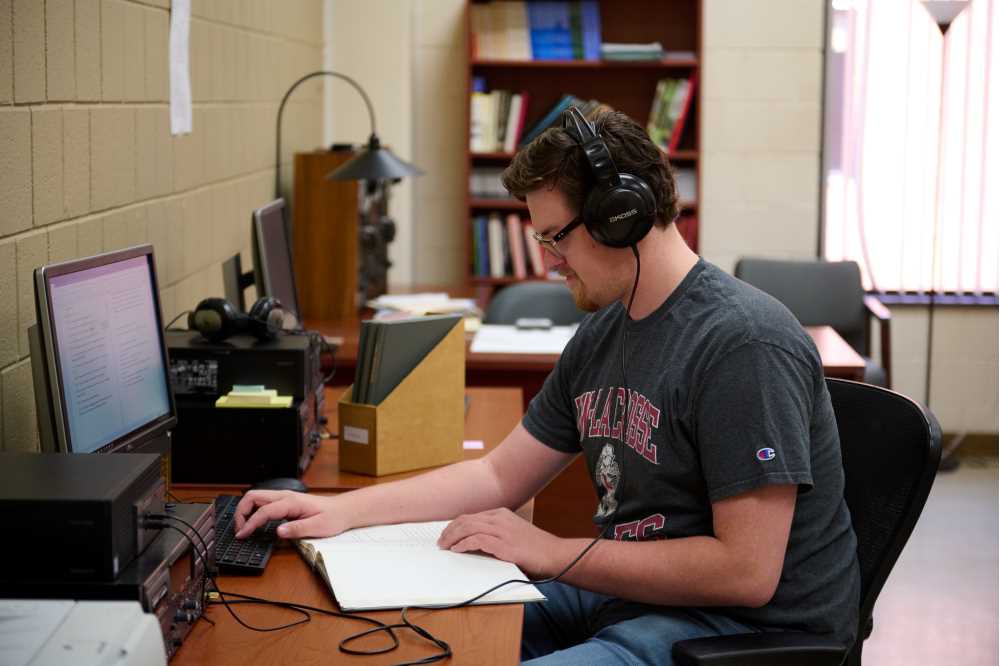 About the Student Employee of the Year award
UWL has participated in the National Student Employee of the Year program since 1991. The program recognizes outstanding contributions and achievements of students who work while attending college. Eligibility is open to those who have been employed for a minimum of six months part-time or three months full-time between June 1 and May 31. Recipients receive a plaque and a $600 scholarship. Selection criteria includes: reliability, quality of work, initiative, professionalism and uniqueness of contribution.
Others nominated for 2020-21 were:
Bailey Brandner, Financial Aid Office
Michele Friesema, University Communications
Emma Futoransky, It Make$ Cents!
Amanda Lee, University Centers
Mimi Lucido, Health Professions
Paige Pawlak, Art
Cara Senn, University Centers
Madisyn Storie, Records & Registration
Rachel Veglahn, Music
Lorinda Volzer, Student Life
About UWL's Oral History Program
Established in 1968, UWL's Oral History Program collects, preserves and promotes the use of local oral history recordings related to western Wisconsin and the upper Mississippi River Valley. The program serves as a repository for the collective memory of the region and a source of cultural and historical knowledge. The collection currently holds approximately 900 individual oral histories, about 3,000 hours of audio. Find out more: https://www.uwlax.edu/cassh/oral-history-program/