Posted 8:04 a.m. Wednesday, Aug. 25, 2021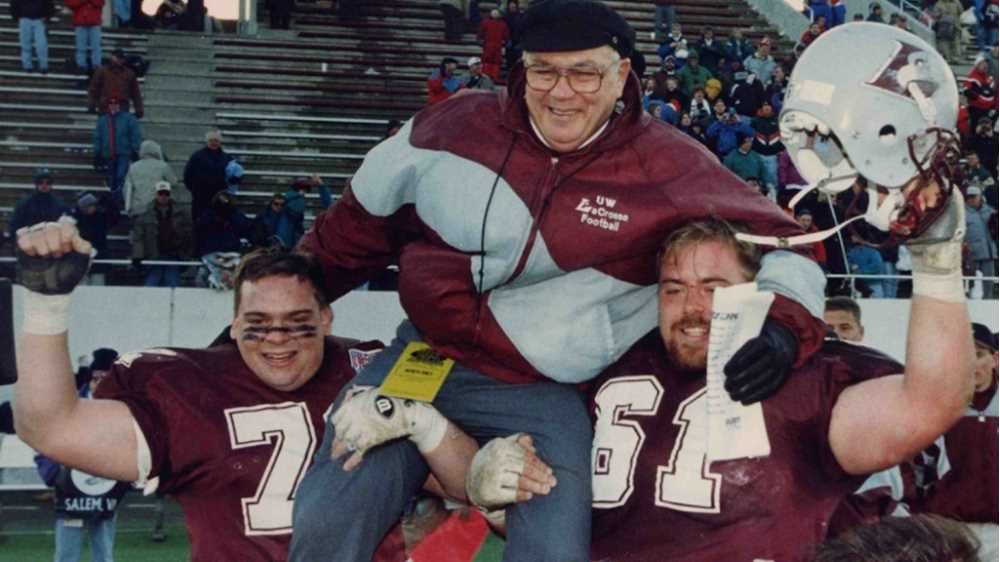 Harring led UWL for 31 seasons
Former University of Wisconsin-La Crosse head football coach Roger Harring has passed away at the age of 88. Harring started his coaching career at UWL in 1969, serving as head coach for 31 years until his retirement after the 1999 season. He posted a 261-75-7 (.771) record during his tenure at UWL, winning three national championships. His 261 victories ranks 18th in the history of college football at any level and tied for fifth among National Collegiate Athletic Association (NCAA) Division III coaches.
The 261 victories are the most in Wisconsin Intercollegiate Athletic Conference (WIAC) history. UWL posted a 130-31-5 (.786) home record under Harring.
The Eagles won the National Association of Intercollegiate Athletics (NAIA) Division II title in 1985 with a 24-7 victory over Pacific Lutheran University (Wash.) and won their first NCAA Division III national championship in 1992 after a 16-12 win over Washington & Jefferson College (Pa.) to become the first school in college football to win an NAIA II title and an NCAA III title. The program added another NCAA III Championship with a 36-7 victory over Rowan University (N.J.) in 1995. In addition, the Eagles made 14 playoff appearances during Harring's career, compiling an overall record of 23-11, including 13-5 in NCAA III post-season play.

UWL placed first or second in the WIAC 25 times under Harring, winning the title 15 seasons. He finished with a 182-44-7 record against conference opponents and was named the WIAC Coach of the Year seven times.
A native of Green Bay, Wis., Harring received numerous awards and honors during his career. In 1992 and 1995 he was chosen as the national Chevrolet Division III Coach of the Year. In 1995, he also received the Division III Coach of the Year honor from his peers in the American Football Coaches Association (AFCA).
He was enshrined into the WIAC Hall of Fame in 2012 and into the College Football Hall of Fame in 2005. He was named the WIAC's Football All-Time Coach in conjunction with the conference's Centennial Celebration during the 2012-13 academic year.

Harring was inducted into the NAIA District Hall of Fame in 1989, the same year he was enshrined into the UWL Wall of Fame. In 1998, he was inducted into the Wisconsin Football Coaches' Association Hall of Fame. And in 1999, Harring was enshrined into the Wisconsin Rapids High School Hall of Fame. He was named to ESPN's list of the 150 greatest coaches in college football's 150-year history in December 2019. Harring ranked 92nd on the list, selected by a panel of 150 media members, administrators and former players and coaches.

Thirty-six UWL players were drafted or signed by a professional team under Harring. A total of 19 NAIA Division II All-America honors were earned, including nine first team selections. Nine Associated Press Little All-America First Team honors were earned under Harring as well as four Football Gazette First Team selections.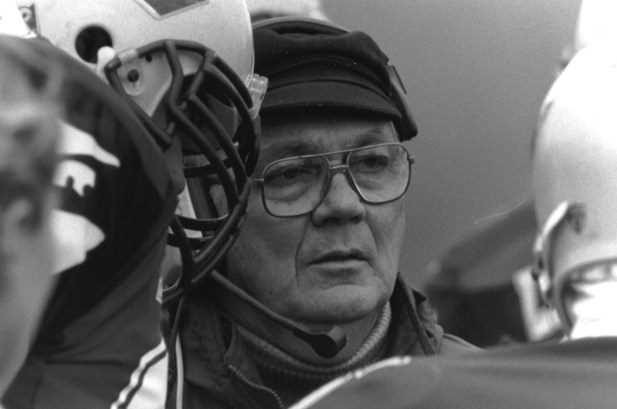 In spring 1988, Harring coached the Bologna, Italy, Dovers professional team through a 12-0 season and became the first American coach to go undefeated in the regular season.

Harring earned his bachelor's (1958) and master's (1962) degrees in physical education from UWL while earning two football letters (1955-56). He was a member of UWL's Dean's List four semesters.
He graduated from Green Bay Central Catholic High School in 1951, lettering in football, basketball, boxing and baseball. A member of four undefeated football teams, Harring was a three-time team captain and MVP. He played defensive end in the 1951 North-South Shrine Game. Harring earned two football letters at St. Norbert College (Wis.) before playing at UWL. Harring spent two years in the USMC during the Korean Conflict.

He started coaching at Ladysmith (Wis.) High School in 1958, where he was head football, wrestling and track & field coach until 1962. Harring led the football team to a 31-9 record in five seasons, winning three league championships and finishing undefeated in 1961 and 1962.

Harring moved to Wisconsin Rapids Lincoln High School in 1963, serving as head football, wrestling and track & field coach, until 1969. His teams won two football conference titles and Harring was named the 1965 Pepsi Wisconsin High School Coach of the Year. The track teams he coached were conference indoor champions all six seasons and won four outdoor crowns.

While coaching in high school, he officiated football, basketball, and wrestling in the Wisconsin State University Conference (WSUC). In 1969, Harring officiated the Wisconsin Interscholastic Athletic Association (WIAA) Basketball State Semifinals in Madison.

A recipient of several awards from local groups, including The La Crosse Tribune, Eagles, Kiwanis, Coulee Coaches Association, and the Broadcasters Association, Harring received a proclamation of Recognition from the Governor of Wisconsin and the U.S. Senate after UWL won the 1995 national championship.

Roger Harring Stadium at Veterans Memorial Field Sports Complex was named in his honor. UWL hosted its first event at the facility on May 14, 2009 with an NCAA Division III Track & Field Qualifying Meet.

He is survived by his wife of 65 years, Mary; his four children, Teri, Susan, Matthew and Andrew, nine grandchildren, and three great-grandchildren. Harring was preceded in death by his son, Nicholas.

To donate to the Roger and Mary Harring Scholarship and Awards Fund, click here.
To view a half-hour special on Harring's life and career, click here.