Posted 8:02 a.m. Sunday, April 24, 2022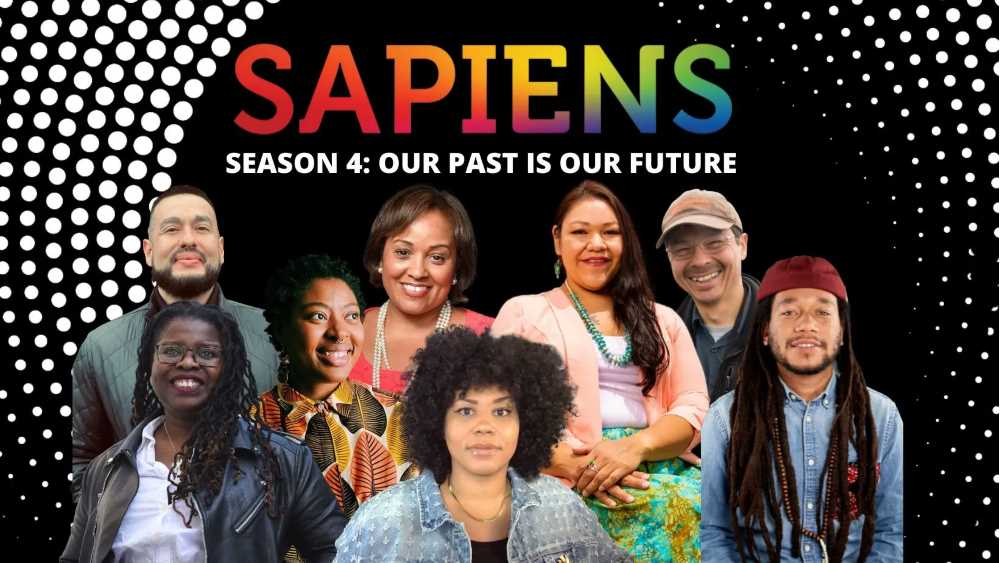 Yoli Ngandali explores Black, Indigenous history through archeology podcast
Yoli Ngandali, '14, developed her skills as a researcher and archeologist through UWL's Archaeology & Anthropology Department.
Today, she is sharing her expertise through the popular SAPIENS podcast, while working toward her doctorate degree in archeology at the University of Washington.
Ngandali is a member of the Ngbaka tribe from the Democratic Republic of Congo — an identity that has informed her interests in archaeology and inspired her to connect with other archeologists of color.
Read on to learn more about the podcast, her passions and her time at UWL.
Q: What are you up to? What projects are you currently working on?
A: I recently finished a 1-year fellowship with SAPIENS as the Media and Public Outreach Fellow. SAPIENS (https://www.sapiens.org/) is a digital magazine about the human world. It's about humans and how we communicate with each other, why we do what we do, how we evolved in the past and how we live today. In that position, I was a graphic designer, event coordinator and online video host. I hosted a short run series called "5 Questions," where I live-interviewed authors about their new books. I enjoyed the fellowship with SAPIENS, but my main focus now is completing dissertation research and writing.
My dissertation uses emerging non-destructive archaeological methods to contribute to Indigenous communities' capacity to reclaim and reinterpret knowledge gained from museum collections. In partnership with cultural advisors from the Confederated Tribes of Grand Ronde, I utilize archaeological methods such as archival research, use-wear analysis and photographic imaging techniques (multispectral imaging, Reflective Transformation Imaging, photogrammetry and 3D printing) to expand the context-sensitive care for tribal heritage and contribute to art revitalization efforts ongoing in Grande Ronde today. In plain English, I basically travel from museum to museum taking scientific photographs of artifacts with and for Indigenous communities.
Q: How did you get involved with the SAPIENS podcast?
A: I was asked to join the SAPIENS podcast as a co-host because of my research interests and involvement in anti-racist activism. I am co-hosting season 4 of the SAPIENS podcast (https://www.sapiens.org/podcast-season-4/) with Ora Marek-Martinez from Northern Arizona University. I am so grateful to be connected with so many other Black and Indigenous folks doing such groundbreaking work in archaeology!
Q: What have you enjoyed about working on the podcast?
A: My favorite part of the podcast was developing the script with the team and recording! The recording sessions were cathartic and brought us a lot of healing. The ability to speak freely as Black women in that space was significant for me.
In this podcast, I've been able to hear and discuss so many beautiful, uplifting and tragic stories. What is so important is that we are bringing to light and centering stories and narratives that have been long oppressed or destroyed. Understanding the past through an intersectional lens, we can recognize how the overlapping and interdependent systems of discrimination that we face due to our race, gender, sexuality, gender identity or ability can be properly centered and highlighted as valuable.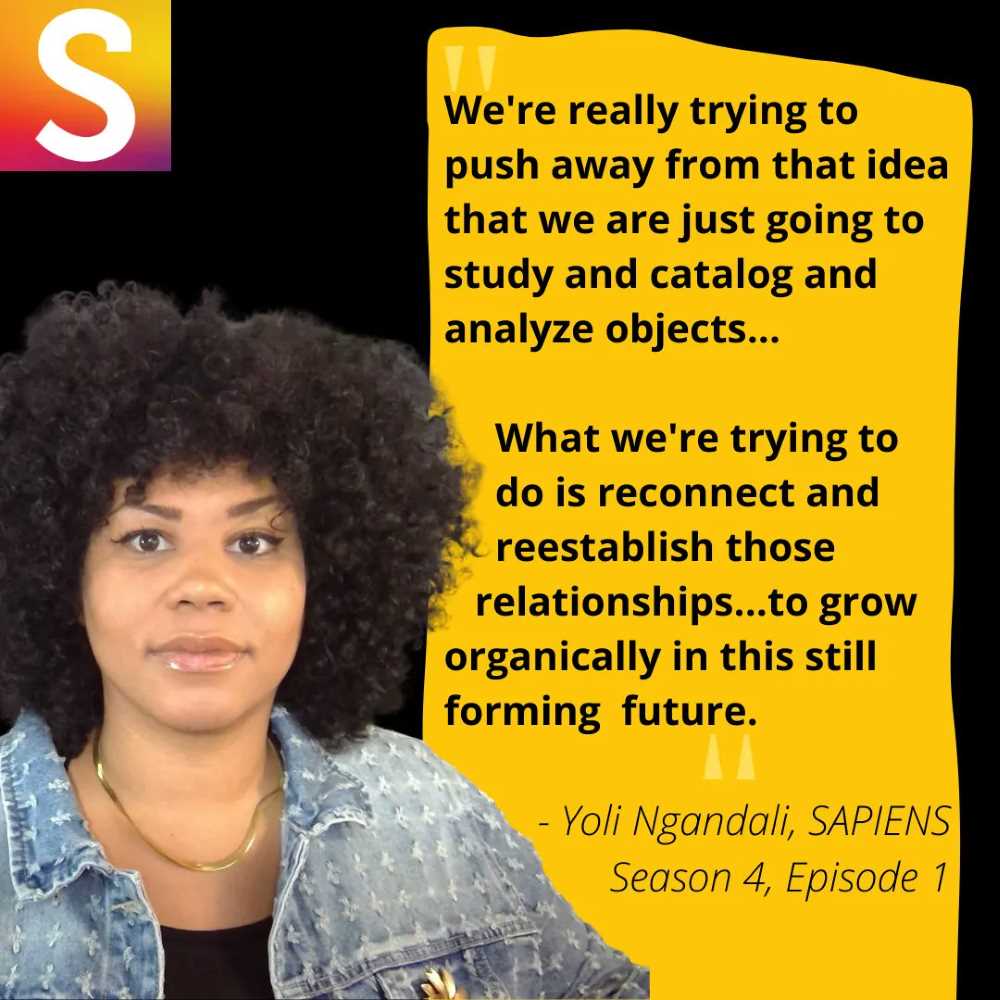 Q: What can listeners expect from the podcast? What topics do you explore?
A: Even if you are not an archaeologist, you will enjoy season 4 of the SAPIENS podcast — and learn something new! We have episodes about scuba diving for African history on the Caribbean islands, how museum curators care for the past and how a mountain has become a site of resistance. I love all of the topics we discussed in this season, but the one that stands out to me the most is the final episode, "Repatriation Is Our Future." Rachel Watkins from American University talks about the New York African Burial Ground — and what repatriation looks like for African American communities. Repatriation is the process of returning human remains, artifacts and cultural items to the communities to which they belong. This episode shows us how we can think ethically, creatively and expansively about our methods and practices as researchers in any discipline.
Q: During your time at UWL, you were part of the McNair Scholar program, which supports low-income, first-generation students, as well as students from backgrounds traditionally underrepresented in graduate education. How was that experience?
A: UWL's McNair program was a productive and enriching community environment for me. I learned how to conduct and present research. I started developing my research skills, gathering a broad range of experiences studying, working and conducting independent studies alongside an honors-thesis in the Archaeology & Anthropology Department. I presented my research at the National Conference on Undergraduate Research (NCUR) and the Society for American Archaeology (SAA). As a McNair scholar I also contributed to the First Year Research Exposure (FYRE) cohort of students of color. It was such a great experience connecting with other scholars of color, which was integral to my growth as a researcher. If you are a student of color reading this now, find your community and you will thrive.
Q: You were at the Mississippi Valley Archaeology Center for several years. What kind of work did you do there, and how did it prepare you to take the next step?
A: From 2012 to 2014, I worked on a variety of projects at the Mississippi Valley Archaeology Center (MVAC). At MVAC, I learned scientific laboratory analyses focusing on the late prehistoric farmers who lived in the La Crosse locality of the Upper Mississippi Valley (known to archaeologists as the Oneota). MVAC provided for me a solid understanding of archeological processing, analysis and interpretation of the past. At MVAC, I also created a few maps, digitized 35mm film photographs and used my graphic design skills to create a public archaeology exhibit. Thank you, Connie Arzigian and the MVAC staff, for the exceptional opportunity to do research at the undergraduate level.
Q: What are your plans for the future?
A: My plans for the future are to continue speaking up and out about Black and Indigenous archaeology. I hope one day to work on archaeological research projects with my own Ngbaka community. I plan to be a museum curator, activist, artist, professor and small business owner. I am currently developing my digital methodologies into a consulting business, so some museum consultation is on its way very soon. There is still so much to learn and do, but for now, my only focus is to finish my dissertation!