Posted 7 a.m. Saturday, May 20, 2023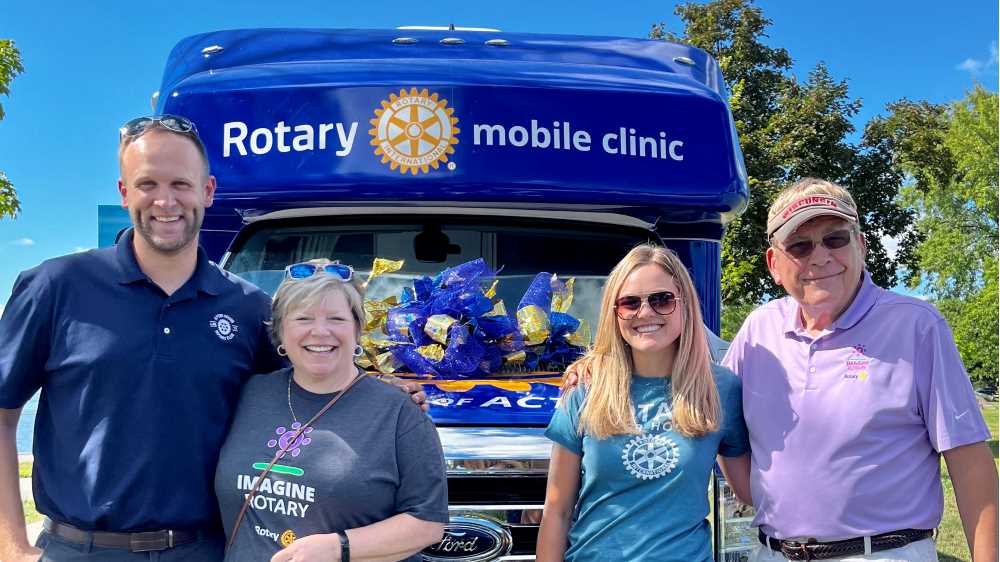 Alumni the driving force behind Rotary Mobile Clinic
A new mobile clinic is delivering healthcare to those who would otherwise struggle to get it — thanks in large part to the support of UW-La Crosse alumni.
The Rotary Mobile Clinic, owned and operated by St. Clare Health Mission in La Crosse, provides vital services to people who are uninsured or underinsured, as well as those living in rural areas who cannot easily make it to a clinic or hospital.
The clinic-on-wheels — a 25-foot, 260-square-foot truck equipped to handle primary care, wound care, vaccinations and more — was made possible through fundraising by area Rotary Clubs.
Janie Morgan, '85 & '86 (La Crosse-Valley View), Josh Mansee, '10 (La Crosse After Hours), and Dean Dickinson, '68 (La Crosse-Downtown), were instrumental in bringing the clinic to life.
"Just hearing the stories and understanding the need that is out there — it just blew me away," says Morgan, executive director of strategic engagement at UWL. "St. Clare is wonderful, but it's a stationary site, and there are all these people in our area who can't get there for a physical or a toothache or whatever their issue is. I think that struck everybody."
Area Rotary clubs selected the project from a handful of proposals submitted by area nonprofit organizations. They did the bulk of the fundraising amid the COVID-19 pandemic.
Mansee notes that local Rotarians have a long history of supporting projects in the La Crosse community and around the world. But not all of these projects have directly served the more outlying communities in Western Wisconsin and Southeastern Minnesota.
That's one reason the idea of a mobile clinic was so appealing.
"Rotary is more than park benches and shelters and things people see every day in La Crosse," Mansee explains. "We help around the world a lot, and in La Crosse, so we wanted to find something we could do to reach out to the surrounding communities. This really tells a great story of what Rotary can do."
Initially, the group hoped to raise $40,000 from Rotary Club members and another $40,000 from community members — $80,000 that would be tripled through matching gifts from Rotary District 6250 and the Rotary International Foundation.
They ultimately surpassed their fundraising goal, generating $160,000 through local gifts and another $170,000 through matching gifts.
These funds covered not only the fabrication of the vehicle; they also allowed for the creation of a legacy fund, which will cover maintenance and equipment costs for years to come.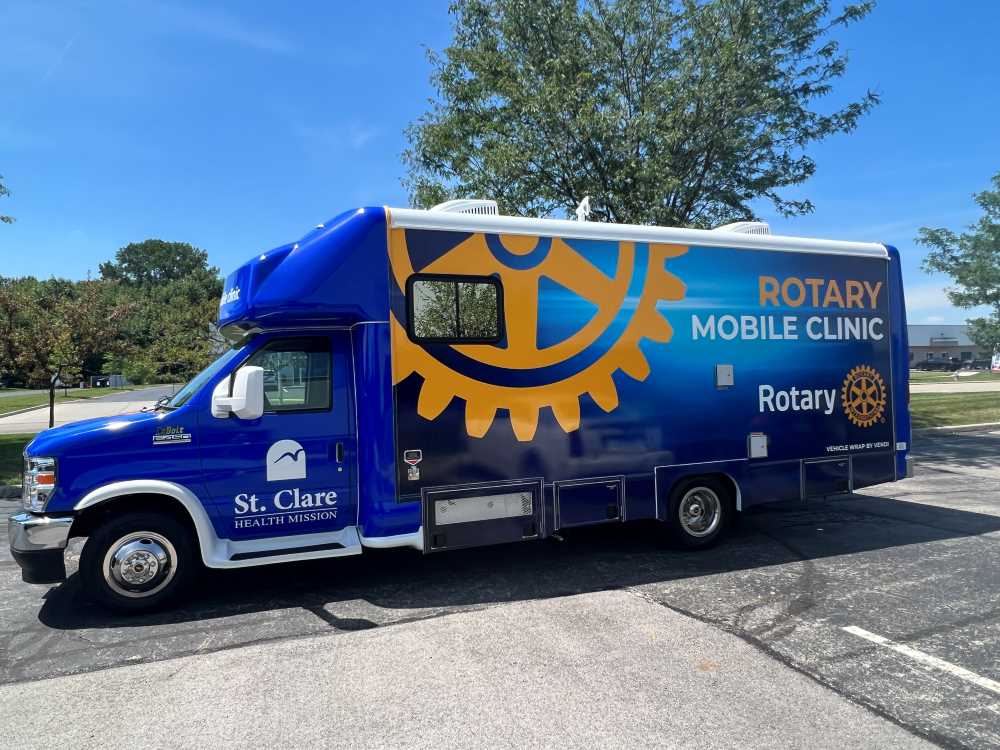 The mobile clinic, with its vibrant decals, now serves as a rolling billboard for local Rotary clubs.
It has also made an immediate impact in local communities. In its first six months of operation, the clinic delivered health care to more than 300 people.
Jason Larsen, executive director of St. Clare Health Mission, remembers that during the clinic's first official run, there were 19 cars lined up with children in need of sports physicals. If there had been any doubt about the need for a mobile clinic, the sight of those families removed every trace.
"It was an incredible start," says Larsen, a Rotarian himself. "The doctors couldn't believe how many people they were seeing."
Local Rotarians and leaders from St. Clare hope the mobile clinic will continue to gain steam, providing more services to more communities.
Dickinson says this kind of transformational project is only possible in a place like La Crosse, where there's a strong sense of community and philanthropy — as well as many UWL alumni seeking to make a difference.
"I've always felt a strong affection for the greater La Crosse community, and the university is a big part of that," Dickinson notes. "La Crosse as a community is historically significant, safe, warm, inviting, culturally rich and a place where everyone in our community is welcome. People here take care of themselves, and they also take care of each other."