Posted 11:27 a.m. Monday, Feb. 1, 2021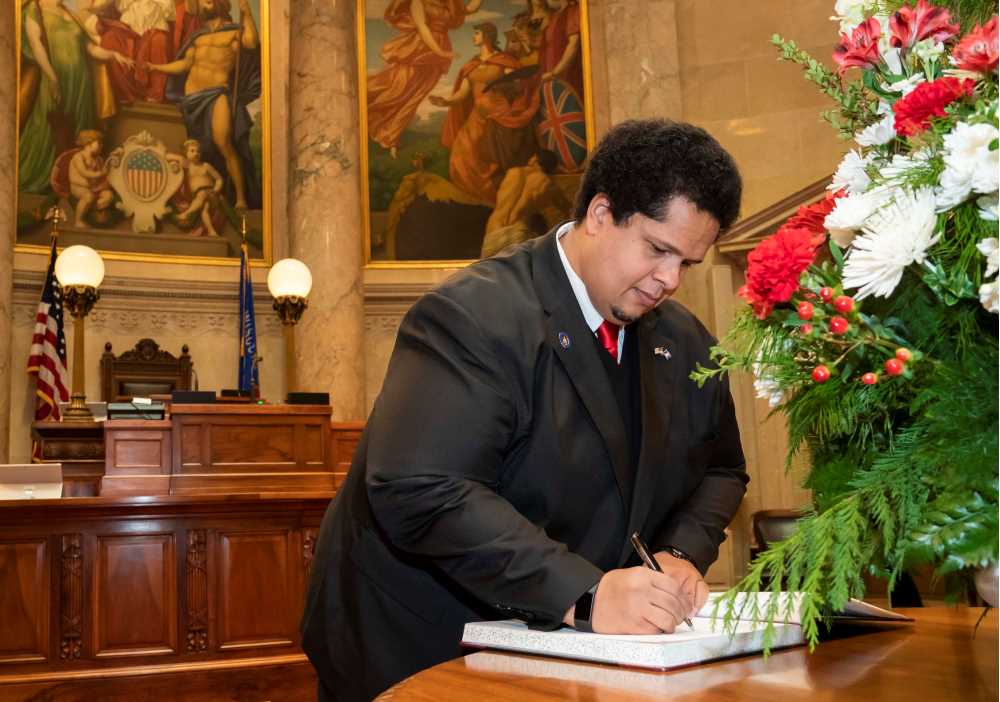 Alum is first Black Republican to serve in Badger State Senate
Julian Bradley and his late mother, Alexandra, were on opposite ends of the political spectrum.
But Bradley credits Alexandra, a staunch Democrat who marched with Martin Luther King Jr. and worked on presidential campaigns for Jesse Jackson and Michael Dukakis, for igniting his passion for politics.
In November, Bradley rode that passion to a resounding victory in the District 28 Wisconsin State Senate race, making him the first Black Republican to win a seat in the legislature's upper chamber.
"Even though we ended up on different outlooks, it was my mom who showed me that one passionate person can make a difference," says Bradley, a 2014 alum of UW-La Crosse. "From the time I was little, she instilled in me the importance of volunteerism and giving back."
Bradley's path to public office was highly unconventional.
His family did not come from money. Alexandra was a single mother, and she would tell her children that the government assistance they received was not "free money." It was a community investment in their future.
After graduating from La Crosse Central High School, Bradley decided to forego college and enter the workforce, which included a part-time gig as a professional wrestler. A mountain of a man, Bradley joined Philadelphia's independent wrestling scene and portrayed the humorous villain Kris Krude — a combination of former professional wrestler Rick Rude and Chris Farley's Chippendales character from Saturday Night Live.
"My experience in wrestling was important in teaching me how to step outside of my comfort zone and how to be comfortable in front of a crowd," Bradley explains. "Those skills certainly translate well into campaigning for public office."
Bradley eventually enrolled at Temple University in Philadelphia. He transferred to UW-La Crosse to be closer to his mother as she dealt with health problems. She died in 2009.
Bradley continued to chip away at his bachelor's degree in political science, balancing his coursework with a full-time management role at La Crosse's CenturyLink.
The 2014 graduate says earning his degree "remains one of my proudest accomplishments."
The perseverance Bradley showed in college has also served him well in politics.
In 2010, Bradley lost in the Republican primary for the 95th Assembly District, which includes the city of La Crosse.
In 2014, he lost in the general election for Wisconsin Secretary of State.
And in 2016, he lost in the general election for the 94th Assembly District, which includes most of La Crosse County outside the city limits.
But he never withdrew from politics — serving as vice chairman and chairman of the La Crosse County GOP, and later as the party's vice chairman in the Third Congressional District. And he never got too discouraged to pick himself up and try again.
His resolve finally paid off in August 2020, when he emerged from a crowded Republican primary field and cruised to victory in Wisconsin's traditionally conservative 28th District.
"As difficult as losing is, I've always been committed to staying involved, even if I was never a candidate again," he says. "My motivation has always been the desire to serve and to give back."
Becoming the first Black Republican to serve in the State Senate, he says, made his recent breakthrough even more meaningful.
"Being chosen by my community to represent them in the Senate is a great honor in and of itself," he notes. "The historical nature of my election means a lot to me, and I hope it inspires other candidates to get involved. It's important to note that minority involvement in politics, for both parties, is still very low. That trend started to change this year when we saw more minorities than ever run for office on both sides of the aisle."
In the upcoming legislative session, Bradley will serve on the Senate's Health Committee and Committee on Judiciary and Public Safety. His priorities include reopening Wisconsin swiftly and safely amid COVID-19, along with preparing the state for future crises.
As for his future in politics, Bradley is keeping his options open.
"The path that's brought me here has been unpredictable, so I won't rule anything out," he says. "Right now, I've been blessed with the opportunity to represent my community in the State Senate, and my focus is on being the best senator that I can be. I want the people I represent to know me as a great advocate who is always fighting for them."