Posted 11:28 a.m. Monday, Feb. 1, 2021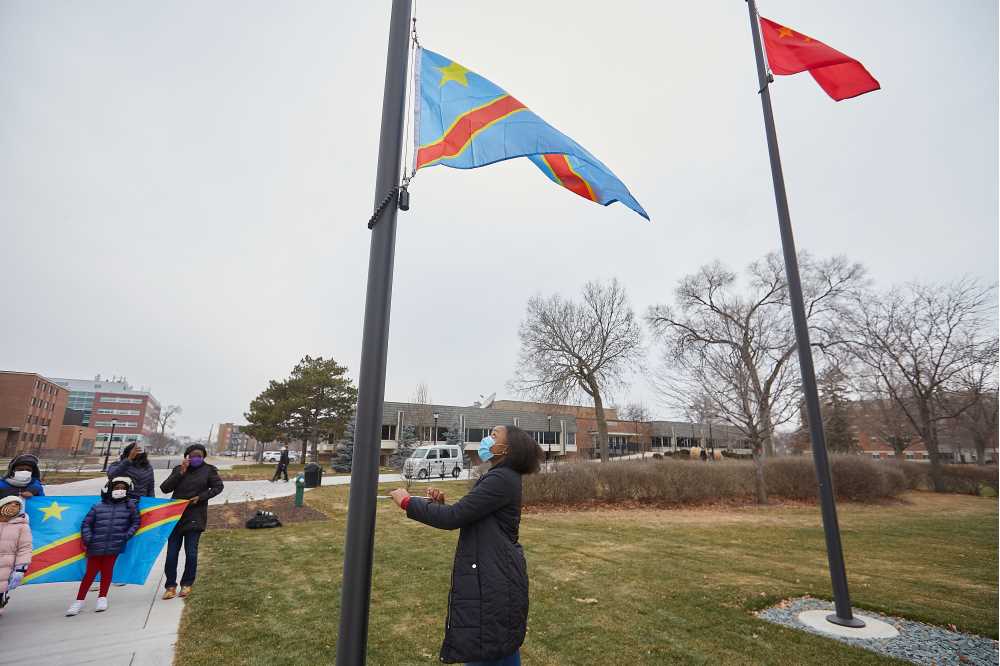 Congo alum, student revel in campus flag raising
Pierrot Mpemwangi waited nearly 20 years. Vanessa Mbuyi Kaja, three.
The UW-La Crosse alum and current student hoped to see the flag of their homeland, the Democratic Republic of Congo, fly on campus. And on Dec. 18, 2020, they did.
"I'm so excited. I'm so happy," Kaja said at the short, flag-raising ceremony on a brisk December day. "I already knew I was accepted here in La Crosse, but this makes me feel like yes, I can call this my home."
Three years earlier, when Kaja came to La Crosse, she saw international flags flying in the circle southeast of Cowley Hall. The microbiology major noticed her country wasn't represented.
"I was like 'oh yeah, it's just like all other places where I go – I never see my flag. It's always these flags I see everywhere,'" she recalls.
Kaja didn't question her observation at that time. But when the flags moved to the Badger Street Mall following its renovation in summer 2020, she noticed the Congo flag was still missing.
Being active on campus, Kaja knew who to email. She sent a message to Miranda Panzer in the International Education & Engagement Office to ask if it would be possible to add the Congo flag. Panzer worked with Physical Plant staff to make it happen. And it did — faster than she thought.
Panzer initially told Kaja they could probably get it flying in spring semester 2021.
"I was like 'oh, that's fine,' but surprisingly, I received an email (about the December launch) and I just thought 'oh my gosh. This is amazing,'" says Kaja.
Her hope to see the Democratic Republic of Congo's flag fly over campus was shared by Mpemwangi when he arrived at UWL in the early 2000s.
"Even though we had more than five students from the DRC who attended UWL at the same time, the flag was never raised," recalls Mpemwangi. "It represents my journey to the United States, La Crosse area and the bond that I have with UWL."
Mpemwangi, '06 & '10, has worked with La Crosse's Mayo Clinic Health System Franciscan Healthcare since graduating. He was so excited to attend the flag's December inaugural launch that he brought six family members to witness the moment.
"They thought it was very nice of UWL to hold the flag-raising ceremony and reach out to me to be a part of it even though I graduated a long time ago," he says. "Hopefully the children seeing that will set a great example for them in the future."
Mpemwangi, who earned double majors in marketing and information systems, says it's important to have flags of international students flying on campus along with the U.S. flag to promote diversity and inclusion.
"It may be a little gesture, but it speaks volumes and shows that the university is open to accept different cultures, backgrounds and people from all over the world," he notes.
Mpemwangi, who has five family members who are also UWL graduates, says he's a proud alum and gives back by helping the International Education & Engagement Office when he can.
"It is an honor to be part of the UWL family," he says.
The history of international flags at UWL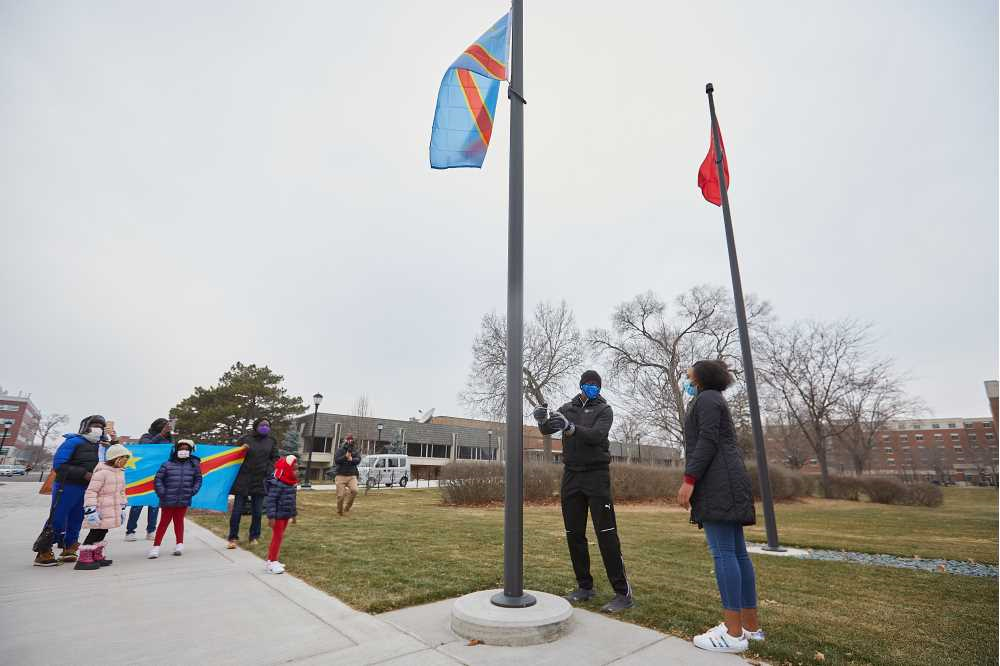 Flags representing countries of international students attending UWL have flown on campus for three decades.
The flags took flight during the 1991-92 academic year after Murphy Library Chair Karin Sandvik proposed the idea. Sandvick, a former international student, knew the importance of seeing one's flag fly. The Rotary Club of La Crosse East ran with the idea and provided $4,000 to landscape a circle on the campus mall southeast of Cowley Hall, along with buying 32 flags representing countries of international students on campus at that time.
Eventually, the U.S. and Wisconsin flags moved a block north on East Ave. to the veteran's memorial. When Badger Street was upgraded to a pedestrian mall in summer 2020, the international flags moved to an area between Whitney Center and Drake Hall.
Currently, 12 flags representing international students and university partnerships from 20 countries are rotated biannually in the new display. The Hall of Nations in Centennial Hall also displays international flags of UWL ties.
With budget restraints and ever-changing country affiliations, sometimes not all countries are represented in the displays. But International Student Advisor Miranda Panzer says while flags can spark interest among domestic students about the world, their display on campus means a great deal to international students.
"Students have stated how it makes them feel valued and welcomed at UWL," she notes. "It is a small gesture to all that they offer our campus."
See more info about the original Circle of Flags southeast of Cowley Hall.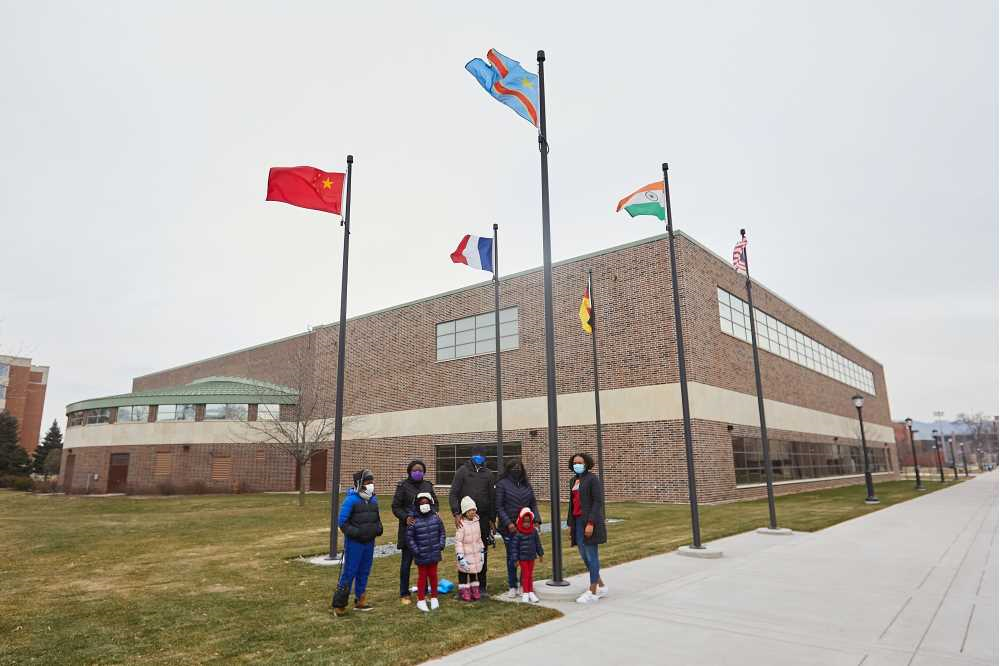 Are you an international alum or study abroad student?
Are you interested in supporting UWL international students?
We want to hear from you!
We're updating the International Education & Engagement Office alumni database.
We'd like to verify your contact information. If you're an international alum or study abroad participant, please share a life update with us.
We'd also like to maintain international-related projects like flying flags on campus. To help us continue that project and make the international student experience successful, click here.