Posted 1:17 p.m. Monday, Aug. 17, 2020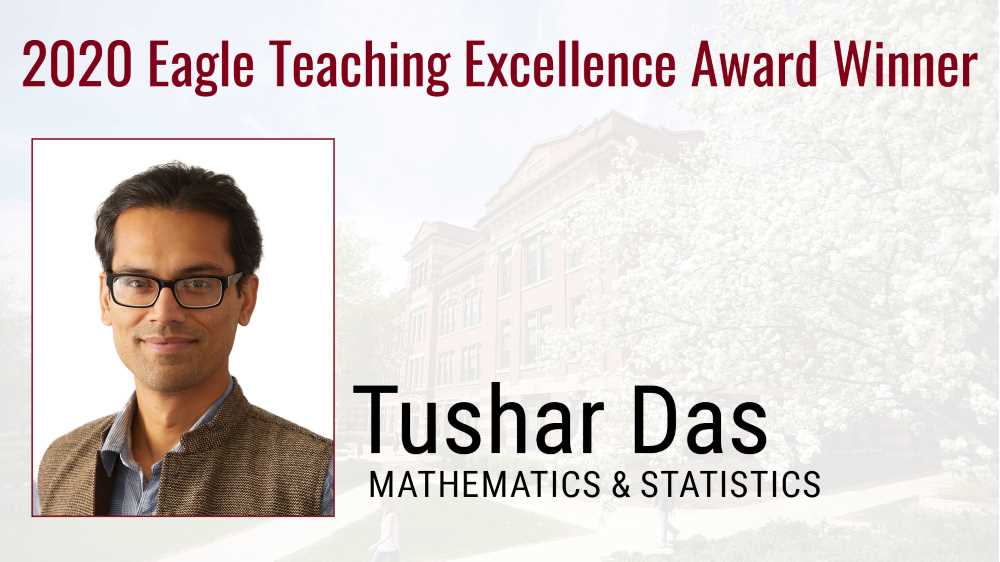 Tushar Das hopes to 'light a fire' in his students
The best educators have a profound impact on students, in and out of the classroom. This year, UWL's Provost Office received more than 500 nominations from students hoping to recognize their favorite professors and instructors.
From these nominations, a university committee selected six educators to receive 2020 Eagle Teaching Excellence Awards. The winners will be highlighted on the university's homepage in the coming weeks, along with being honored during Chancellor Joe Gow's opening remarks for the fall semester.
They are:
Lisa Kruse, Sociology & Criminal Justice
Christa Kiersch, Management
Greg Ormes, Communication Studies
Barrett Klein, Biology
Megan Strom, Global Cultures & Languages
Tushar Das, Mathematics & Statistics
This is the sixth in a series of stories profiling the winners.
Tushar Das, Mathematics & Statistics
Started at UWL: Fall 2013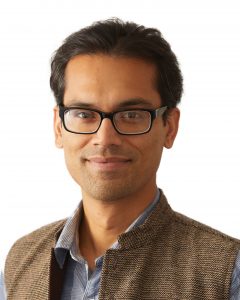 Courses: "I take great pleasure in teaching a wide variety of mathematics, starting from College Algebra, Calculus I-III and Linear Algebra, on to Real Analysis, Abstract Algebra and Topology. Beyond my regular teaching load, I devote significant energy to intensive mentoring and teaching several research seminars aimed at our burgeoning constellation of graduate school-bound majors — many of whom are from underrepresented groups in STEM such as women, students of color and first-generation students; who often had never considered the possibility of graduate school. I am extremely proud that (since I started at UWL) 18 of my students and mentees have been accepted with full funding to excellent graduate programs that include UCLA, UC Irvine, Madison, Ohio State, Tufts, Boston University and Bryn Mawr."
Background: "I'm reminded of Einstein's famous paean to the spirit of inquiry: 'Curiosity is a delicate little plant that, aside from stimulation, stands mainly in need of freedom.' My curiosity was nurtured by wonderful teachers at Miranda Hall Montessori House and St. Xavier's Collegiate School (both in Calcutta/Kolkata in India), at the University of St. Andrews (in Scotland) where I received my bachelors, and at the University of North Texas where I received my master's and doctorate. Post Ph.D. I spent a year at Oregon State before joining UWL in the Fall of 2013."
Favorite part of teaching: "In my case, I was always apathetic to schoolwork until I met the right teachers (both inside and outside of schools). They lit a fire in me, gave me a glimpse into the magic gardens of their subjects, and then disappeared leaving me propelled to explore on my own!
Subjects aren't inspiring per se — it's us teachers who have that crucial potential to ignite the fire of curiosity in our students. A great teacher or researcher inspires others to reach farther than what they had dreamed, and this inspiration may be most significant if transmitted through their actions and example, their philosophy or worldview.
To riff on Descartes, I learn thus I am. Learning is equivalent to existing. That's what I'd like my students to leave/live with — the fire to remain curious and to keep learning until our last breath. Not just with a handful of beautiful seashells discovered on our sojourn along the infinite shores of mathematics."
Previous articles in this series:
'Incredibly fortunate to be a teacher': Lisa Kruse wins 2020 Eagle Teaching Excellence Award

'The human side of the business': Relationships, challenges fuel Christa Kiersch's love of teaching

'Teaching inspires me': Greg Ormes says connecting with students 'brightens my days'

Sharing his passion for insects, discovery: Barrett Klein pushes students to 'harness their superpowers'

Cultural connections: Megan Strom emphasizes compassion toward Spanish speakers