Posted 7:02 a.m. Wednesday, Jan. 26, 2022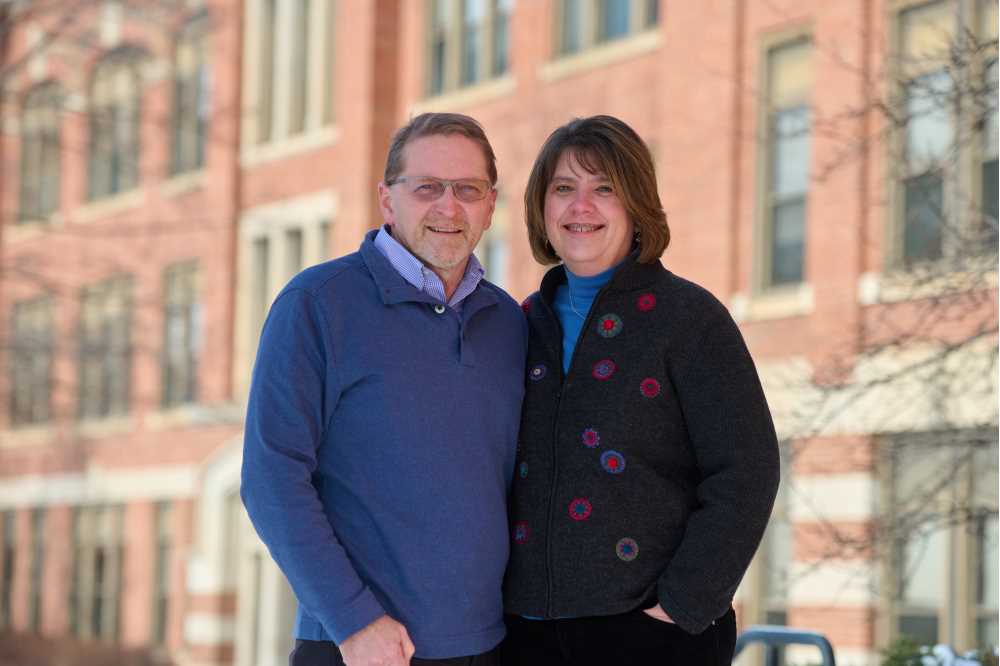 With scholarship, Quarbergs hope to support, inspire future students
After his first semester at UW-La Crosse, Brad Quarberg cashed in a scholarship from an anonymous donor received upon graduating from high school.
"I was a kid from rural Wisconsin, a first-generation college student, and didn't really know what was going on," says Quarberg, '85, now the director of news and marketing at UWL. "The scholarship was $100 or $200 — I can't remember. But it was reassuring to know that someone trusted and believed in me as a student, and they were willing to give that money to help a student's dreams come true."
Now, Quarberg and his wife, Gail, '89, are paying it forward, supporting future UWL students in the pursuit of their dreams.
The newly established Brad and Gail Quarberg Scholarship Fund will provide a $1,000 scholarship to a graduating senior from Mondovi High School (Quarberg's alma mater) each year. Special consideration will be given to students with a financial need.
The first scholarship through the UWL Foundation will be awarded in 2022. A future estate gift will fully endow the fund, ensuring scholarships for future generations.
Quarberg, who grew up on a farm in rural Modena and graduated from Mondovi High School in 1981, says he had the idea of creating a scholarship several years ago. When he returned to be inducted into the school's alumni hall of fame in 2019, he decided to put his plan into motion.
"Mondovi is a community that, over the years, has always supported education," says Quarberg, who also serves on the La Crosse public school board. "They've built onto the school, upgraded things and have always been a good community with a good education. That means a lot to me, and it's something I want to support."
Quarberg hopes Mondovi High School students will see UWL as a top choice when considering which college to attend.
Coming from a small town, Quarberg says UWL felt like home — not too big and not too small. He also enjoyed the rigorous academics, the variety of student activities and the opportunity to play in the marching band — a passion he had developed in high school.
"Band is an important part of extracurriculars, rather than just sitting in a classroom," Quarberg notes. "It makes you a more well-rounded person, it introduces you to friends, and it gives you something in common with people who love music or love performing."
Quarberg has even supported band and choir programs in the School District of La Crosse, using his school board stipend to establish an endowment through the La Crosse Public Education Foundation supporting each.
He's excited to extend his philanthropy to Mondovi, and to see the lives that will be helped by this gift.
"I look forward to meeting some of the students who get the money, finding out what they want to do, and teaching them a lesson about the importance of giving back," he says. "If I can inspire them to give back when they're older and a little more established, then it will be well worth it."
How to apply
To apply, students must complete a general scholarship form. They will be auto-matched to the Brad and Gail Scholarship if they are eligible.
Mondovi High school seniors planning to attend UWL should contact the school's guidance counseling office with any questions.
The deadline to apply is Feb. 1 annually.