Posted 1:24 p.m. Monday, Aug. 17, 2020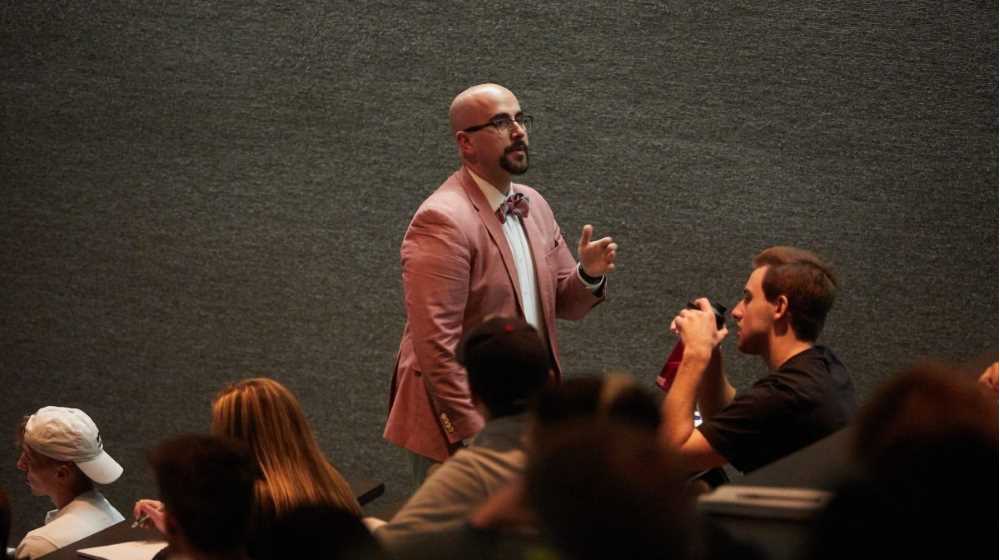 UWL lecturer earns top honors
A UW-La Crosse Associate Lecturer in the History Department has brought home an international award for his unique approach to teaching Medieval History.
Kyle C. Lincoln, a historian of Medieval Europe, has received the 2019 Lone Medievalist Prize for Teaching with John J. Giebfried for their design of "Reacting to the Past" pedagogical games.
"Reacting to the Past," a pedagogical tool first developed in the late 1990s, fosters historical understanding and empathy for the past by helping students humanize historical peoples. It features elaborate, weeks-long, student-centered simulations of crucial decision points in human history. Moreover, it builds skills useful to students for any future job by cultivating skills in critical thinking, problem-solving, collaboration, public speaking and persuasive writing.
Lincoln and Giebried's first game written together, "1204: The Fourth Crusade and the Remaking of the Medieval World," begins in March 1204. It starts immediately after the young emperor Alexius IV, whom the Fourth Crusaders had put on the throne of Constantinople, was murdered by a usurper. In the game, students must first decide whether to attack the city while debating concepts like 'just war' and the nature of crusading, using the works of Gratian, St. Augustine and others to build their arguments.
Building on that success, Lincoln is in the early stages of developing a game set in Spain in 1492, exploring the aftermath of the conquest of Grenada and the expulsion of Jews and Muslims. Giebfried, an Assistant Professor of History at East Georgia State College, is currently finishing up a game on Mongol history, "Grandsons of Genghis," focusing on the Qurultai of 1246. Their work will provide invaluable teaching resources for other Lone Medievalists and all instructors, especially those teaching survey courses that normally overlook the medieval world entirely.
Lincoln, a 2016 graduate of Saint Louis University's doctorate program, previously taught at Kalamazoo College and Western Michigan University.
Learn more about this innovative pedagogy at the Medievalists.net podcast at: http://www.medievalists.net/2019/05/learning-about-the-middle-ages-through-games-with-kyle-lincoln/