Posted 7:05 a.m. Thursday, May 25, 2023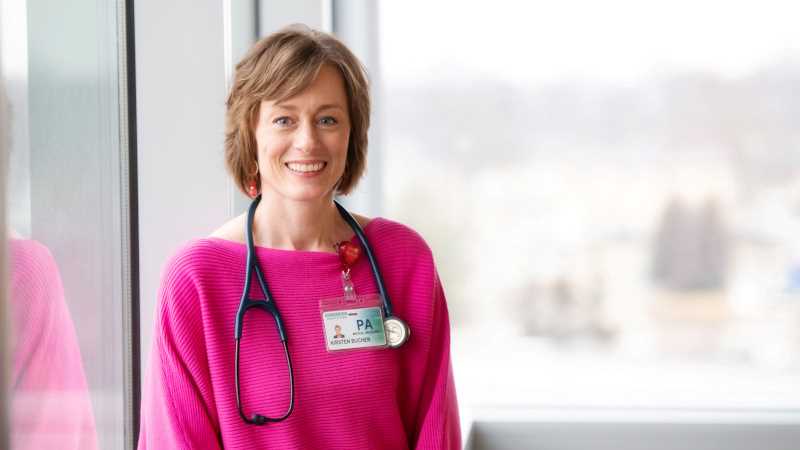 Bucher faced her challenge as she learned to help others face theirs
By Ryan Henry, Gundersen Health System
Kirsten Bucher moved to La Crosse five years ago with her husband and two children to study at UW-La Crosse to become a physician assistant. Little did she know that before she'd graduate, her life would be saved by the very people she hoped to one day work with.
Like many, her journey started when she felt a lump in her breast that she knew shouldn't be there.
"Of course, immediately your mind goes to cancer," says Kirsten, who was 36 at the time.
Unfortunately, her physician at Gundersen confirmed what she had feared. It was indeed breast cancer. The diagnosis was a blow at a time when the pressures of medical schooling and family life were ever present.
"I was learning about what kind of treatment I might need," she says. "I ended up needing six months of chemotherapy, so I was going through treatments while I was still doing (school)."
Kirsten was determined not to let her diagnosis derail her plan to provide care – the same kind that she'd need throughout her journey. To do so meant enduring severe fatigue following days when school and chemotherapy intermixed. Surgery followed, and her body couldn't have responded better.
"I call it my miracle that I had a complete pathologic response, which means when they went in at surgery, there was no cancer left," Kirsten says. "The chemotherapy killed all the cancer cells, so I was cancer free. That was the best possible outcome."
After just three weeks of recovery, Kirsten was back at the hospital, but this time, she was on the opposite side, finishing up her clinical rotations before graduating two months later – and less than nine months after her initial diagnosis.
It was a surreal journey at times, rotating through the same department she was being treated in. But she could also share with patients a perspective that no one else could.
"I would see other breast cancer patients who were newly diagnosed and they're going to need to go through chemotherapy, and I could say, 'I'm going through that right now. You're going to get through it,'" Kirsten says.
Now, Kirsten is putting her degree to use – in the medical oncology unit at Gundersen, working alongside the same people who helped her beat cancer. It's an ending that couldn't be scripted any better.
"I was so fortunate to have a great team that gave me wonderful treatment," Kirsten says. "I get to be a part of giving back to the community now.
That giving back now includes sharing her story as the 2023 Steppin' Out in Pink advocate. She hopes her experience can serve as an inspiration to others, showing them that you don't have to give up on your goals – or even take a break – just because you're fighting this disease.
"Nobody expects to have a diagnosis, nobody wants to have a diagnosis of cancer. But if and when that day comes, I think it's really important to find your 'why.' What matters in your life." Kirsten says. "For me, it was my faith and my family. Those were the things that kept me going."