Posted 4:49 p.m. Friday, Aug. 14, 2020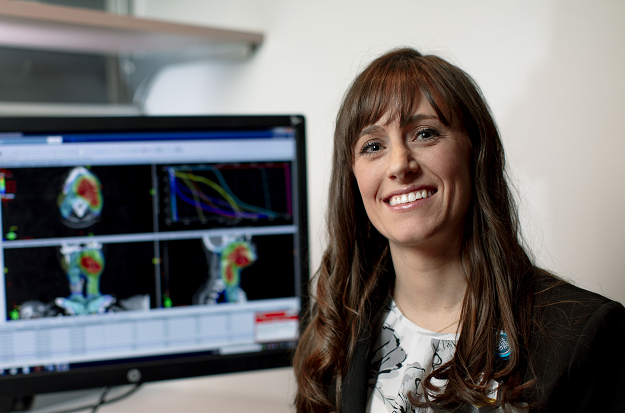 Students in Medical Dosimetry Program honor mentor from Mayo Clinic Health.
"A knowledgeable and genuine mentor" who makes UW-La Crosse student interns part of the healthcare team received this year's Medical Dosimetry Clinical Educator Award.
Karen Lang, a UWL alumnus and board-certified medical dosimetrist at Mayo Clinic Health System in Rochester, received the 2019 award, which is selected based on UWL student nominations.
Medical Dosimetry involves the measurement and calculation of dose for the treatment of cancer patients. Like many UW-La Crosse programs, partnerships with clinical internship sites provide invaluable experiential learning experiences for students in the field.
Each year students in UWL's Medical Dosimetry Program nominate a clinical educator from one of more than 30 clinical internship sites to receive the award.
Five outstanding clinical educators were nominated for the 2019 award:
Robert Bettinelli – Lahey Medical Center, Burlington, Mass.
Amiee Entwistle – Beaumont Health System, Troy, Mich.
Karen Lang – Mayo Clinic, Rochester, Minn.
Zeke Ramirez – UCSF, San Francisco, Calif.
John Wochos – Gundersen Health System, La Crosse
The student submission for her nomination:
"As a recent graduate of UWL's Medical Dosimetry Program and board-certified medical dosimetrist, Lang has assumed roles of clinical advisor, research advisor and devoted student mentor at Mayo Clinic. She exemplifies a professional attitude, leadership skills and dedication to student education each day. Lang's compassion toward others and precision in daily clinical tasks show her commitment to excellence and passion for education.
In the clinical setting, Lang has established a schedule for the medical dosimetry intern. This includes orientation and site-specific rotations (breast, prostate, brain, head and neck, brachytherapy, etc.) She facilitates student transitions on the schedule by communicating with the medical physics and dosimetry team. In addition to creating a structured clinical schedule, Lang has organized a weekly education "huddle" that brings the intern and program advisors together. Each week they discuss student goals, projects, and how the team can help the intern succeed. Furthermore, Lang has generated three individual "testing" patients in Eclipse for educational use at the clinical site. Each patient contains multiple anatomical sites and clinical constraints so that students gain experience planning and reporting dose. Lang uses a multi-dimensional approach to explain and demonstrate planning techniques. She provides detailed explanations, visuals as well as hands-on learning. If there is a challenging concept for a student to understand, Lang will go the extra mile to provide more information and resources. Research is also a great strength of Lang's. As an awarded student-author, her experience in research and writing is highly valuable for the dosimetry intern. She understands the process of scientific writing and the challenge in choosing a topic. Over the past year, her guidance in research and data collection for my own group project has been invaluable. Lang is a knowledgeable and genuine mentor for students in the UWL Medical Dosimetry Program. She is approachable, reliable and shows the utmost respect for every person. Her efforts to improve clinical site education and make the student intern part of the team undoubtedly deserve recognition."