Posted 1:34 p.m. Monday, Aug. 17, 2020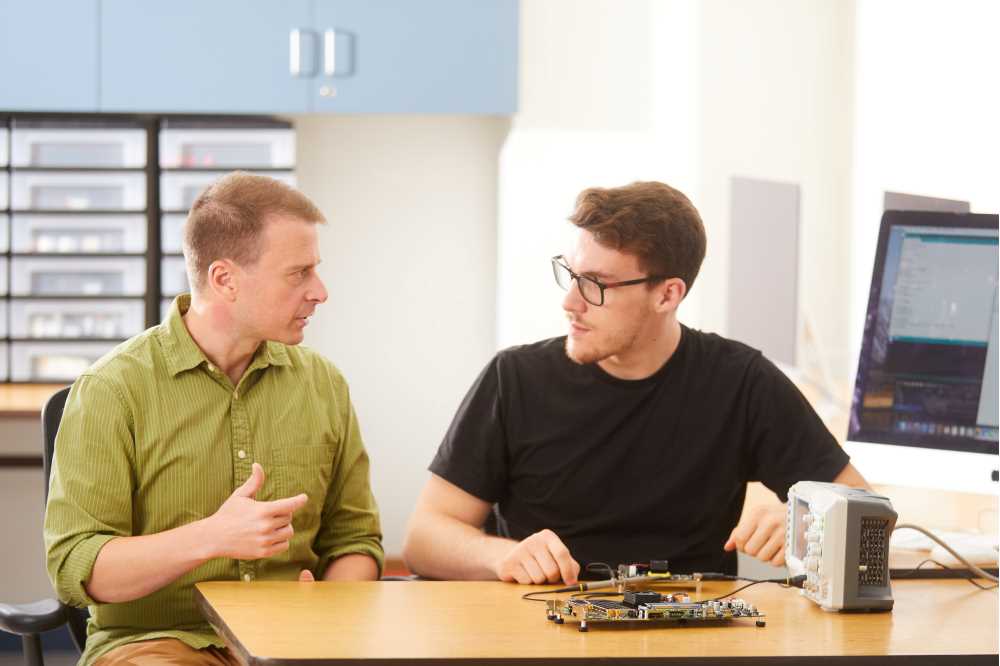 Computer Engineering expected to address technology demand
UW-La Crosse will soon be turning out majors in a growing, high-demand technology program.
The UW Board of Regents approved the Bachelor of Science in Computer Engineering at its meeting at UW-Superior Friday, Oct. 11.
Leading up to the new major, the UWL Computer Science Department recently established an embedded systems emphasis to respond to the growing job demands nationwide. "Interest from both incoming students, and local and national employers demonstrate the need for further expanding the department's offerings into computer engineering," says UWL Associate Vice Chancellor Sandra Grunwald. "Establishing the program will provide students with both technical breadth and depth in a wide variety of computer systems."
Grunwald says graduates will be better equipped to develop novel technical solutions to real-world challenges with their ability to engineer computer hardware systems, develop low-level software solutions, and carry out the integration of electrical and physical systems.
Program requirements will be 127 credits including 42 credits in General Education program coursework, 11 credits of which satisfy other program requirements. Program curricula for the major includes 33 credits of program prerequisites and support courses and 63 credits in the computer engineering major.
Approved by the Board of Regents, the new major must be given the green light by the Higher Learning Commission, the university's overall academic accrediting agency. If approval goes as scheduled the first majors would start in fall 2020, with the first graduating class expected in May 2024.
UWL will eventually seek accreditation by the Accreditation Board for Engineering and Technology Inc. (ABET). ABET requires that at least one student has graduated from the program before accreditation may be pursued.
The new major is in demand. The U.S. Bureau of Labor Statistics projects that the job outlook for computer engineers is expected to grow by 5% from 2016-26 and by 10% within Wisconsin alone during the same 10-year span. An Indeed.com search in early September showed 177 full-time jobs for computer engineers — 40 in the Madison area and 99 in Milwaukee — with an additional 160 full-time jobs in the Twin Cities.
Along with market demand, computer hardware engineers have a high earning potential — the second highest among engineering occupations with a mean annual wage of $114,600.
Technological advancement is not only increasing demand for computer engineers, but is also expanding the types of systems being created, says Assistant Professor of Computer Science Elliott Forbes.
"The ability to embed computational power, sensors and wireless connectivity in small devices has created a whole new range of devices that connect our world," Forbes explains. "This has significantly changed the range and scale of devices that computer engineers design. Increasingly, companies are forming interdisciplinary teams that blur the boundaries between hardware and software engineers and require new skills from each."
The UWL Computer Science Department is seeing increased interest from employers for graduates with experience in embedded systems and hardware design, skills developed in a computer engineering degree. Both local and national employers have also indicated an interest in computer engineering students. These employers include local manufacturers, such as Trane, a manufacturer and marketer of heating and air ventilation equipment based in La Crosse; start-up companies; as well as national technology leaders including Apple. In addition, the planned Foxconn manufacturing facility is expected to provide opportunities for computer engineering grads.
The new computer engineering program is being developed in response to the 2017-19 UW System biennial budget's new state funding specifically targeted for outcomes-based funding. The program also follows UWL's Sustaining Excellence: Advancing Transformational Education strategic plan by providing students experiences in high-impact practices such as a capstone experience, undergraduate research, internships, group collaboration, and exposure to real-world applications.
The computer engineering program is being developed by and housed within the university's Computer Science Department which has a 50-year history of offering exceptional programs in computer science and software engineering.