Posted 2:04 p.m. Monday, Aug. 17, 2020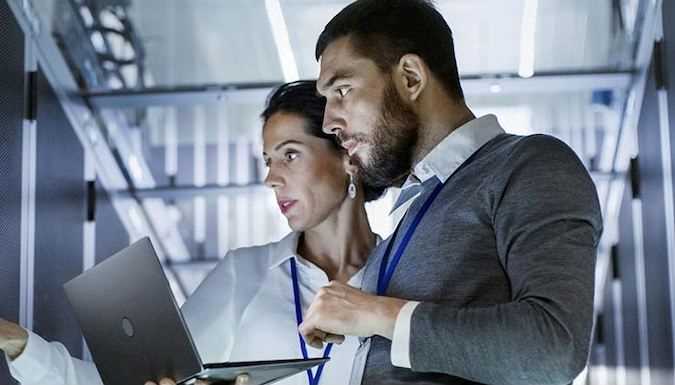 Online program is expected to start in September, pending Higher Learning Commission approval
The UW System Board of Regents has approved a new online master's degree in the rapidly growing field of information technology management. The program — a collaborative partnership that includes UW-La Crosse, University of Wisconsin Extended Campus and several other UW System schools — balances technical IT coursework with business and managerial topics. The 13-course, 37-credit program teaches core competencies that will help students succeed in advanced IT management and leadership roles across a wide range of industries.
"UW La Crosse is excited to offer a degree that will enable working professionals to advance in their IT careers," says Elizabeth Humrickhouse, UWL librarian/assistant professor and academic director of the new program. "This degree builds upon students' existing IT knowledge and offers a foundation of management courses to produce knowledgeable, innovative, and competent leaders in the field of IT Management."
Courses are expected to start in September 2019, pending approval from the Higher Learning Commission, one of six regional institutional accreditors in the U.S.
Designed with input from industry leaders, the online information technology management degree will offer a rigorous, multidisciplinary curriculum. It will include IT business courses in finance, operations, project management, ethics, regulatory compliance and communication.
In addition to business competencies, the program aims to advance the IT skills of students through coursework in data science, cloud computing, enterprise security and enterprise applications. Graduates of the program will gain a deeper understanding of IT as an organizational function and be equipped with the skills required to strategize, plan, and lead IT projects in any industry.
Admission to the program will require a bachelor's degree with prerequisite courses in programming, database and data/communications network. Aptitude tests such as the GMAT and GRE will not be required.
"Today, information technology is prevalent across all industries," said Aaron Brower, executive director of UW Extended Campus. "This requires more skilled IT professionals than ever before."
Specifically in Wisconsin, demand for IT managers is above the national average; employers see a shortage of professionals to meet that demand, notes George Kroeninger, associate dean – Program Development, of UW Extended Campus.
"This online degree program serves to fill that gap and expand educational opportunity for residents of Wisconsin and beyond that want to advance their career in IT," he says.
The Master of Science in Information Technology Management is intended for students with a bachelor's degree in areas including, but not limited to: information systems, information technology, computer science, computer programming, business administration, engineering, mathematics, statistics. It is also intended for those who have professional experience in the information technology field and are looking to gain business and leadership competencies in IT.
"We're excited to bring this degree program to adult learners both in and out of state who seek to advance their careers and contribute to business success through IT management." Brower said. "Information technology has the ability to transform the way we do business, and we depend on skilled IT managers to lead the way in this growing field."
Learn more about the program: at itmanagement.wisconsin.edu/
About UW-La Crosse
UW-La Crosse, founded in 1909, is one of the 13 four-year institutions in the University of Wisconsin System. UWL offers 45 undergraduate majors, 19 master's degrees, four certificate programs; and three doctoral degrees. UW-La Crosse — www.uwlax.edu — is the state's top-ranked public or private higher education institution by U.S. News & World Reports for best regional universities and has been ranked among the top four Midwestern public institutions for more than a decade. UWL is also listed annually among Kiplinger's Top 100 Best Values.
About UW Extended Campus
The University of Wisconsin is one of the largest and most widely respected public higher education systems in the country. UW Extended Campus partners with all UW System campuses to offer online degrees and certificates, as well as continuing education and lifelong learning opportunities. Through UW Extended Campus, people of Wisconsin and beyond can access university resources and engage in online learning, wherever they live and work—fulfilling the promise of the "Wisconsin Idea."