Posted 2:29 p.m. Monday, Aug. 17, 2020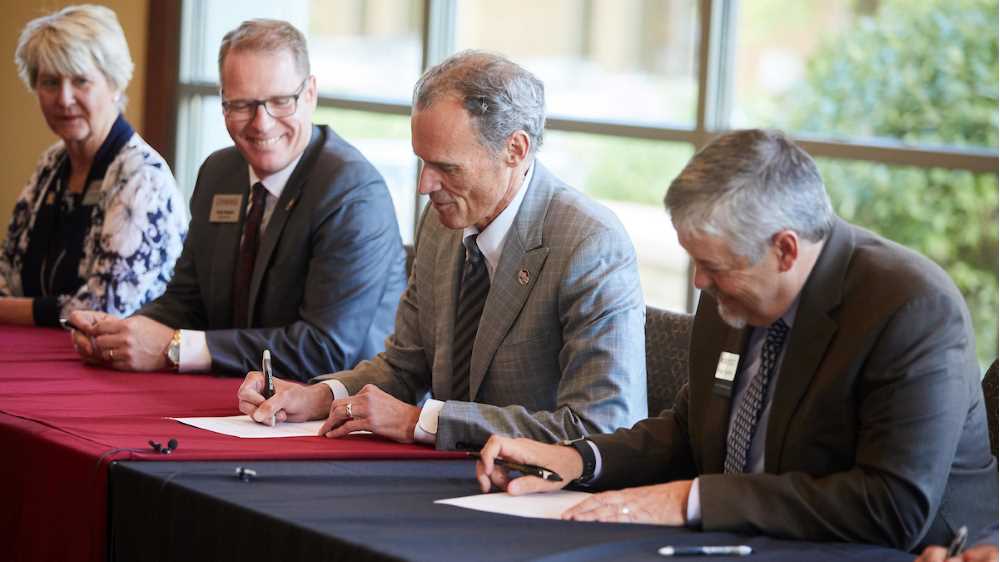 Western, UWL sign Business Pathway agreement offering another transfer option
Officials called it an exciting day for students as they signed a new transfer agreement Tuesday, July 30, that will allow another pathway for students to transfer from Western Technical College to UW-La Crosse.
Western and UWL officials signed a new Business Pathway transfer agreement for students in Western's Associate of Science-Liberal Arts (ASLA) program beginning with the 2019-20 academic year. Students enrolled in Western's ASLA program can now earn 58-59 credits that will transfer into UWL's College of Business Administration, providing nearly junior status for its Accountancy; Economics; Finance; Finance: Risk, Insurance, and Financial Planning; Information Systems; Management; or Marketing majors.
Western is an important partner with UWL in providing educational opportunities in the Greater La Crosse Region. No other college or university sends more transfer students to UWL than Western with 84 students transferring from Western to UWL last year.
"Bottom line, this is a great day for students from both institutions," said UWL Chancellor Joe Gow. "We already have a great partnership with Western, and this agreement only strengthens our commitment to our students by providing a clear opportunity for those wishing to transfer into UW-La Crosse."
The ASLA/CBA Transfer Agreement is an example of the work being completed within the UW System and across Wisconsin to promote Seamless Transfer – a priority in the UW System 2020FWD Strategic Framework.
"This is about options. This is about choices. This is about pathways," said Western President Roger Stanford during the signing ceremony. "It is an exciting day for students of this region."
In addition to general education courses, Western students will enroll in a variety of Accounting and Business Law courses at Western, before completing the remaining business classes at UWL.
"Providing more transfer opportunities for our students is critical," said Stanford. "This agreement provides a clear, defined path for students that makes it easy and affordable to transfer into UW-La Crosse's College of Business Administration. We couldn't be more thrilled to work with them to make this agreement happen."
To learn more information about Western's ASLA program, call 608.785.9200 or visit www.westerntc.edu/associate-of-science-liberal-arts. To learn more about UW-La Crosse's College of Business Administration, visit www.uwlax.edu/cba.