Posted 10:19 a.m. Monday, Jan. 25, 2021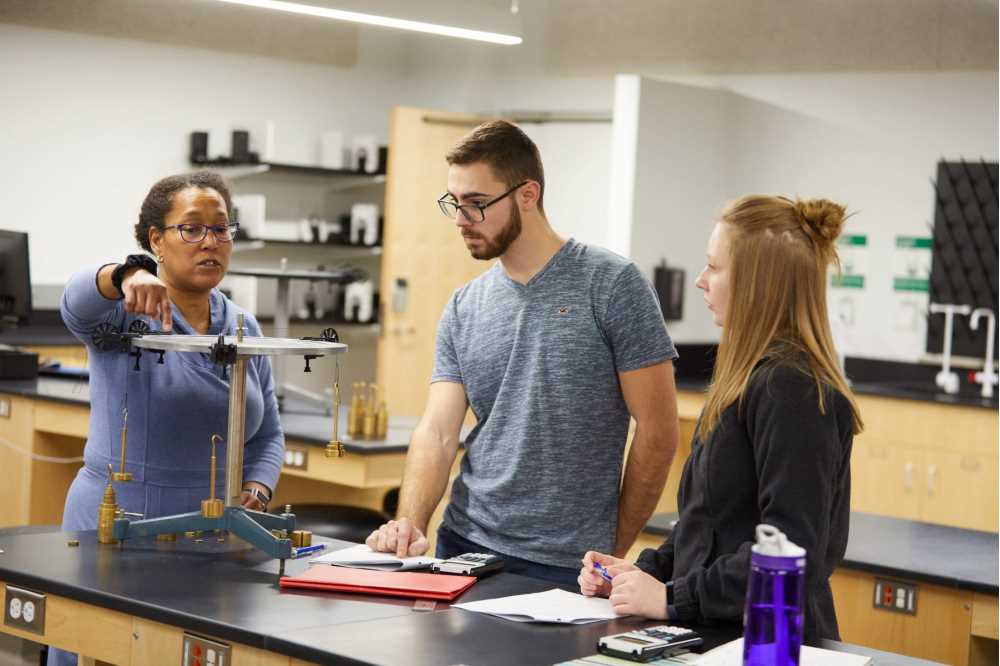 UW-La Crosse Physics Department is tops in awarding degrees
Once again, UW-La Crosse is No. 1 in awarding physics bachelor's degrees across the country, according to the latest data from the American Physical Society.
UWL awarded an average of 35 degrees annually between 2015-17, making it No. 1 in the nation among bachelor's degree-granting institutions on the American Physical Society list.
The UWL Physics Department stands out in its emphasis on teaching and undergraduate research, says Professor Taviare L. Hawkins, chair of the Physics Department. Students typically work with faculty on research projects in their specialty area, giving them unique learning opportunities different from the traditional classroom experience.
"Our students get a hands-on experience, along with specialized classroom attention," says Hawkins. "This department is really doing something special."
One of the special things that has been going on for 20 years: the department annually invites a Nobel Prize-winning physicist to campus. The laureates meet and interact with students, faculty and staff, along with giving a public lecture and physics seminar related to their unique discovery.
"Where else can you have an opportunity to sit down and have lunch with a Nobel Laureate?" notes Hawkins.
The large number of graduates earning physics degrees comes when the nation continues to see demand for Science, Technology, Engineering and Mathematics (STEM) graduates. UWL's Physics program is diverse, offering specialty tracks in applied physics, astronomy, computational physics, optics, physics education, and biomedical and business concentrations. It also has dual degree programs in physics/engineering and physics/physical therapy.
UWL has consistently placed among the top five on the national list for graduating high numbers of physics graduates. It was No. 1 previously for 2011-13.
In 2013, the program was awarded the American Physical Society Award for Excellence in Undergraduate Physics Education, which recognizes physics programs that support best practices in education at the undergraduate level.
The top 5 undergraduate physics degree-granting institutions 2015-17
1. University of Wisconsin-La Crosse— 35
2. California Polytechnic State University-San Luis Obispo — 34
3. SUNY College at Geneseo — 29
4. Rowan University — 27
5. (tie) California State Polytechnic University-Pomona and U.S. Naval Academy — 26
Source: American Physical Society