Posted 12:55 p.m. Monday, Aug. 17, 2020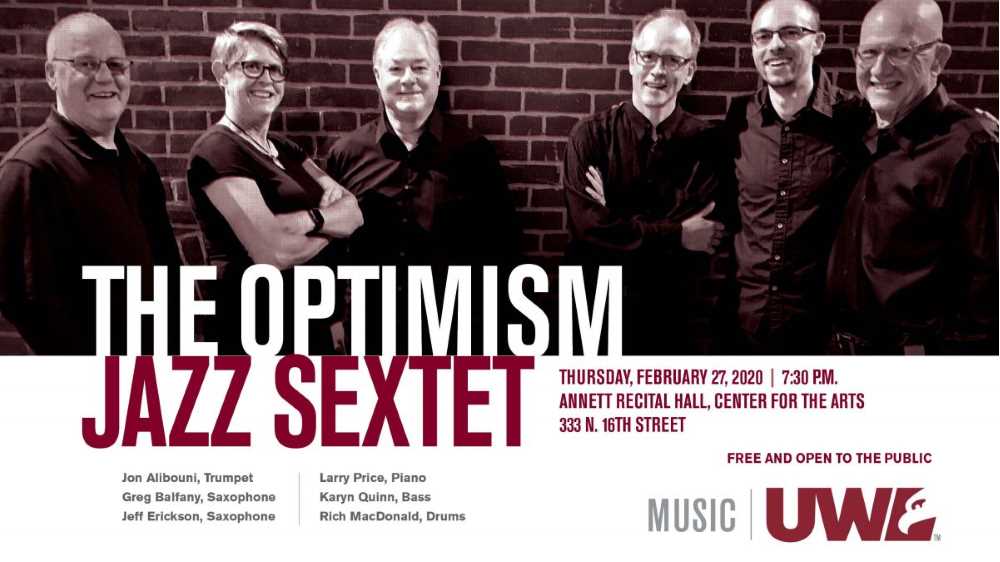 Regional all-star jazz group to perform on campus
The Optimism Jazz Sextet will bring the exciting sounds of classic and contemporary jazz to UW-La Crosse. The regional, all-star group consisting of current and former college music faculty from Wisconsin, Minnesota and Iowa includes a three-horn front line and standard rhythm section.
The performance runs from 7:30-9 p.m. Thursday, Feb. 27, in Annett Recital Hall in the Center for the Arts, 333 N. 16th St. Admission is free.
The group dives into diverse repertoires from New Orleans' second line to hard bop — a la Art Blakey's Jazz Messengers — and the contemporary compositions of New York saxophonist Eric Alexander and drummer T.S. Monk. They will also perform original music by group members.
Along with former UWL Jazz Studies directors saxophonist Greg Balfany, the group's leader, and bassist Karyn Quinn, the ensemble features current UWL Director of Jazz Studies Jeff Erickson on saxophone, Luther College's Jon Aliabouni on trumpet, and Winona State University's Larry Price on piano and Rich MacDonald on drums.
"Music like this is not heard in the area frequently," notes Erickson.
If you go—
Who: Optimism Jazz Sextet
What: Exciting sounds of classic and contemporary jazz
When: 7:30-9 p.m. Thursday, Feb. 27
Where: Annett Recital Hall, UWL Center for the Arts, 333 N. 16th St. Admission: Free