Posted 7:04 a.m. Monday, July 3, 2023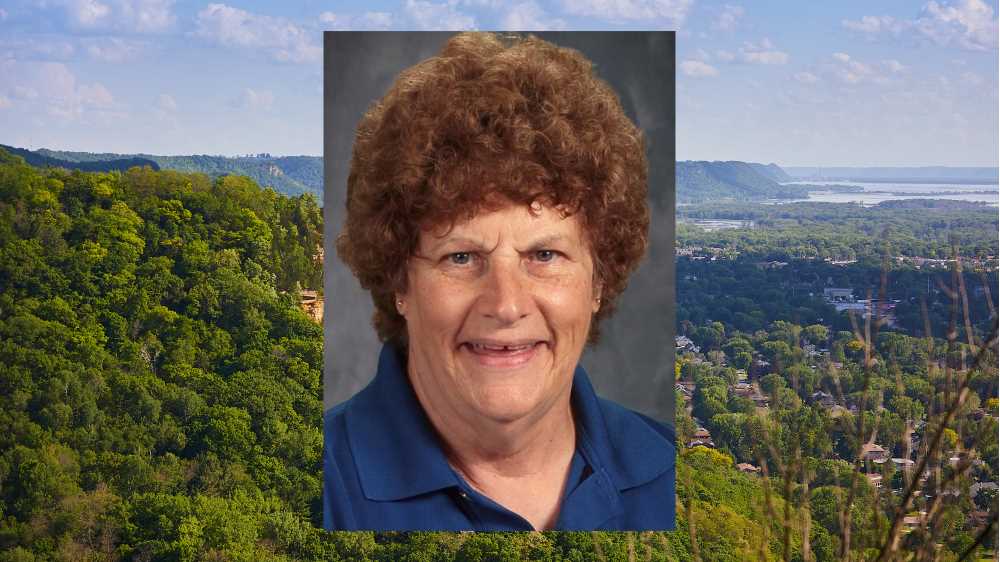 Kris Fritz, '70, still promoting fitness, health
Editor's note: The UWL Alumni Association is awarding graduates from the '60s through 2021 its top alumni awards for 2023. They're being honored for distinguished service and successful careers.
The distinguished alumni will return to campus Friday and Saturday, Sept. 22 and 23, to speak with students and take part in a panel discussion, along with being recognized during a brunch. Get details from the Alumni Association calendar.
As an undergraduate in the late '60s and early 1970, Kris Fritz stood out as a no-nonsense, capable and driven student studying physical education, recalls Professor Emeritus A.B. Culver. Fritz got the most out of her college academic, athletic and extra-curricular activities.
"These same talents carried over throughout her career covering all levels of teaching, athletics, community contributions and leadership in professional organizations," says Culver. Despite retiring from teaching in 2004, Fritz has remained active as a part-time physical education specialist at the Sheboygan Learning Center, as well as a never-ending health and fitness promoter.
For more than a half century, Fritz has motivated students in fun and effective ways to stay fit and healthy. And she's done much for the profession by mentoring and inspiring teachers and others who lead efforts to educate and advocate about the benefits of an active lifestyle.
With her creativity in the classroom, Fritz has received numerous state and regional teacher-of-the-year awards. She has coached volleyball and track and field, and has traveled with teams internationally. And, she has received 14 grants that have aided students in fitness ranging from biking to fishing.
Fritz has also given her time and knowledge locally, statewide and nationally to mentor and promote health and fitness among colleagues. She has led state, regional and national health and physical education professional organizations. In 2022, she was inducted into the national Society of Health and Physical Educators (SHAPE) Hall of Fame.
"It is truly amazing what Kris has accomplished as an individual and simply astounding when considering the impact that she has had on not only the children she has taught, but the individuals she has mentored, and all the lives she has touched throughout all her service at the state and national level," says Deb Sazama, UWL volleyball coach and former campus exercise and sport science program director.
Doug Kane, past Wisconsin Health Physical Education president, says the words that best describe Fritz include persistent, professional, giving, hardworking, courageous, "yes" and team-player.
"Kris' goal throughout her teaching career and into retirement has been to promote health and physical education conceptual knowledge acquisition for students and families to be put into practice to enable them to live healthier, active lives," Kane says.
Burt and Norma Altman Teacher Education Award
Honors and recognizes outstanding educators and the significant contributions they make to children and communities. Professor Emeritus Burt Altman and his wife, Norma, long-time supporters of teacher education, created the award in 2015.
Kristine Fritz, '70
Highly respected state public education physical education teacher and mentor, state sports leader for girls.

Long-time Sheboygan Area Schools physical education and health teacher, coach, 1970-2004.

Wisconsin Health and Physical Education (WHPE) Secondary Physical Educator Teacher of the Year, 1993; Midwest District Secondary Physical Education Teacher of the Year, 1995;

WHPE President, 2000; Midwest President, 2018

; among others.

Bachelor's degree in physical education, 1970; master's degree from University of North Carolina-Greensboro, 1978.
Nominate deserving alumni
Nominate deserving UWL alumni for the university's distinguished alumni awards. Simply fill out the nomination form; the Alumni Office will contact nominees.
Nominations are accepted throughout the year but must be received by Oct. 1 to be considered for the award the following year.
See all past recipients.
Here are the award criteria.