Posted 12:19 p.m. Monday, Aug. 17, 2020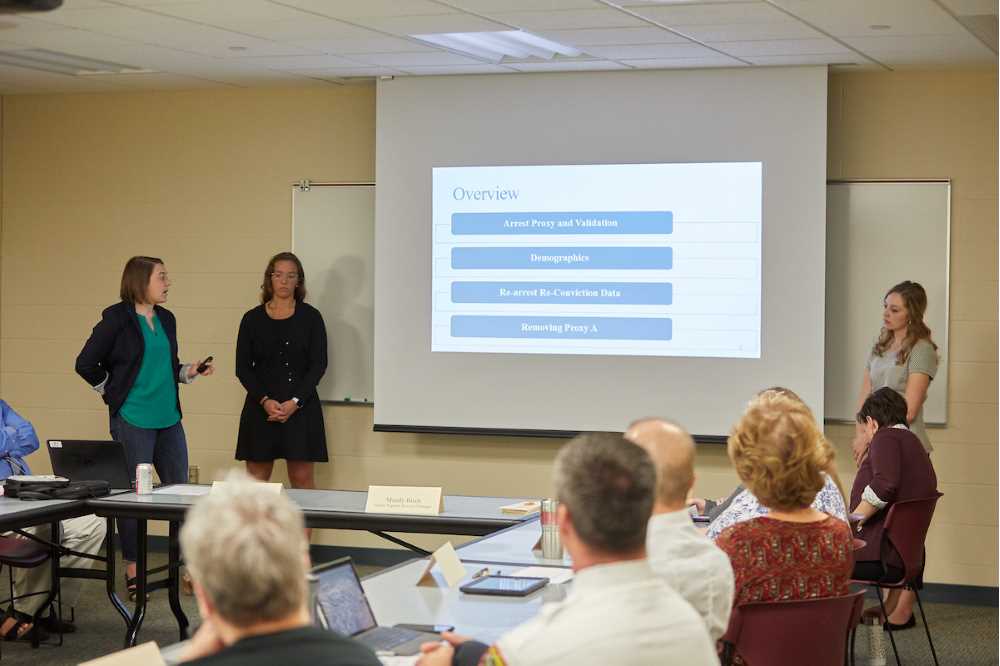 UWL study helps county officials, students get research training
La Crosse County criminal justice practitioners are getting better at predicting whether the county's offenders will have a repeat offense thanks to a study by a UW-La Crosse professor and her students.
With help from several UWL students, the Evidence-Based Decision Making Team is evaluating three questions they ask offenders during their initial booking, called the Arrest Proxy. The survey is given to those arrested to assess their risk of re-offending.
"The proxy score is used in the initial booking into jail and in some parts of the pre-trial process to determine the best response in order to promote public safety and a successful return to the community" explains Sociology and Criminal Justice Assistant Professor Lisa Kruse. "It is very important that this is an accurate initial indicator of risk."
Kruse says results suggest that two of the three questions accurately assess the risk to re-offend. She and her team of students have suggested that the first question be eliminated to increase the accuracy on risk.
As the chair of the nationally funded Evidence-Based Decision Making group for La Crosse County, Kruse was asked to validate the questions. "The local criminal justice system in La Crosse has committed to being evidence-based in their practices," she explains. "It was important to them that an initial assessment of risk was backed by evidence."
Kruse involved students from her classes in the study to provide high-impact practices for students planning to enter criminal justice-related work. Their effort was both service-learning and research. "Being able to validate the arrest proxy gives students the opportunity to take what they are learning in the classroom and apply it to a real-world example," she says.
Kruse says their work also exposes them to leading practitioners in the area, increasing their recognition and opportunities to gain employment. And their results will be published in a peer-reviewed journal. They can put the work, the presentation to the Criminal Justice Management Council (CJMC), and the publication on their resumes, she notes.
The research also allowed for the collaboration of students and faculty between the departments of Sociology and Criminal Justice and Mathematics and Statistics. Working across disciplines can be challenging, says Kruse. "We often exist in silos and it can be difficult to bridge disciplines in terms of methods, approaches and so on," she notes. "But, it is hard to think of a topic that cannot benefit from an interdisciplinary approach."
Kruse says working with the Mathematics and Statistics Department has been productive, and has opened doors to work together in the future. "Interdisciplinary work can bring important and diverse perspectives to the table, new ideas for addressing problems, different ways to tackle issues and develop methods," she says. "It also helps to see how different majors and minors can complement."
The hands-on work also achieves the university's strategic planning initiative to increase community engagement, along with advancing transformational education opportunities for students.
Along with the most recent study, Kruse has spent recent years tracking "cumulative disadvantage" in the criminal justice system — understanding how racial inequality exists at various points in the system and how it has a cumulative impact on offenders. She plans to continue using students to produce quarterly and yearly reports on the tracking. "I hope to provide a service-learning opportunity once a year for students to work on these reports," she says.