Posted 3:48 p.m. Thursday, April 26, 2018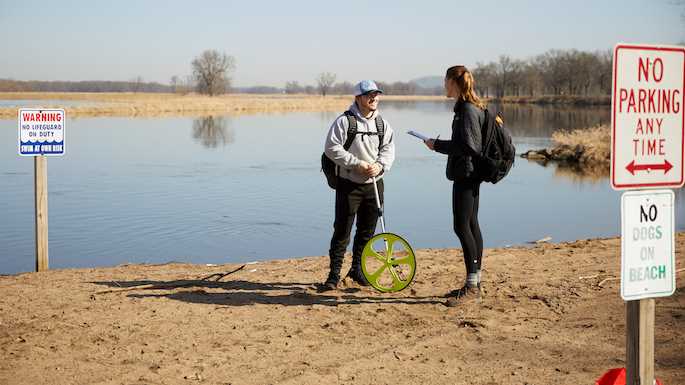 Students assess accessibility of outdoor spots across the Coulee Region.
Students assess accessibility of outdoor spots across the Coulee Region
UW-La Crosse
recreation management
students visited some of the Coulee Region's most beautiful spots this spring with an eye on inclusion for people with disabilities. Students in REC 400: Planning for Parks & Recreation Facilities visited eight area outdoor recreation sites to apply knowledge about inclusion for individuals with disabilities in park and recreation facilities. Students visited:
WisCorps Myrick Park Center
Goose Island County Park & Campground
Brice Prairie Upper Mississippi National Wildlife & Fish Refuge
Trempealeau National Wildlife Refuge
La Crosse County Convention & Visitors Bureau (La Crosse Riverfront)
City of Onalaska Parks and Recreation Great River Landing
Great River Bluffs State Park
Perrot State Park
They used the Inclusivity Assessment Tool (IAT) to assess the locations, focusing on facilities. The IAT looks at physical, administrative, and programmatic inclusion in recreation environments. Students gathered data through measurements on physical inclusion such as transportation, parking, entrances, restrooms, stairs and more. Data were also gathered for inclusion in administrative practices and programming. IAT describes, but does not rate or evaluate the features or practices in those environments. Organizations and individuals can choose to use an environment based on their unique variation in function. Students are now analyzing the data collected and will present the results in class, along with providing recommendations to site administrators. Student data will also be entered into a searchable, web-based database for individuals with disabilities or leaders of groups with individuals with disabilities. "By getting into the details of facilities, students thoughtfully explored spaces from a different lens through this service-learning research project," says Gretchen Newhouse, associate professor of Recreation Management and Therapeutic Recreation. One student, Abby Claussen, participated in a research independent study to assist with the research project. The project is an opportunity for students to conduct research, apply their knowledge, and contribute to improving these sites for everyone — especially individuals with disabilities, says Newhouse.