Posted 1:15 p.m. Thursday, Nov. 21, 2019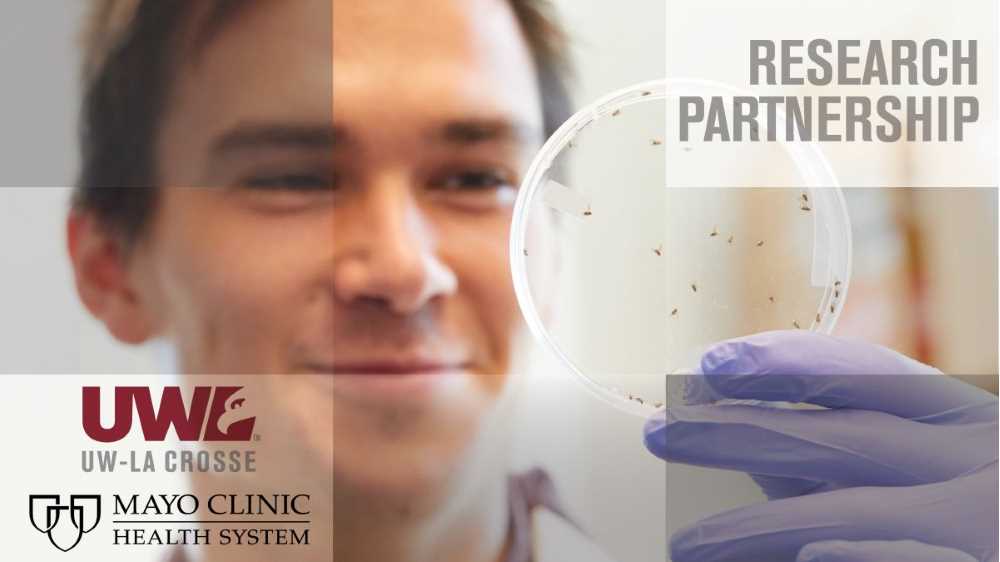 UWL, Mayo Health System enter into agreement to better health, wellness.
UWL, Mayo Health System enter into agreement to better health, wellness
A new research collaboration will benefit the Seven Rivers Region with better health and wellness. An agreement between UW-La Crosse and Mayo Clinic Health System will give students projects to research and Mayo professionals opportunities for additional experimenting.
The agreement, signed Nov. 21 at UWL, aims to enable researchers at the two institutions to work together, helping to prepare the next generation of scientists, innovators and health care providers.
"This is a wonderful opportunity for the best and brightest people in two outstanding organizations to come together to conduct essential research aimed at discovering invaluable new health benefits," says UWL Chancellor Joe Gow. "We hope that today's announcement is just the beginning of many similar future collaborations. We certainly will encourage our faculty, staff, and students to investigate all the exciting possibilities Mayo Clinic Health System affords us."
Mayo Clinic Health System Regional Vice President Paul S. Mueller, M.D., says he has been in La Crosse for just over a year now and is impressed by the collaborative spirit he's seen. "Just last month, our Sports Medicine department at Mayo Clinic Health System and UWL joined forces to host the first annual Youth Sports Safety symposium," Mueller notes. "It was an overwhelming success, and a great example of how by working together, we can be better stewards to our community and address patient needs."
Mueller expects the agreement to bolster and continue that stewardship. "It will enable our physicians and UWL's faculty, staff and students to further collaborate and will provide a catalyst for developments in research and health care education," says Mueller. "Ultimately, today's research will transform into tomorrow's cutting-edge care and cure for patients."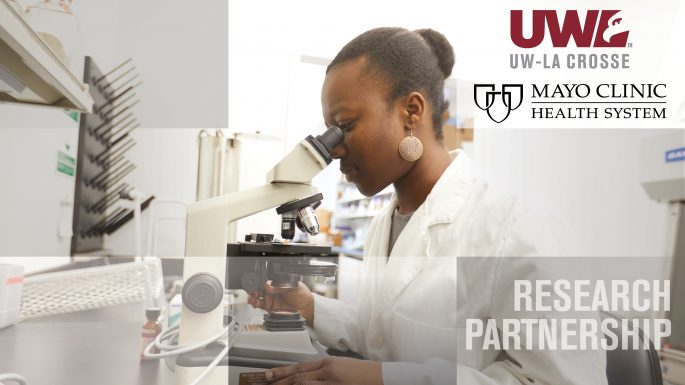 UWL's strong tradition of faculty and students collaborating on research was key for Mayo reaching out to do more hands-on, undergraduate learning opportunities. Research is key to Mayo's mission — one of the three shields of the clinic's logo represents research.
"The Mayo model of research has a long history of transforming the practice of medicine by taking a collaborative approach to medical science with the ultimate goal of translating new discoveries and knowledge into the benefit of our patients," Mueller notes. With a strong commitment to advance research, Mayo found it only natural to sign the agreement, he adds.
UWL College of Science and Health Dean Mark Sandheinrich says the new partnership complements the university's strong alliance with several local healthcare providers through the Health Science Consortium, along with numerous collaborative efforts in educating students in the health professions.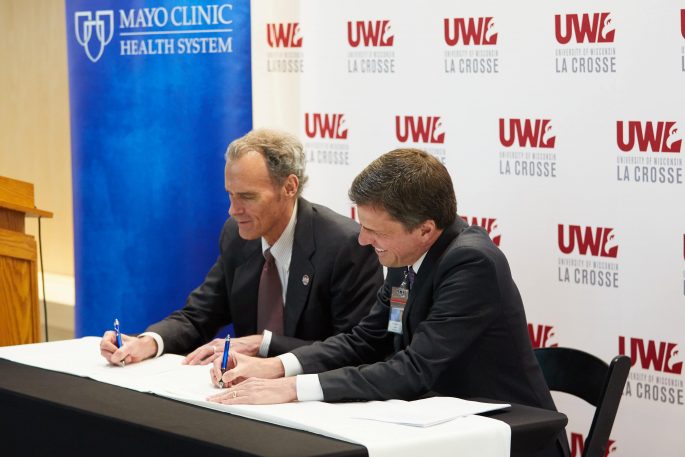 "Our students will especially benefit from the increased opportunities for undergraduate experiences that this agreement presents," explains Sandheinrich. "More than 2,000 students at UWL are interested in careers in the health professions and these academic programs are one of numerous strengths of the college and the university."
Chancellor Gow says the agreement further advances UWL's strategic plan. "One of the key emphases in UWL's Sustaining Excellence strategic plan is 'Community Engagement,' and by partnering with Mayo Clinic Health System we will be engaging with one of the most important organizations in the world community," says Gow. "We feel privileged to be entering into this partnership."
Dr. Mueller agrees the new partnership is community-engaging. "We believe this relationship will help to draw the best and brightest physicians, faculty, staff and students to the La Crosse area," he says. "This agreement will benefit our patients and make life better for all La Crosse area residents."