Posted 4:26 p.m. Tuesday, April 24, 2018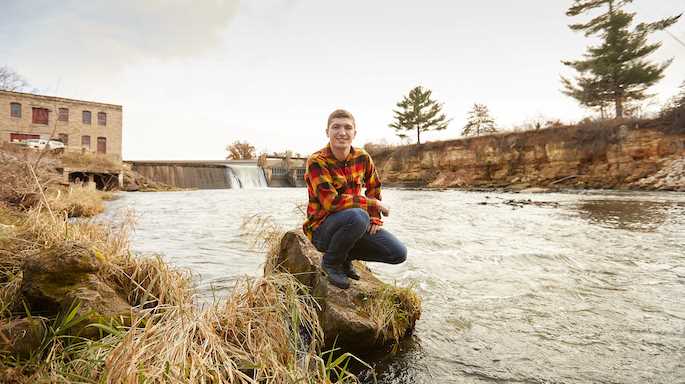 UWL senior, service member sets his sights on aquatic science research.
UWL senior, service member sets his sights on aquatic science research
To determine whether a round fired from a weapon will hit a target, one must account for the rotation of the Earth, the speed of the wind, the weight of the round, and more. It is a calculation that UW-La Crosse senior Phoneix Rogers has mastered as the leader of a team of soldiers who coordinate artillery fire in the Wisconsin Army National Guard. Rogers has also mastered how to target his career goals. He signed up for the Guard to afford college tuition, pushed himself beyond classroom learning through involvement in river studies research, and is building his leadership skills through campus involvement. Rogers says while the guard does pay for his tuition, it comes with a cost — balancing service, school and life. In early September he missed a week of classes to get ready for a potential active duty assignment providing hurricane relief in Florida and Texas. He regularly must transition into his military role throughout the year, traveling to Ft. McCoy and his duty station in Oconomowoc, Wisconsin, for trainings. "It's a lot of responsibility that can be stressful at times, but I feel confident in my job as a fire direction chief, and I have a great section of guys to work with," he says.
Building on military experience
The leadership, communication and time management skills he has learned in the National Guard are all transferable to a future career, he says. He has also built those skills at UWL. He is a lead researcher in
UWL's River Studies Center
where he transformed his childhood love of fishing into a career goal of better understanding and protecting aquatic ecosystems. "I'm more passionate about it the more I learn," he says. Rogers has developed his own independent research project studying streams. If streams can't process nutrients that collect, such as fertilizers, they begin to create problems — specifically dead zones — downstream. In these zones, oxygen levels get too low and aquatic life can't survive. Rogers' research aims to help explain what impacts a stream's ability to process nutrients. He has presented this research and other projects at seven conferences during his undergraduate years, including the National Conference on Undergraduate Research. He has also conducted grant-funded research on the topic in Iceland. Involvement on campus, particularly leading hiking, biking and other tours through the Recreation Eagle Center's Outdoor Connection on campus, has been one more way to build his leadership and communication skills, he says. He has also taken on volunteer roles on the REC's Emergency Response Team and the Student Advisory Council. Rogers received the World War II Leon Miller Scholarship in honor of long-time UWL coach and educator Leon Miller who took exceptional interest in young men and women serving in the armed forces. Rogers says the financial assistance allows him to stay focused on his military training, student research and involvement on campus instead of college bills. And that gets him even closer to his target of becoming an aquatic science researcher some day.