Posted 8:36 a.m. Monday, Aug. 17, 2020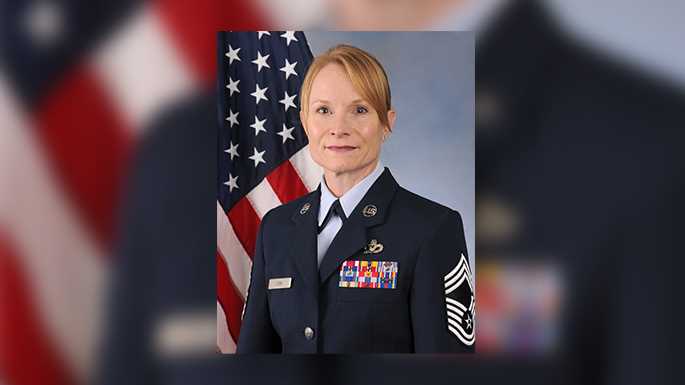 Meredith Conn named command chief of Wisconsin Air National Guard.
A UW-La Crosse alum has been named the new state command chief of the Wisconsin Air National Guard.
Chief Master Sgt. Meredith Conn, '03, moved into the position June 1 after nearly three decades of military service. As state command chief — the organizations' senior enlisted leader — Conn gathers information about the force and advises the adjutant general on key issues.
"It's really important that I have a good understanding of our leadership's intent and direction on our most pertinent issues affecting airmen and soldiers," she says. "We are setting our organization up for success if we ensure our airmen have clear direction and understand the adjunct general's intent. Conversely, many of the decisions at the leadership level are driven by the knowledge of what's going on in the field. Working with and supporting my team of chiefs will be the key to success in achieving this goal."
Conn, who lives in Holmen, hopes to draw on her wide range of experience not just in the military, but in life.
She began her military career with the active duty Air Force and joined the Wisconsin Air National Guard while pursuing a degree in education.
She went on to manage the Wisconsin National Guard's State Enlisted Development Program and served as the human resource advisor at the Volk Field Combat Readiness Training Center. Most recently, she was Volk Field's senior enlisted advisor.
Without interrupting her service, Conn also put her education degree to good use, spending time as a middle school teacher.
In every phase of her career, Conn says she approached her work with a focus on servant leadership.
"I feel a connection to our drill status Guard members because I can relate to this desire to serve both the military and your community," she explains. "It's an honor to fulfill these responsibilities, but sometimes that comes with challenges."
Conn says she will be a strong advocate for airmen and soldiers, and that she is committed to fostering diversity among the force.
"Sometimes, this means advocating on their behalf at the state and federal level for equipment, [training time and funding] or other resources," she says. "Other times, it entails pursuit of training and developmental opportunities that will contribute to a diverse and highly skilled force."
In a field still largely populated by men, especially in leadership positions, Conn herself is part of that diversity. She is the first woman to serve as state command chief for the Wisconsin Air National Guard — a fact that is less important, she says, than all the skills and experiences she carries with her.
"I think my contributions to the state leadership team and to our airmen will be less about my gender and more about the diversity I bring to the table," she says. "I offer new ideas, new perspectives and new approaches. My gender certainly contributed to some of these differences, but it's really only a slice."