Posted 2:56 p.m. Monday, Nov. 9, 2020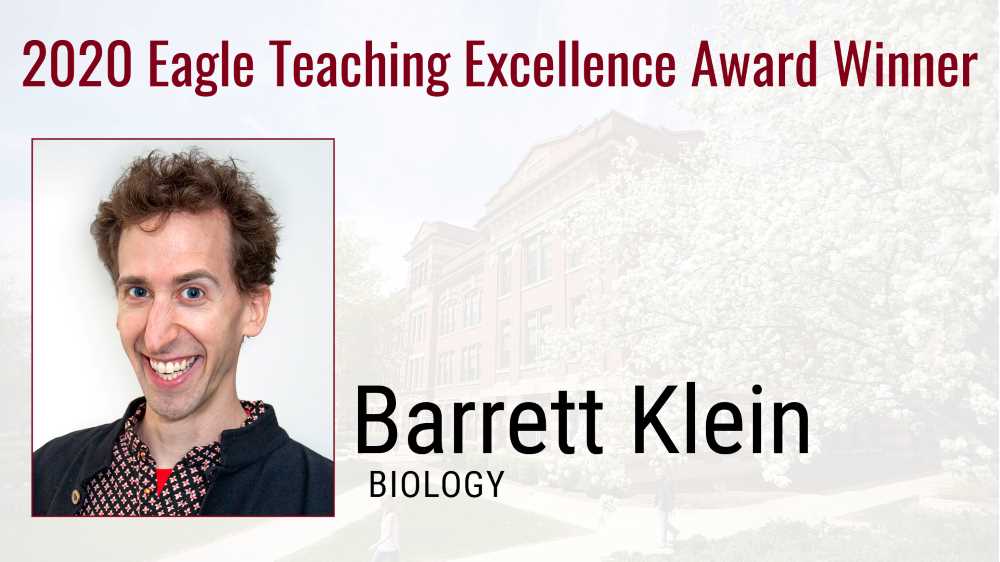 Barrett Klein pushes students to 'harness their superpowers'
The best educators have a profound impact on students, in and out of the classroom. This year, UWL's Provost Office received more than 500 nominations from students hoping to recognize their favorite professors and instructors.
From these nominations, a university committee selected six educators to receive 2020 Eagle Teaching Excellence Awards. The winners will be highlighted on the university's homepage in the coming weeks, along with being honored during Chancellor Joe Gow's opening remarks for the fall semester.
They are:
Lisa Kruse, Sociology & Criminal Justice
Christa Kiersch, Management
Greg Ormes, Communication Studies
Barrett Klein, Biology
Megan Strom, Global Cultures & Languages
Tushar Das, Mathematics & Statistics
This is the fourth in a series of stories profiling the winners.
Barrett Klein, Biology
Started at UWL: Fall 2012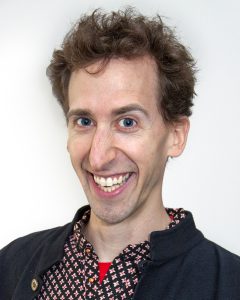 Courses: "I created a few courses for UWL students: Animal Behavior, Entomology (insects, glorious insects!), and Scientific Visualization (how to critically assess and produce visuals for science). I also teach core courses in Biology: General Biology, Organismal Biology, and our Capstone course. I'd love to introduce a course on Cultural Entomology — how insects have affected human cultures around the world and throughout history."
Background: "Before becoming a denizen of the Driftless Zone, I fabricated insects and giant viruses for natural history museums, tried to imagine what a honey bee's dream might look like while living in Germany, and studied entomology at Cornell, University of Arizona, and University of Texas at Austin."
Favorite part of teaching: "I am most elated as a teacher when one of the following happens:
1. A student pushes me and the rest of a class to consider something deeper, something beyond the conventional scope of the course. Science is a process, and should never be confined to a convenient set of slides, or limited to unchallenged dogma.

2. I am able to uncover hidden talents, and encourage students to harness their superpowers (for good).

3. Colleagues challenge me to reconsider concepts in science and education. I've learned a lot from my UWL colleagues.

4. I am able to share my love of insects and what they are capable of with anyone willing to watch a honey bee dance, a cockroach hiss, a wasp sleep, or a mantis learn."
Previous articles in this series:
'Incredibly fortunate to be a teacher': Lisa Kruse wins 2020 Eagle Teaching Excellence Award
'The human side of the business': Relationships, challenges fuel Christa Kiersch's love of teaching
'Teaching inspires me': Greg Ormes says connecting with students 'brightens my days'