Posted 12:06 p.m. Monday, Aug. 17, 2020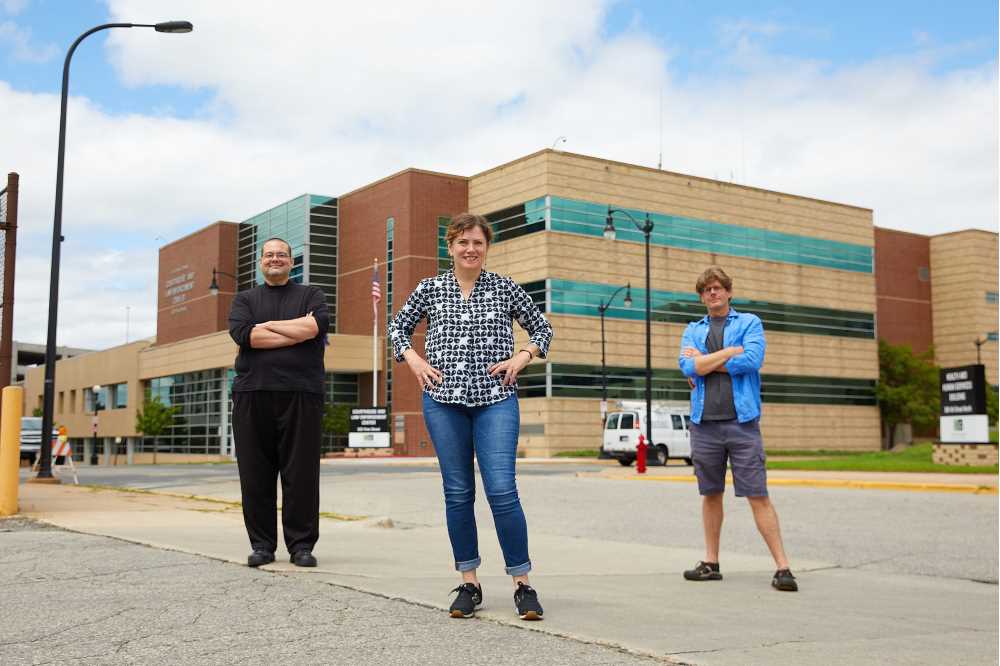 Program helps inmates harness the power of literature
The first time she went to jail, Natalie Eschenbaum felt her heart beat a little faster.
Entering that cold, hard place, the English professor listened as the staff recited a litany of grave orders: no paper clips, no staples, no giving or receiving gifts. Her mind raced to the worst possible conclusion: "What if there's a riot?"
But it didn't take long for Eschenbaum to feel comfortable, to actually look forward to her increasingly frequent trips to jail. It's not that she has a growing criminal record, or a criminal record at all. She visits the La Crosse County Jail on behalf of UW-La Crosse's Jail Literacy Program, which seeks to imbue inmates with a lifelong appreciation for reading, writing and self-reflection.
"I was definitely nervous the first time I went to teach a lesson, but then I realized that we're just a group of people sitting together, talking about literature," Eschenbaum says. "I don't really see them as inmates anymore. I see them as students."
The Jail Literacy Program had humble beginnings, with founding members Kate Parker and Bryan Kopp leading a short series of discussions about "The Great Gatsby" in the fall of 2015. Since, the program has grown to include a team of nine English Department faculty members — Eschenbaum, Parker, Kopp, Matt Cashion, Ryan Friesen, David Hart, Susan Crutchfield, Kate Errthum and Kelly Sultzbach. They take turns meeting with the inmates every two weeks.
Over the years, the group has incorporated a wide range of texts: poetry, fiction, nonfiction, memoir — even a little Shakespeare.
Sultzbach, the current program coordinator, says the act of discussing stories provides inmates a window into their own lives and decisions.
"Literature makes it about other people. It's not you versus them — it's this character and that character," she says. "And I think that allows them to make connections in their own life and to talk about things that they might normally have a hard time talking about."
Like Eschenbaum, Cashion went into his first session with a degree of doubt — not because he was concerned about violence, but because he wasn't sure if his lesson would resonate with the inmates, especially the men.
"But they're almost always interested in writing and sharing stories," he says. "Sometimes, when they read their own poetry, you'll see a lot of tears. It breaks down the stereotypes of bravado or masculinity, and you'll see them do a fist bump and say, 'Man, that poem was really powerful.'"
Mike Kiefer, the program coordinator in the La Crosse County Jail, says most of the inmates who participate in the program have been in the jail for several weeks or months. Some have taken part in other educational or mental health services provided in the jail, although the Jail Literacy Program tends to be among their favorites — in large part due to the faculty.
"One thing that really stands out, to me and the inmates, is the professors come here on a voluntary basis," Kiefer says. "This is really the only educational programming we have where educators feel motivated to do this on their own, and I think it speaks volumes to their dedication and commitment to this. You can tell that the materials they bring in — poetry, short stories, book club kind of stuff — really connects with inmates in the jail."
The program fosters practical skills, such as discussing issues on which people might disagree, articulating emotions that are difficult to put into words, and writing more clearly and effectively in general.
It can also serve as the foundation of a lifelong hobby or passion. Friesen says some inmates have asked faculty where they can find opportunities to discuss literature in the community, once they have been released.
Hart adds that some inmates are so taken with stories that they make observations most traditional college students would not, using their own life experiences to better understand characters and their struggles.
"One jail student said nothing for the whole meeting until the very end, when he gave us a whole backstory for a character that was not included in the short story we had just read together," Hart says. "The rest of us were merely talking about what was on the page. This student needed more. The fact is, we all do. We need to realize that everyone has a story and a backstory."