Posted 12:21 p.m. Monday, Aug. 17, 2020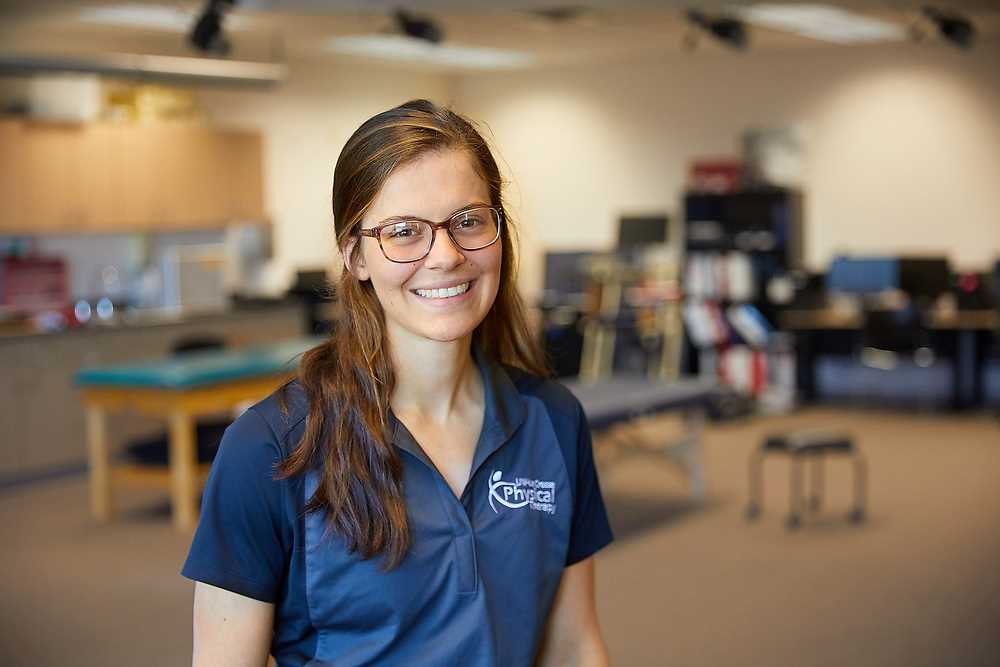 Lauren Harding wins annual 3 Minute Grad Project event
Preparing for one of the biggest presentations of her life, Lauren Harding found help in an unexpected place.
"I got feedback from a lot of people in my major, but my sister gave me the best advice," says Harding, a student in UW-La Crosse's physical therapy doctoral program. "She's a freshman and doesn't really know much about it, so she was able to tell me if there was a certain word or a certain part that was confusing to her. It was definitely helpful getting an opinion from outside my major."
Harding was the winner of UWL's fourth annual 3 Minute Grad Project event earlier this month, when about a dozen grad students attempted to cram many weeks of research into 180 tension-filled seconds.
The idea, according to Meredith Thomsen, director of graduate studies at UWL, is to push students to look past the fine details of their project and see the bigger picture. That's easier said than done, of course, for students who have spent three or four months obsessing over the minutiae.
Harding's project revolved around UWL's ROTC cadets, who often go on long runs with 50-pound rucksacks weighing on their shoulders. She wanted to see if lessening the load — by as little as 10 pounds — would allow the cadets to improve their form, thus preventing injury.
After extensive tests, in which Harding watched computer models of the real-life cadets running with various weights on their backs, she found that even a 10-pound reduction makes a noticeable difference.
Then came the hard part: distilling the research for a general audience.
"That was really though, because biomechanics can be hard for people to understand if you only have a few minutes," Harding explains. "There are terms in physical therapy that we use a lot, but the average person isn't going to know them. So how do you convey the importance of that without losing the meaning?"
The feedback from her sister helped. An inherited passion for teaching — Harding's mom teaches kindergarten — probably didn't hurt, either.
But she was still nervous.
"I was practicing over and over, butterflies in my stomach and everything," she says. "But I had it all memorized, and I think I did pretty well. I was definitely grateful to win, especially because there were so many great presenters."
Though she has a knack for research, Harding plans to work as a clinician after finishing grad school. To her, the chance to meet one on one with patients, to help them regain their health and better understand their bodies, is too valuable to pass up.
"I really think the human body is amazing, and it's cool that we get to play a part in helping people heal," Harding says. "We get to help people be a part of their own healing process, too, which helps them get to the root of their pain and live healthier lives."
It's that same altruistic mindset that compelled Harding to research the ROTC cadets, a group she'd previously had little contact with. After years of studying traditional runners, she wanted to branch out and serve a different population — one known for soldiering through pain rather than trying to prevent it in the first place.
"We're not going to change the military in one day," she says. "But maybe we can make some small differences, like convincing them to make lighter equipment or carry smaller loads. And maybe that will prevent injuries."