Posted 12:28 p.m. Friday, Feb. 12, 2021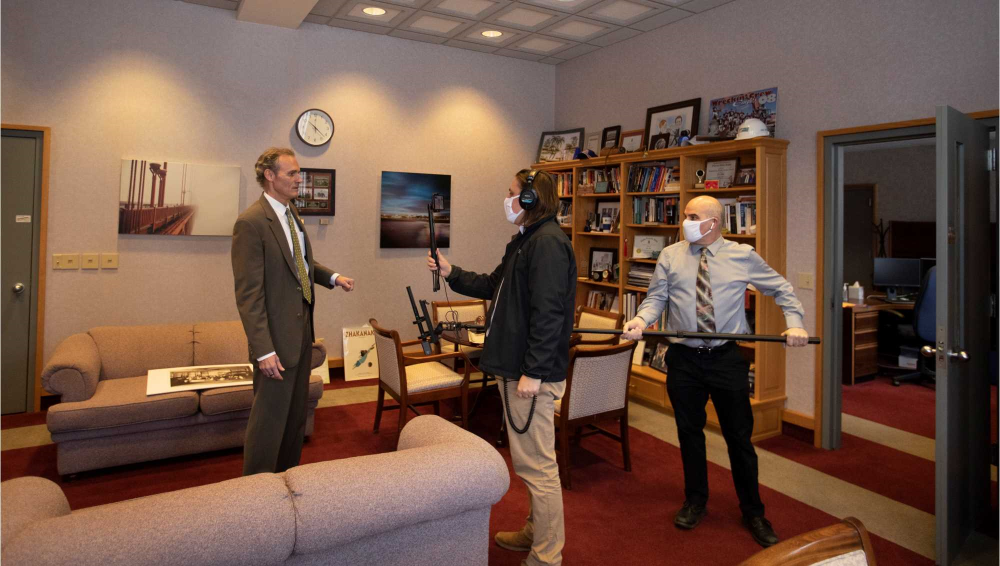 UWL Leadership provides campus update
UW-La Crosse leaders stressed the importance of weathering another semester amid COVID-19 while looking ahead to a brighter future during Chancellor Joe Gow's Opening Remarks Friday, Jan. 29.
Instead of his typical address in a crowded auditorium, Gow kicked off the spring semester by giving viewers a virtual tour of Graff Main Hall and checking in with UWL's five vice chancellors.
He noted that UWL's success will continue to hinge on the ability of campus community members to follow health and safety measures, including getting vaccinated when it's their turn.
"If we can all do these things through next semester and hold that together, I think we're in pretty good shape to come back in the fall and be at a much more regular state of affairs," Gow noted. "We're looking forward to that."
But COVID-19 is far from the only storyline around campus.
Barbara Stewart, vice chancellor for Diversity & Inclusion, showed off D&I's new home in 145 Graff Main Hall. She also touched on several new projects, including the development of D&I's strategic plan and the distribution of a campus climate survey for students later in the semester.
"It's been a very, very difficult couple of semesters trying to stay connected with students," she explained. "But (D&I and other campus partners) are doing it, and they're doing it well."
On the COVID-19 front, Vitaliano Figueroa, vice chancellor for Student Affairs, announced that UWL will have the capacity this spring to test resident students once per week, and off-campus students and university employees once every two weeks.
UWL's robust testing program, paired with strong adherence to distancing and masking policies, have kept case numbers remarkably low over the first month of the semester.
Greg Reichert, vice chancellor for University Advancement, shared how his division is adapting and thriving during COVID-19.
With in-person events on hold, university fundraisers have found creative ways to inspire and secure donations for critical programs. The most notable example: UWL's inaugural Giving Day Dec. 1, which raised more than $228,000 from nearly 1,500 donors.
The Alumni Association also launched a new project, What's New Wednesdays, a monthly webinar featuring campus happenings and local experts on various topics. And this winter's Lantern publication for alumni and friends moved exclusively online.
"The pandemic has changed the way our core businesses operate," Reichert explained. "We've had to pivot and do some things differently."
Betsy Morgan, provost and vice chancellor for Academic Affairs, praised staff and faculty for making the transitions between virtual and in-person instruction as seamless as possible.
Morgan says UWL's staff and faculty have been a driving force behind student achievement and strong enrollment numbers.
"Our enrollment is almost to 100% of what we thought it would be in a normal spring. During a pandemic, that is truly extraordinary," she said. "It's important for our students and their persistence with retention. It's also important for keeping the faculty and staff that we have, in terms of keeping the budget healthy and being able to go forward as a university."
Bob Hetzel, vice chancellor for Administration and Finance, reported that the budget is in good shape, all things considered.
Freezes on hiring and travel, in addition to strong enrollment, have helped the university avoid furloughs and programming cuts.
In fact, UWL isn't just holding on during COVID-19; it's continuing to grow and evolve.
Hetzel outlined several projects and new facilities that will transform campus — from the $49 million student fieldhouse (set to open in 2022), to the $93 million second phase of the Prairie Springs Science Center (still awaiting government approval).
"Let's get through COVID," he said. "But let's also focus on the future and what happens on the other side."
Gow closed the presentation with a visit to Hesprich Auditorium, where nearly all alumni have had a class. It ended with a special online performance by UWL theatre students. You can find the performance at the 59-minute mark of the address.