Posted 1:20 p.m. Monday, Aug. 17, 2020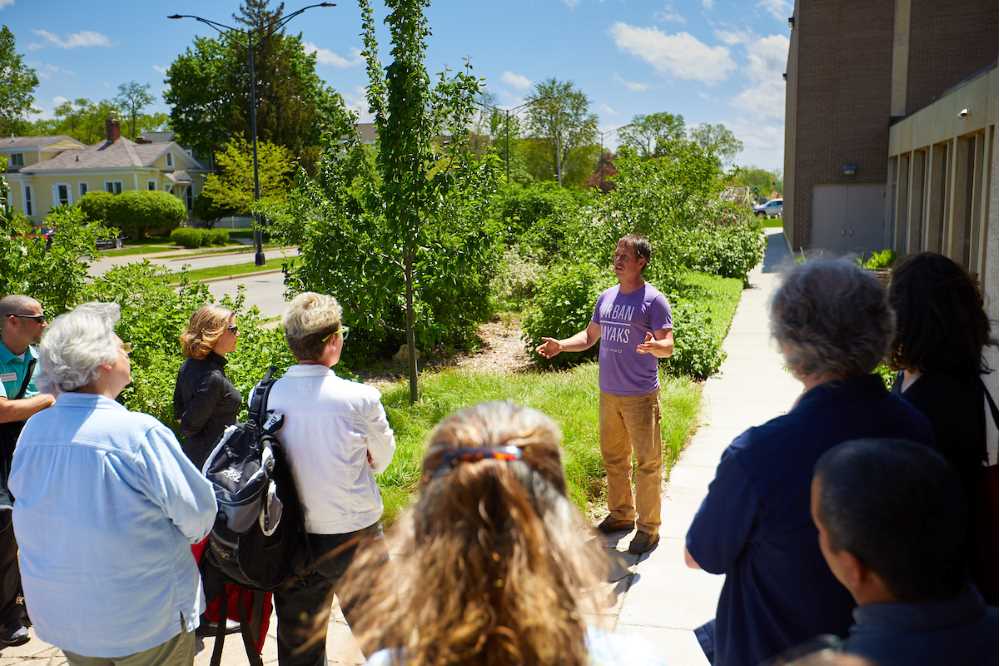 Driftless-area educators meet to explore more ways to incorporate sustainability into curriculum
They meandered through a food forest to see reimagined urban landscape.
They toured a 1960s-era county building transformed into a new hub for downtown activity.
Educators across the Driftless Region gathered May 22-23 to see sustainability in action in La Crosse and also consider ways of incorporating more concepts of sustainability into their classrooms.
An organizing committee of faculty from UW-La Crosse, Winona State University and Western Technical College collaborated to create the Driftless Region Sustainability Education Project. This is the second year the educators have gathered to participate in workshops, share knowledge and ponder pedagogy. This year's participants included both higher education faculty, as well as those from La Crescent Montessori & STEM School.
Nadia Carmosini, UWL assistant professor of chemistry, got involved in planning the event because of her passion to live more sustainably. She sees many UWL students who share that desire.
It is no secret that UWL's student leaders have long taken a lead in embracing sustainability efforts. A little over a decade ago they created The Green Fund to promote the ideals and practices of environmental sustainability on campus. More recently student leaders led the effort to become the first campus in the UW System to ban plastic straws.
Incorporating sustainability topics into curriculum can be a tool to pique students interest while provide practical context to sometimes complex theoretical concepts, explains Carmosini.
Carmosini, who teaches general chemistry, can bring studies of atoms and molecules to life by explaining them in terms of environmental challenges such as climate change. At the chemical level, climate change involves the increase in the concentration of gas molecules in the atmosphere that absorb heat. Humans have contributed to the increase in these kinds of molecules, she explains. Learning about such challenges is also critical as students will need to respond to the environmental realities of their future, she says.
"If we can incorporate this into their education, they will be able to make well-informed choices that can help them live more sustainably," explains Carmosini.
Carmosini and Kelly Nowicki, associate lecturer of management, helped organize the event initially because of their desire to see more coordination of sustainability at UWL. Now partnering with several other organizers from Winona State and Western, their reach and impact can be even greater, they say. The group's facilitator for the two-day event was Western's Sustainability Coordinator Casey Meehan.
"Every time I listen to Casey, I always have takeaways to apply to things I've done in class or to make a point stronger to students," notes Nowicki.
Nowicki wants her students to see how businesses can engage in sustainability practices and still be profitable. The data shows that investing in sustainable practices doesn't always mean a higher cost, but students often assume it does, she says.
During the workshop, educators heard a presentation from a successful and sustainable local real estate developer. Owner of Three Sixty Real Estate Solutions Marvin Wanders gave a tour of the Hub on Sixth Apartments in downtown La Crosse. This recent project transformed a prime downtown location that needed over $1.3 million in abatement into a new hub of activity. Meanwhile, the development also kept hundreds of tons of construction debris out of the landfill.
The group traveled to another transformed space in the city — the Community Food Forest at the YMCA where an empty lawn became a community space to grow food, rehabilitate the ecosystem, provide educational opportunities and build community.
Maggie McDermott, UWL associate professor of marketing, says the conversations about sustainability that students have in classes will continue after they graduate and enter businesses that are having these same conversations.
"Helping prepare students for sustainability conversations in the workforce is necessary," she says. "This will prepare them to be advocates in the workforce."
The workshop provided an opportunity for faculty to reexamine how they are teaching sustainability in classes and think of what more they could be doing. She plans to share ideas with colleagues in the College of Business Administration.
"I think it is important for us as a campus community to help move the conversation forward," she says.
Want to get involved?
It can be difficult for instructors to find time to investigate new ways of incorporating sustainability into their teaching. The Driftless Region Sustainability Education Project provided educators across disciplines information and experiences to bring back to their classrooms.

UWL faculty members interested in getting involved in the Driftless Region Sustainability Education Project should contact Nadia Carmosini, UWL assistant professor of chemistry, at ncarmosini@uwlax.edu or 608.785.5279.