Posted 12:59 p.m. Friday, March 3, 2023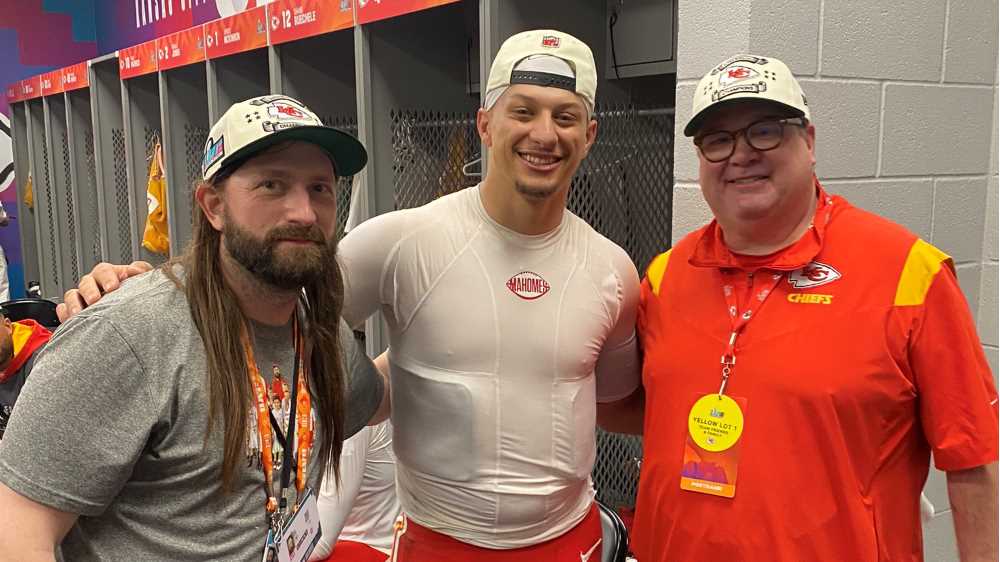 UW-La Crosse alums enjoy their time at the Super Bowl
They were on opposite sides of State Farm Stadium during February's Super Bowl, and they didn't even know it.
But the two UWL alums who work for the two NFL teams that made it to Super Bowl LVII were connected by former coaches, teammates and classmates.
Cale Kirby, a sport management major from 2000-02, is an assistant equipment manager for the Kansas City Chiefs. Thomas "Tommy" Olsen, a 2008 biology major and chemistry minor, is a full-time sports chiropractor and soft-tissue specialist for the Philadelphia Eagles.
For Kirby, it was his third trip to football's premier game. He was "wide-eyed for the first one," when the Chiefs beat the San Francisco 49ers. The next year they returned and lost to the Tampa Bay Buccaneers in a more subdued Super Bowl due to the pandemic.
Kirby says the prior experience helped with the latest visit because he and the other six on the equipment staff knew what they had to do during their week in Glendale, Arizona.
"It ran very smoothly because there was less nervousness, and we weren't as caught up in all the excitement like we were in the past," Kirby explains. "That said, one of the coolest things is watching the coaches, players and staff who are in their first Super Bowl soak it all up for the first time."
Kirby says the equipment staff takes care of all the equipment, clothing and more for all the players, coaches and staff. "From bubble gum to blocking sleds, we cover it all," he explains.
Since leaving UWL nearly two decades ago, Kirby has worked with the Green Bay Packers, Frankfurt Galaxy in NFL Europe and the Omaha Nighthawks in the UFL, along with four minor league baseball teams before landing with the Chiefs. He also finished his bachelor's degree with Park University. He attributes that success to a solid start in Mitchell Hall.
"Working in the equipment room with all the sports was the main reason I advanced in my career," Kirby says. "The experience I gained by working with all the different athletes, coaches and departments was immeasurable."
Kirby, who grew up in Osceola, Wisconsin, credits retired Equipment Manager Joe Bolwahn, who took him under his wing and taught him much about the industry, as his biggest mentor. There were also many football coaches to look up to, and they were always available with assistance.
Despite the big win, Kirby says sights are already on the '23 season. "There isn't a lot of time in this industry to stop and reflect," he notes.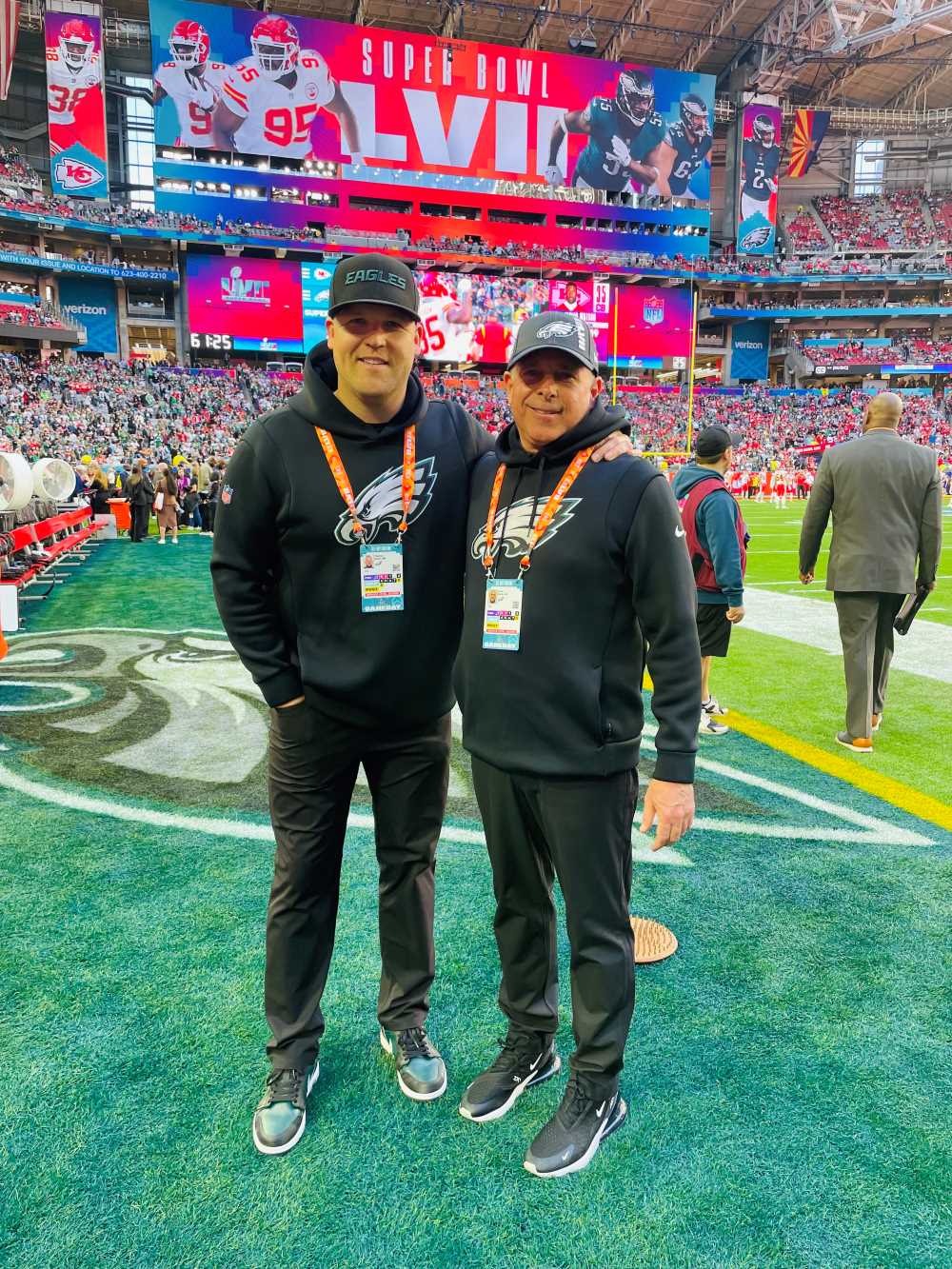 Olsen, originally from Evansville, Wisconsin, was a four-year letter winner for football from 2004-07, starting two years at left tackle and receiving all-conference honors his senior year. Away from football, he coached basketball for the La Crosse Parks & Rec Department.
In 2012, while finishing his last year of chiropractic education from Northwestern Health Sciences University, Olsen completed a year-long internship with a Minneapolis sports chiropractic and physical therapy clinic, leading to a full-time position. There, he worked with NFL athletes and in 2017, he was among the first chiropractors hired for the Minnesota Vikings' rehabilitation facility. The team eventually hired him as a part-time chiropractor.
In June 2020, former Vikings athletic trainer Tom Hunkele, who had become vice president of sports medicine for the Eagles, offered Olsen a full-time position.
Olsen recently finished his third season as a full-time sports chiropractor and soft-tissue specialist for the Philadelphia Eagles. He works alongside the athletic training staff to assist in injury rehabilitation, pre-practice and game preparation, and recovery and performance care. During the game, he provides hands-on sideline treatment, athlete hydration and injury spotting, along with assisting the team's Emergency Action Plan.
Olsen attributes his overall campus experiences for laying a foundation to build upon both professional and personally.
"Earning a degree in biology and chemistry helped prepare me extremely well for the initial two years of grad school, which was heavy in the basic sciences," he explains. "Not only did the education itself serve me well, the rigorous nature of the biology/chemistry degree at UWL forced me to develop effective study habits that I relied on to be successful in grad school."
Now 36 and looking back, Olsen admits he had a lot of growing up to do when he came to campus as an 18-year-old from a small town.
"The university and the city created an environment that allowed me to start the process of true introspection and personal growth, which I continue to be conscience of with every new experience in my life," he says.
Olsen points to the strong history and the continued presence of UWL athletes and alumni in athletic positions for helping him and others seeking work in professional sports. He says coaches, professors, teammates and family all helped him grow into a well-rounded person.
"Many continue to have an ongoing impact on my life, and I'm so thankful for every one of them," he says.
Olsen says being a part of a Super Bowl team has been a life-long dream, albeit under different circumstances.
"That dream probably looked a little different back then as I'm sure I thought I would one day play for the Green Bay Packers. But just being able to see it from the inside out in any capacity is an experience I'll hold with me forever," he says. "Sports in general have been and continue to be a rewarding and fulfilling constant in my life and it's a love I hope to pass down to my daughter and her siblings."
February's Super Bowl experience went by so quickly Olsen has yet to fully reflect on everything leading up to and the day of the game.
"There are people who have spent their entire career in the NFL without getting a chance to go through that experience. I feel lucky to have been a part of it just once," he says.
Looking forward, Olsen says the team knows it has unfinished business.
"As difficult as it is to move forward after being on the losing end of a game like that, the reality is that the next season has already started," he notes. "Everyone will take some time to recover and regroup, but then it's back to business."
For current UWL Assistant Football Coach Andrew McGlenn, '08, who was on the team when both Kirby and Olsen were campus, seeing them make it to the big game was fulfilling.
"My biggest takeaway from it is we have guys who have excelled in their fields to ascend to the highest level of professional sports," McGlenn says. "It is a recognition of the talent and craft these guys have."
While the two UWL alums didn't know about each other being at the game, Olsen hopes they can catch up when the Eagles and Chiefs meet again this fall.
But just like in February, don't expect any game wagers.
"I've never made a friendly wager, especially with the Super Bowl," says Kirby. "That's for mayors and politicians."