Posted 8 a.m. Saturday, May 6, 2023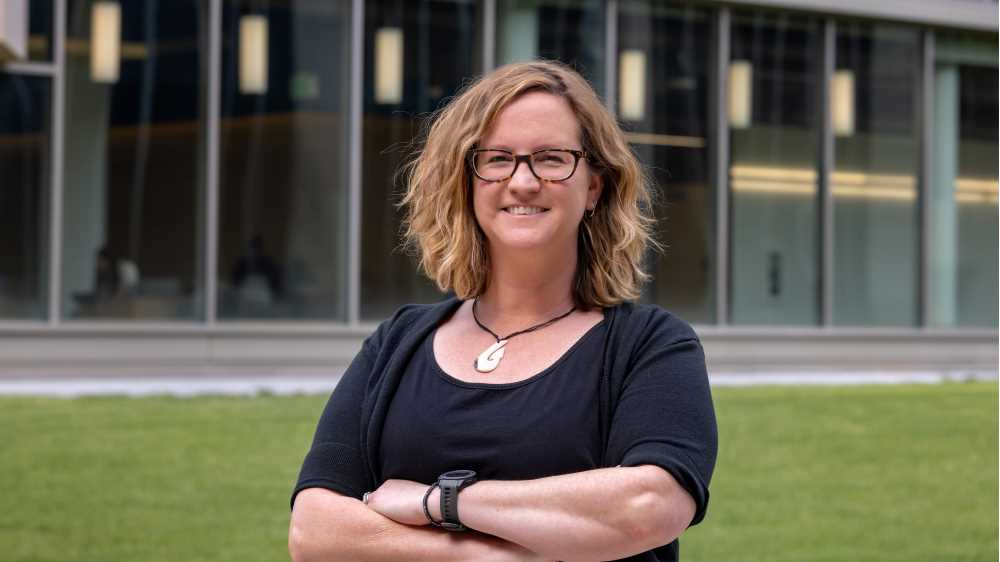 Tisha King-Heiden receives Prairie Springs Environmental Leadership Award for faculty
For Tisha King-Heiden, a career in biology proved to be a pretty solid backup plan.
After realizing her childhood dreams of becoming a ballerina were unlikely to materialize, King-Heiden quickly became infatuated with sharks and the idea of working as a marine biologist.
A few decades later, she can say she made the right decision.
King-Heiden has taught in the UW-La Crosse Biology Department since 2008, sharing her passion for the subject with countless students, while leading research projects with critical significance to both wildlife and human biology.
For her efforts, King-Heiden has received the 2023 Prairie Springs Environmental Leadership Award for faculty, which recognizes original and inventive work promoting environmental education, conservation and restoration. The award is supported by Prairie Springs: The Paul Fleckenstein Trust.
"I am grateful to receive this award," says King-Heiden, noting her passion for working with students. "Being honored for doing my favorite part of my job feels a bit strange, but I appreciate the recognition of my efforts and hard work to provide opportunities for students to grow into the scholar they worked so hard to become."
King-Heiden's teaching and research focuses on ecotoxicology and physiology — specifically, the impact of environmental pollutants on the growth and development of fish.
Because humans share certain developmental pathways with our distant fish ancestors, her research also has implications on human health.
This allows King-Heiden to connect the dots between seemingly loosely related branches of science, demonstrating for all students, especially those in the medical sciences, the profound significance of the natural environment.
"Not only are fish an important economic resource — they are culturally relevant to so many of us in Wisconsin," she explains. "I felt compelled to better understand the risks that these environmental pollutants pose to the sustainability of wild fish populations, as well as the potential health risks that these chemicals pose to human health. This began a journey of exploration that I now love to share with my research students."
King-Heiden, whose pre-UWL career included stints as a high school biology teacher and a field research technician, is now one of the nation's foremost experts in environmental toxicology.
She has held various leadership roles with the Society of Environmental Toxicology and Chemistry-North America (SETAC-NA) Board of Directors over the past several years, and currently serves as board president. She is also a member of the SETAC World Council.
Locally, King-Heiden has presented at the La Crosse Science Café and the Agnes Tan Science Symposium at Viterbo University.
She has received grants from the National Science Foundation, the United States Environmental Protection Agency and the Wisconsin Department of Agriculture, Trade and Consumer Protection.
More than abstract research, King-Heiden's work is instructive for government agencies responsible for setting water quality standards.
But the most accurate measure of her success is perhaps the number of students she has mentored at both the undergraduate and graduate levels.
This includes publishing 15 peer-reviewed manuscripts with student authors since 2009 — an impressive figure, but one that only begins to tell the story of her impact.
"I love helping my students gain confidence in their ability to do research, especially those who hold identities that are not well represented within our field," King-Heiden says. "Truth be told, they don't need much help — just someone to believe in them.
"Even if this is not what the student wants to do for the rest of their life, the experience helps them gain critical skills that they can take with them in their future careers."