Posted 2:35 p.m. Thursday, Dec. 10, 2020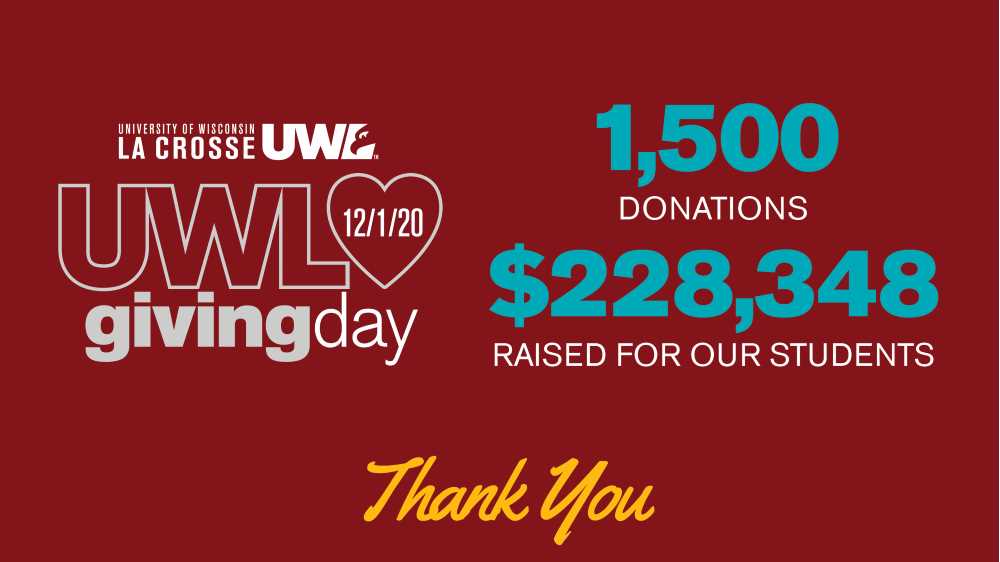 Inaugural Giving Day raises more than $228,000
The UW-La Crosse community came out strong during the university's inaugural Giving Day Dec. 1, making more than 1,500 donations toward worthy causes across campus.
From noon on Dec. 1 until noon on Dec. 2, 1,407 donors united to raise $228,348 to transform lives at UWL, supporting funds for more than 50 causes — including scholarships, research, academic programming, athletics and more.
Giving Day aimed to rally UWL alumni, employees, parents, students and friends in support of the university, and it did exactly that. Total donors were nearly three times the initial goal of 500. Of those donors, 49% identified as alumni, 39% identified as friends of UWL and 12% identified as UWL employees.
"This was a remarkable day for UWL and a testament to what it means to be a part of the UWL family," says Greg Reichert, vice chancellor of Advancement and president of the UWL Foundation.
The celebration was modified due to campus restrictions amid COVID-19, but members of the UWL Student Philanthropy Council (SPC) still engaged the UWL community via social media throughout the 24 hours. SPC members went live on Facebook eight times during the event, providing updates and highlighting different areas of campus to create interest and build momentum.
Recorded music presentations by the UWL Choir, Orchestra and piano student Monica Bertucci were featured to celebrate a $5,000 matching gift to the Music Department from Bob and Janet Roth.
Donors also submitted videos announcing their challenges to rally donors to join them in making gifts. The recordings and videos are available here.
"This event really showed the power of private giving and collective effort. Whether you made your first gift or your 50th, whether you gave $5 or $500, what matters is that we did it together for UWL," notes Taylor Wilmoth, annual giving director and SPC.
Social media ambassadors played a pivotal role on Giving Day, sharing university posts and making posts, seeking to get their friends involved. Exclusive UWL Giving Day socks were a part of this effort and plan to make a comeback in 2021.
The success of UWL Giving Day would not have been possible without support from the UWL family, near and far, says Wilmoth. Whether you made a gift (or two), shared an email, made a social media post or simply celebrated UWL on Dec. 1, you made a difference. The celebration starts with one day, but the effects of your generosity will be felt for years to come, she notes.