Posted 3 p.m. Thursday, April 21, 2022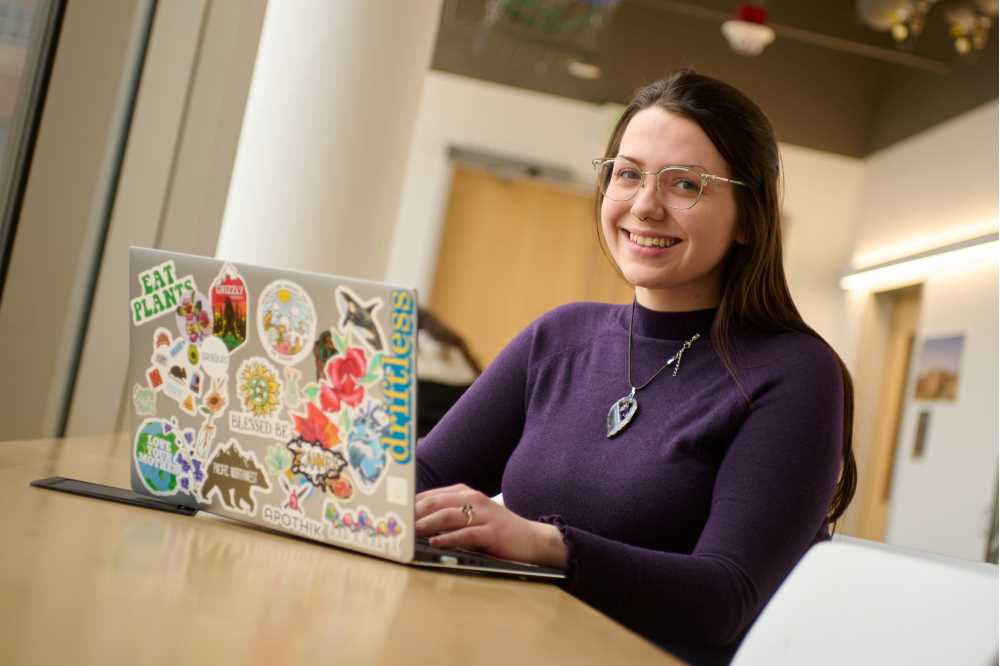 Bella Anderson wins Prairie Springs Award for bluff research
La Crosse's bluffs are a timeless feature — one that, to the untrained eye, seems to change very little from one year to the next.
In reality, the bluffs are constantly evolving, in part due to human factors. A new project from UW-La Crosse senior Bella Anderson examines how the bluffs have been altered over the decades, and provides guidance on how they can be restored to their more natural state.
This research earned Anderson a 2022 Prairie Springs Environmental Leadership Award — given annually to a student and faculty member who are taking environmental action in the community, while inspiring others to do the same.
"Receiving this award means so much to me," says Anderson, a biology major with a concentration in environmental science. "It proves that sustainability efforts truly matter."
Anderson began her project by studying historical images of the bluffs provided by Jim Rogala, chair of the Prairie Enthusiasts Coulee Region Chapter.
Using geographic information software made available by UWL, she noted how native prairie areas in the bluffs had diminished over the decades, and how they had been recently restored in places.
Anderson compiled these maps into a brochure explaining the importance of prairie habitats to not only the species that live there, but to humans as well.
The conservation of prairies "also promotes conservation of animal and plant species, which provides additional benefits for humans, such as pollution filtration," she explains.
Alysa Remsburg, professor of environmental studies and Anderson's mentor for the project, says she was impressed by Anderson's ability to apply principles she had learned in the classroom.
"She applied the environmental studies interdisciplinary minor by integrating history, communication, mapping skills, public education and habitat restoration," Remsburg explains. "She seems driven by a genuine commitment to community and a love for learning about people improving the environment."
Anderson says the success of her project is particularly rewarding given her identity as a first-generation college student and a woman in science.
She hopes her research will continue to have an impact for years to come, inspiring others to consider how their actions might affect the environment.
"Creating these maps creates archivable information that can be used again in the future to compare prairie areas changing over time — hopefully growing due to restoration efforts — which can provide an even deeper analysis of our impact on our natural world," she says. "We can analyze if our restoration tools are making a change, positive or negative, and alter the course of how we restore our environment."