Posted 1:34 p.m. Monday, Aug. 17, 2020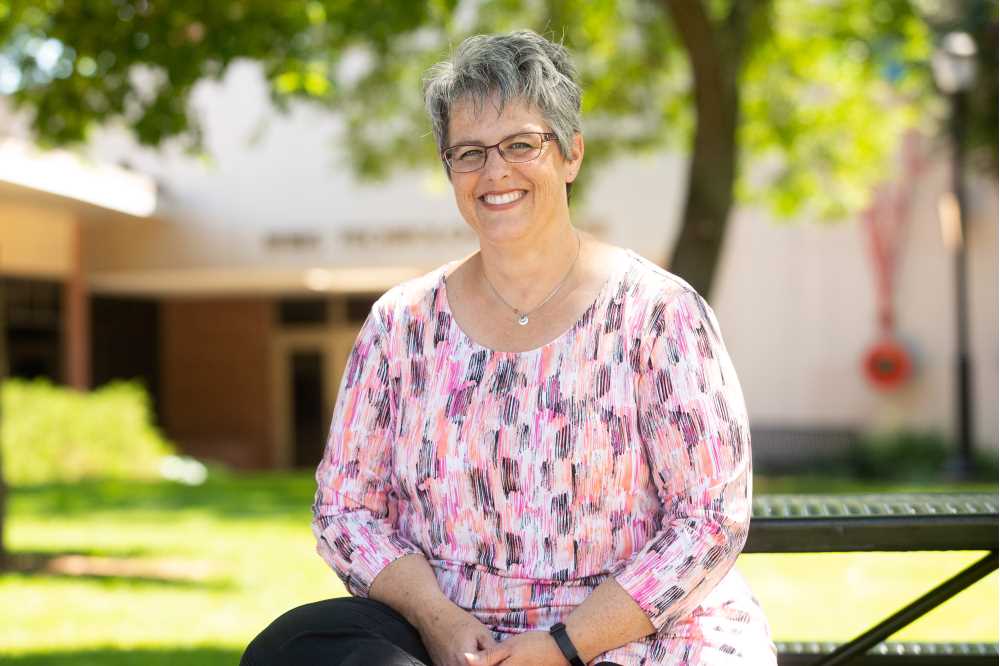 University Staff Excellence Award recipient is the 'heart and soul' of department
Becky Yoshizumi is caring, personable and relatable in an academic program that isn't known for much human-to-human interaction.
"We teach students how to program so they can design and build software, how to solve computing problems, and devise new and better ways to use computers in our world," she says with a smile. "Overall – we teach them how to be problem solvers and find ways to make life better for people."
Yoshizumi starts every morning parking her car a few blocks from UWL – in a super-secret, off-campus location. "I'm too cheap to pay for a pass and I need the exercise," she laughs.
She then makes her way to the second floor of Wing Technology Center to begin her day as the Academic Department Associate for the Computer Science Department.
"I like what I do. I get to work with faculty, I get to work with students, I talk with parents," says Yoshizumi. "I deal with about every department on campus. I get it all."
For her efforts in the department, throughout campus and with students – Yoshizumi has been named the 2019 University Staff Excellence Award recipient.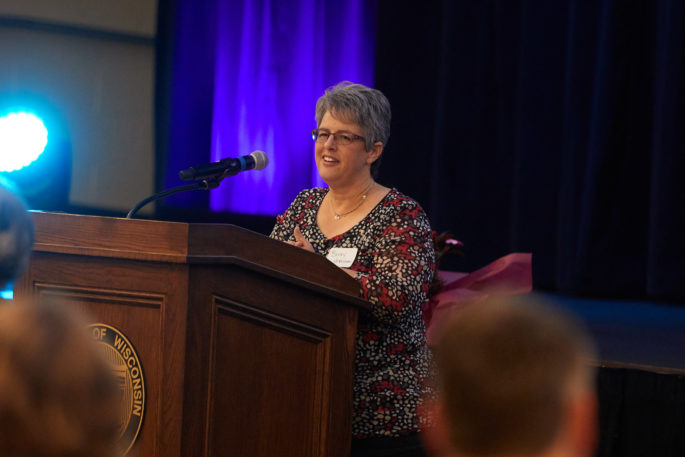 "Becky is the best and deserves this award," writes UWL Associate Professor Samantha Foley in an award nomination letter on behalf of the Computer Science Department. "She will always make time to talk to you about what is going on in your life."
Yoshizumi started at UWL 21 years ago and never looked back, claiming it's "the people" who have kept her around. Her office, filled with gifts from grateful students over the years, is telling of her ability to connect with the young minds who walk the halls of Wing Technology Center. One student, who she recalls helping during a challenging time, left a card with Yoshizumi that said "thank you so much for listening and never giving up on me."
"We could fill pages and pages with specific interactions," continues Foley. "Becky cares deeply for our students and builds relationships with all of them."
"She knows you by name and asks how you are doing," adds student Amy Higgins in another nomination letter. "She is the heart and soul of the Computer Science Department."
On top of managing the department's day-to-day operations, which includes everything from helping set student schedules to pulling together the Computer Science employees, Yoshizumi is also credited with playing a key role in the department's 50th anniversary celebration in 2018.
"For two years Becky worked with a group of department members exploring ideas for a celebration event," says Foley. "(She) then took responsibility for all logistical arrangements, working with the Alumni Office, Facilities, University Communications, photography and others to make the event a reality."
"It's the 50th anniversary," joked Yoshizumi on the notion of not holding an event. "You have to do something!"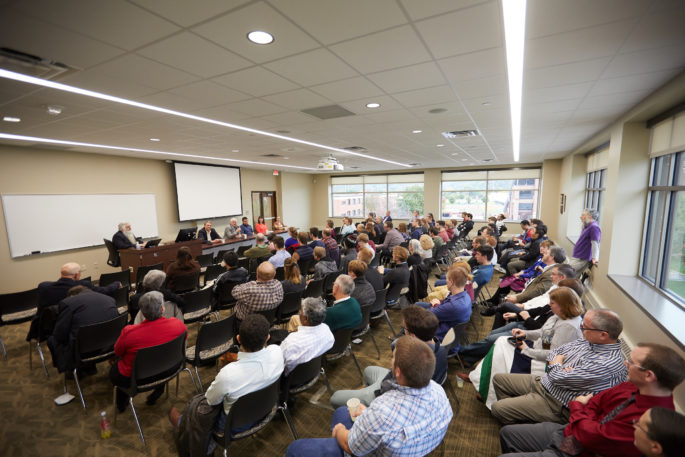 Outside her duties in the Computer Science Department, Yoshizumi is also involved in various campus organizations and committees. She was instrumental in establishing the University Staff Council in 2009 and before that, she was involved with another group that aimed to offer administrative support to hourly staff on campus. She's also taken lead roles in UWL's Employee Enrichment Day and Organization for Campus Women.
"Becky's work has positively affected students and staff at UWL," notes Carla Burkhardt, Academic Services Director of the College of Science and Health. "Her work and work ethic is above and beyond any normal expectations."
When asked what she wanted her colleagues and peers to know after her award announcement went public, Yoshizumi went back to the place she calls home on-campus:
"Computer Science is not the I.T. Department or the Eagle Help Desk," she says. "We have thoughtful and engaging faculty that teach their students a number of important subjects to help them enter the workforce in our ever-growing technological world. I'm proud to work with these faculty and our students."
More on Becky Yoshizumi
Awarded the Support Staff Achievement Award by the YWCA Tribute to Outstanding Women of the Coulee Region in 2006.
Current member of the La Crosse Area Genealogical Society.
Former board member of River City Youth Hokey and the YWCA Garden Club.
Traveled with UWL delegation to Wuhan, China, to commemorate the 10th year of a joint collaboration with the South Central University for Nationalities.
About the award
The University Staff Excellence Award, established in 2015, recognizes university staff who display outstanding service and dedication. A committee made up of university staff selects a winner from nominations submitted by campus employees.