Posted 7:03 a.m. Thursday, May 25, 2023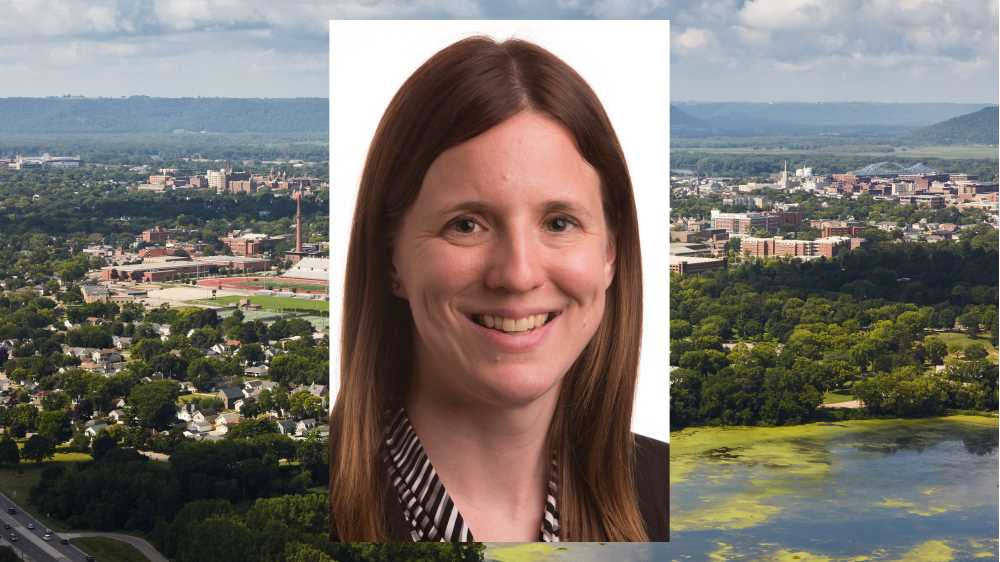 Colleen McDowell is a leader in glaucoma research
Editor's note: The UWL Alumni Association is awarding graduates from the '60s through 2021 its top alumni awards for 2023. They're being honored for distinguished service and successful careers.
The distinguished alumni will return to campus Friday and Saturday, Sept. 22 and 23, to speak with students and take part in a panel discussion, along with being recognized during a brunch. Get details from the Alumni Association calendar.
The world is coming into much better focus thanks to the research of Colleen McDowell.
Since leaving UWL with a bachelor's in biochemistry and microbiology in 2004, McDowell has become a highly regarded thought-leader in the field of glaucoma research.
"Her research has substantial implications for the current and future treatment of glaucoma as she identifies novel molecular targets," explains Professor and Chair of the UW-Madison Department of Ophthalmology and Visual Sciences Terri L. Young. "She has achieved a significant distinction in the field of glaucoma research."
McDowell has significantly contributed to science's understanding of the molecular pathogenesis of glaucoma, the leading cause of vision loss and blindness affecting more than 70 million people worldwide. Specifically, she has discovered a novel pathway that damages the region of the eye that leads to elevated eye pressure, the major causative risk factor for the development and progression of glaucoma.
After earning her doctorate at the University of Iowa, McDowell completed her post-doctoral training the North Texas Eye Research Institute. There, she progressed in her own research, gained independent funding and was hired as a research assistant professor in 2015.
"Her mentorship style is so impactful that all her trainees have acquired prestigious positions in acclaimed laboratories or have excelled to academic positions very quickly," says Tasneem Putliwala Sharma, who studied as a post-doctoral researcher under McDowell. Sharma is now an assistant professor at the Indiana University School of Medicine.
McDowell's mentoring continues at UW-Madison in the Department of Ophthalmology and Visual Sciences, where she began in 2019. As an assistant professor, she has expanded her studies in glaucoma and has helped establish a research program for the disease.
McDowell was named the William and Phyllis Huffman Research Professor in 2020.
Rada Distinguished Alumni Award
Recognizes alumni who have graduated within the last 20 years, achieved professional distinction and taken part in humanitarian activities. Professor emeritus Ron Rada and his wife, Jane, created the award in 2002.
Colleen (Trantow) McDowell, '04
-Distinguished and respected researcher, scientific writer, mentor in the field of glaucoma.
-Assistant professor, Department of Ophthalmology & Visual Science, UW-Madison since 2019; previously with University of North Texas Health Science Center, 2010-19.
-Awarded William and Phyllis Huffman Research Professorship; Dr. Douglas H. Johnson Award for Glaucoma Research; among others.
-Bachelor's degree in biochemistry/cell and molecular biology, 2004; Ph.D., University of Iowa, 2009.
Nominate deserving alumni
Nominate deserving UWL alumni for the university's distinguished alumni awards. Simply fill out the nomination form; the Alumni Office will contact nominees.
Nominations are accepted throughout the year but must be received by Oct. 1 to be considered for the award the following year.
See all past recipients .
Here are the award criteria.