Posted 12:55 p.m. Monday, Aug. 17, 2020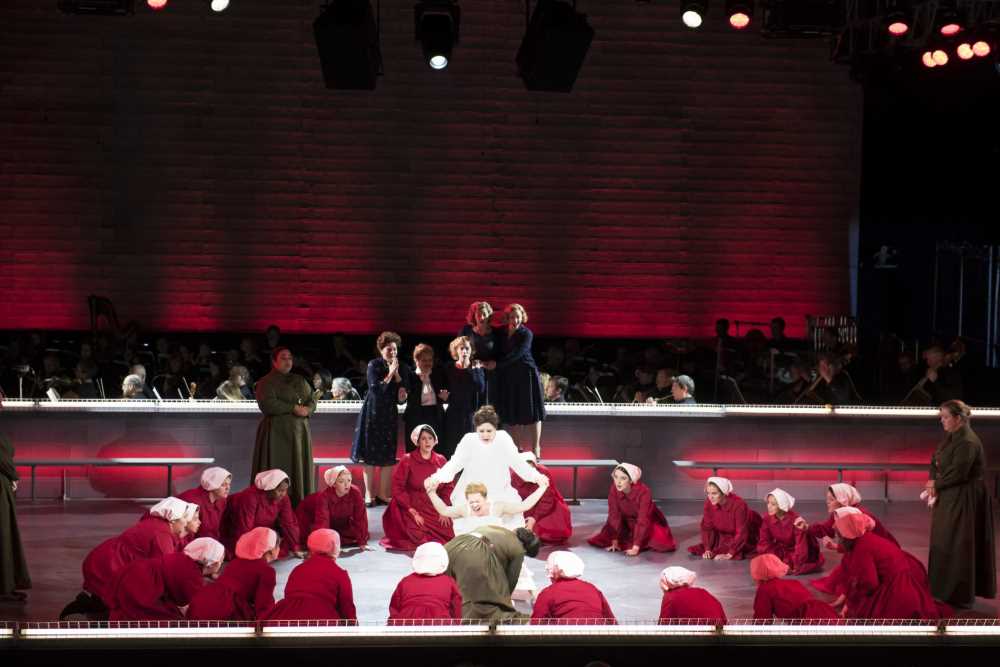 Kathryn Skemp Moran performs popular show on big opera stage
It's not every day you give birth in front of hundreds of people while also attempting to sing louder than a 70-piece orchestra.
While the birth was a performance, the rest was as real as it could be for UWL's Kathryn Skemp Moran. That scene, as well as the rest of her "life-changing project," took place during Boston Lyric Opera's recent rendition of "The Handmaid's Tale."
"It was intense," says Moran. "The challenge to cut your voice above a big orchestra like that – to develop an instrument that doesn't need to be amplified. There's nothing like it."
Margaret Atwood's "The Handmaid's Tale," first released as a novel in 1985, focuses on a fictional patriarchal society that oppresses women by labeling them as nothing more than vehicles for procreation.
Eventually, the women, also known as "handmaids," revolt. Moran played supporting character and handmaid "Janine" in the theatrical adaptation who leads two major scenes: Janine's attempt to hide a psychotic breakdown and the previously mentioned public birth simulation.
"Janine is a volatile person in her situation. I was cracking on stage," explains Moran. "Those two scenes of being unhinged in a very pressure cooker kind of situation were unforgettable."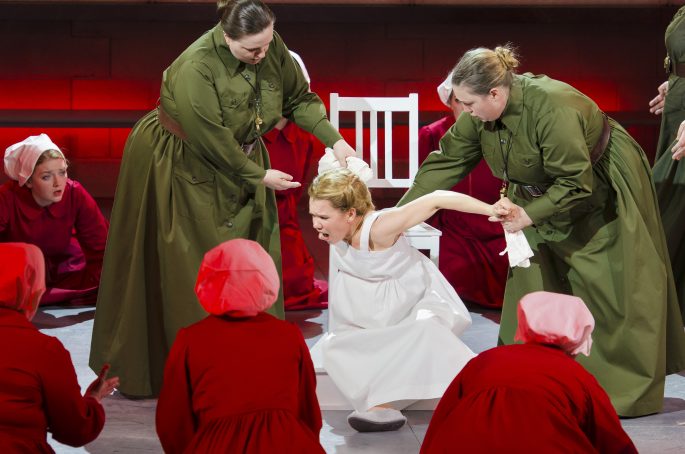 Moran, a La Crosse native, has taught in the theatre department on campus for nearly a decade. Her connection to the Boston Lyric Opera dates to her working on a Master of Music degree at Boston University after attaining her undergrad at Northwestern. While she doesn't audition for larger productions as much as she did fresh out of college – she still keeps tabs on upcoming shows. She continues to stay in touch with the connections she's made over the years.
Moran's journey to her latest appearance at Boston Lyric Opera began after an audition for a completely different production. In attendance were the general, musical and artistic directors for "The Handmaid's Tale" and after seeing her performance, they called her back not for the show she originally auditioned for, but rather the role of "Janine."
"I started preparing months out. I was reading all of director Anne Bogart's books," says Moran. "I studied her directing style. I reread the novel. Started watching the Hulu series. Learned the opera. Listened to the score."
In-person rehearsal for the show ran five weeks prior to opening night. "The Handmaid's Tale" at Boston Lyric Opera featured four performances over a week period in May 2019. On top of receiving a glowing review in the New York Times, Moran shares, "It was one of the outstanding productions of the year from Opera News. It was one of the best of last year's productions. It had a lot of buzz."
Thinking back about her time on stage, Moran says the ability to perform on a regional level such as the Boston Lyric Opera has improved her ability to teach at UWL— especially singer-actors. "Being a better artist and better singer helps me teach these students how to best connect to the song text and get ready for their performances," Moran notes.
Moran has no future projects lined up, but says she will continue to seek
the "right productions" to take part in.

Moran's notable performance venues
• Madison Opera
• Glimmerglass Opera (New York)
• Chicago Opera Theater
• Aspen Music Festival and School
• The Florida Orchestra
• The Boston Pops
This article was originally published in the Spring 2020 Capstone issue.