Posted 8:35 a.m. Monday, May 14, 2018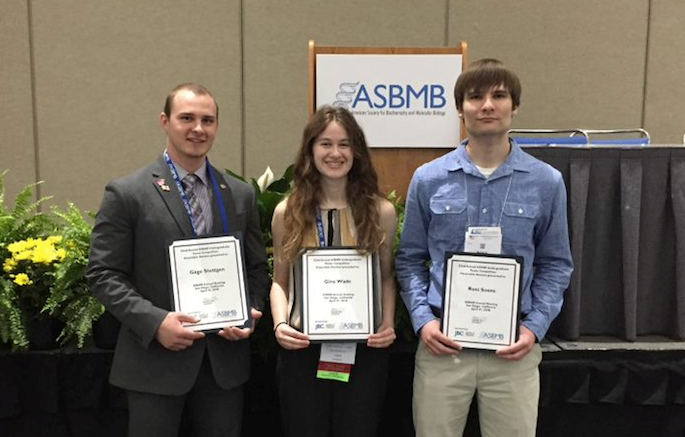 Biochemistry students earn three awards at national poster session, more than any school present.
Biochemistry students earn three awards at national poster session, more than any school present
It is the equivalent of a national sports championship. UW-La Crosse biochemistry students took their undergraduate research to the national
American Society for Biochemistry and Molecular Biology
meeting in April — the only academic competition for students in this field where they compete against other top undergraduate students from across the country. UWL students brought home more awards for their poster presentations at the meeting than any other school present, which included world-renowned research institutions. The three students — Gage Stuttgen, Gina Wade, and Ross Soens —
each earned honorable mention awards
for exemplary undergraduate research posters at the national meeting April 21-25, in San Diego, California. They were among only 20 of the 225 undergraduate posters recognized. This is the second year UWL has taken home more than one award at this national competition. Last year's
winners were Madline Brunner and Timothy Davie
. The continued high performance of students at the meeting is telling, students say. "This is not just about us. It is about the people who are training us to be professionals," says Stuttgen, a senior and biochemistry major. "La Crosse is just a speck on the map, but we continually produce high-level students." Ross Soens, junior and biochemistry major, concurs. "Our professors have been there every step of the way — always ready to answer questions. We would not have done as well as we did without their help," says Soens. Students say Professor Todd Weaver and Associate Professor Daniel Grilley were mentors for not only their research projects, but also the communication of that research. With feedback from Weaver and Grilley, they all developed an elevator speech about their research for presentations to three different types of audiences — those with no science background, those who are peers in the sciences, as well as another for experts in their field. "Just judging from someone's facial expressions, you can tell if they don't understand something," says Stuttgen. "Or, if they have in-depth questions, you can bring it up to their level." The awards speak to the hours of work that the students put into their projects: collecting data, processing and analyzing the results, and distilling down the results into a story that can be easily understood by other scientists, says Grilley. "These students were able to address questions and comments by the judges reviewing their posters in a manner that demonstrated the depth of their knowledge and preparation," he says. [caption id="attachment_52209" align="alignright" width="327"]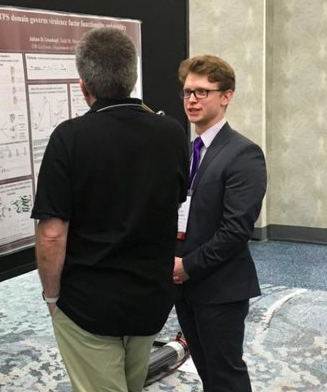 Julian Grosskopf, UWL senior and biochemistry and biomedical science major, presenting at the national American Society for Biochemistry and Molecular Biology meeting.[/caption] Julian Grosskopf, UWL senior and biochemistry and biomedical science major, says it took some work condensing two years of undergraduate research into a single poster with minimal words and a lot of graphics. But that experience taught him about effective communication. Grosskopf would eventually like to become a medical scientist and research human diseases. "If you can't communicate findings effectively, it is harder to contribute to scientific body of knowledge … where similar fields of science can apply what you've learned, so we can all keep moving forward," he says. The meeting was part of the
Experimental Biology
meeting, the annual meeting of five societies comprised of more than 14,000 scientists and 25 guest societies. In addition to the poster competition, students attended talks by internationally-recognized scientists, and visited other posters and seminars. They say being around thousands of others in the scientific community with similar interests and learning about their work was inspiring. [caption id="attachment_52206" align="alignleft" width="350"]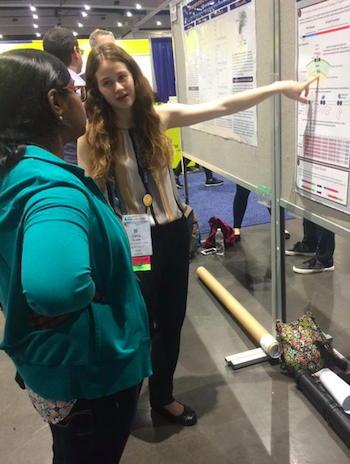 Gina Wade presenting at the American Society for Biochemistry and Molecular Biology meeting in April.[/caption] UWL junior and biochemistry major Gina Wade says her start conducting undergraduate research with Weaver and Grilley was initially intimidating, but, over time, being part of their lab has become fun and rewarding. In addition to attending national meetings and presenting their groundbreaking work, they are also learning a love of scientific research. "To come in and get results, and be able to interpret those results, gives me a feeling of pride and accomplishment and a sense of belonging," says Wade. Many of the students benefitted from presenting during a CHM 419 course. Other challenging courses and use of cutting-edge equipment allows students the opportunity to perform experiments that are often in the domain of graduate students or post-doctoral fellows at other institutions, says Grilley. The six students were mentored by Weaver, Grilley, John May and Kelly Gorres.